Depending on where you live in the world, there's a good chance your priorities shift as September winds to a close. A chill might set into the air, deeming layers and jackets immediate necessities. Seasonal produce might dictate more pumpkin- and apple-based dishes. In the hotter climates, fall likely heralds relief from the oppressive August heat.
But no matter where you live, if you're a marketer, chances are your vision has shifted toward Q4, the year ahead, and your 2017 SEO strategy.
As you well know, 2016 was a volatile year for search engine optimization and marketing. Wrought with changes in Google's algorithm, advances in voice search and keyword strategy, and the continued reprioritization of quality over keyword strategy alone, many have found themselves struggling to wrap their heads around the kind of strategy that fits user behavior and helps them position themselves in front of their audiences.
Like 2016, 2017 is positioned to be an incredible year full of amazing developments—and an abundance of new challenges for SEO strategies to overcome. To help, here are 10 stats from the past year that highlight the future of optimization. As you craft your 2017 strategy, make sure you keep these in mind.
1. Search Engine Optimization: Part Priority, Part Struggle
According to Hubspot's 2016 State of Inbound Report, the majority (66 percent) of marketers surveyed said that, for inbound marketing projects specifically, "growing SEO [and] organic presence" was their top priority. But even though most marketers recognize the value of search engine optimization for their businesses, the practice remains a struggle: for 65 percent of marketers, generating traffic and leads is the top-cited challenge.
2. Mobile Matters—But for Brands Using Pop-Ups, It Might Get Tricky
In celebration of its recent GWI Device Flagship Report, the Global Web Index recently took a deep dive into devices, with the goal of learning which devices users consider most important for accessing the internet. Cited as the most important device for 41 percent of respondents, mobile devices won out over laptops, desktop PCs, and tablets.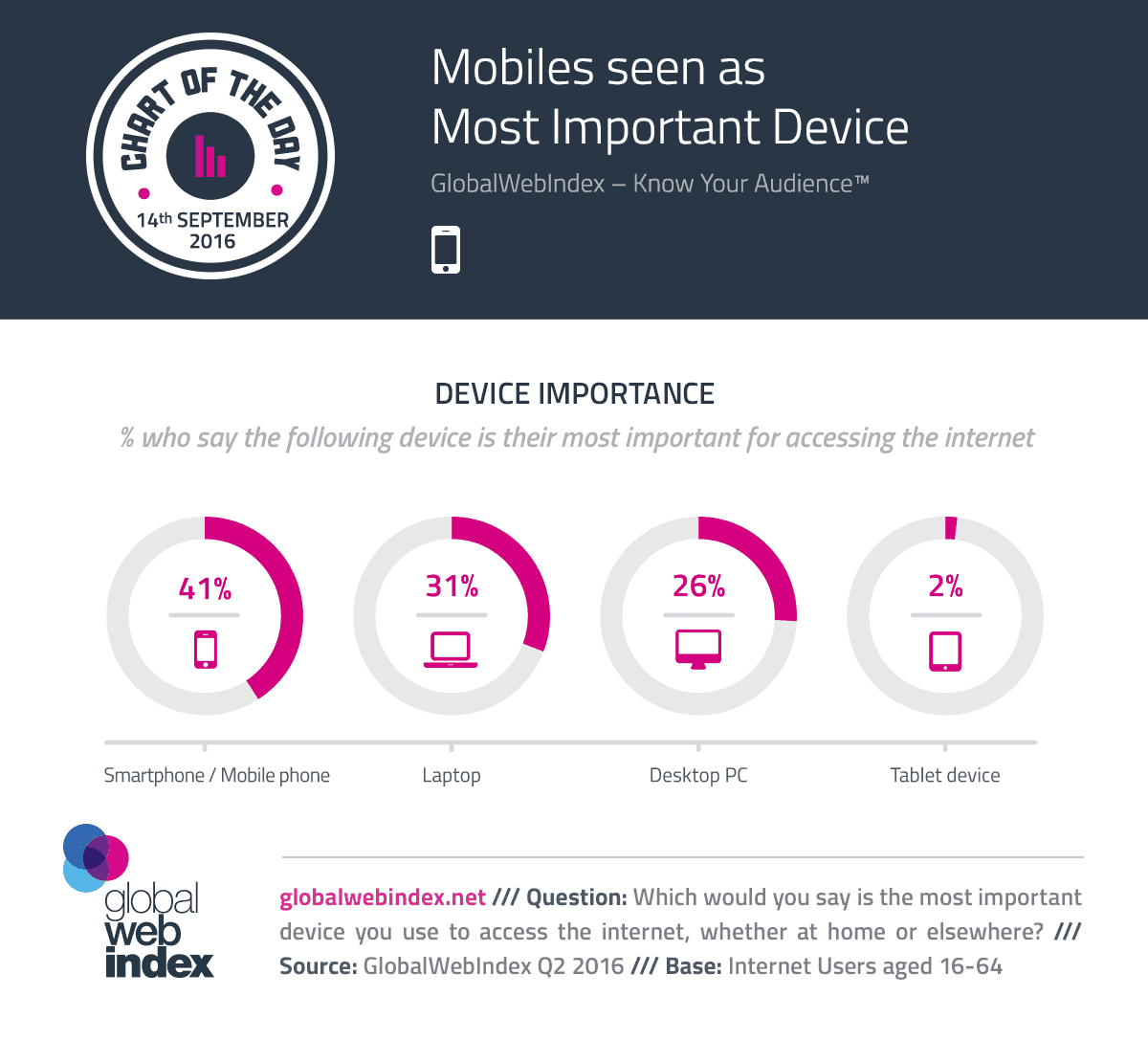 That's not surprising. After all, mobile has proven itself time and time again to be preferable—likely due to, among other things, mobile devices' portability, connectivity, and convenience. Search Engine Watch cited statistics (via Merkle) further confirming the importance of mobile in 2016: "In Q2 2016, Google produced 86 percent of all organic search visits in the US, and 90 percent of mobile organic search visits… Google's share of mobile organic search has increased by nearly two points in the past year."
Given Google's increasing dominance in the mobile search sector, it's important to remember that Google can take away as easily as it gives. As explained by Practical Ecommerce, the company recently made an announcement:
Google will update its mobile-friendly search algorithm in January 2017 to make smartphone content visibility a ranking signal. Sites that display "intrusive interstitials"— pop-up boxes, mainly—that impact usability for searchers on smartphones may find that their content does not perform as strongly as it used to in mobile search.
In other words, if your brand relies on pop-ups in some way, it might be time to rethink things in terms of quality and your pop-ups' necessity.
3. Speaking of Mobile…
Another thing to bear in mind about mobile is that speed matters, big time. As Search Engine Watch explained, "Google has always known that slow load times hurt the user experience, which is why a one-second delay results in a 7 percent reduction in conversions. With AMP [accelerated mobile pages], Google can amplify the importance of speed."
Therein lies another important element to factor into your strategy: your mobile speed. Google said AMP could improve the speeds at which your pages load by 15 to 85 percent. If you're grasping for lead generation and conversion, as many marketers are, that makes AMP worthwhile.
4. Small, but Mighty: Micro-moments
Micro-moments—basically, the curious brain's version of an impulse purchase—are huge drivers for mobile traffic. And although you can't necessarily predict the impulses of your audience, you can build on these stats published on Search Engine Land to get an idea of how you could position yourself to be there when they happen:
Your strategy will vary based on the nature of your brand, but these stats show that users are often looking to reference things they've seen on TV (commercials in particular), places in their local area, for inspiration or DIY advice, and for reviews on potential purchases. That's powerful info to keep in your back pocket, so you can be there when your audience asks "How do I…?"
5. Long-form Content Reigns Supreme
Recently, Backlinko analyzed 1 million Google search results, with the goal of learning which factors all first-page search engine results have in common. Among their findings, they discovered that longer-form content tends to do better by Google's standards. "The average Google first page result contains 1,890 words," the company wrote.
That aligns with many of the year's early signs that today's readers care about quality content. They aren't just looking for keyword-stuffed, brief, high-level advice; rather, they want a compelling story that speaks to their humanity, their needs, and their interests. That's not the only reason you'll want to prioritize quality in your strategy going forward, but it's a big one, for sure.
6. Make Room for Allo
Google describes Allo as "a new smart messaging app for Android and iOS that helps you say more and do more right in your chats." And although its introduction has been recent, it has been powerful: already, the app has a 4-star rating and 150K downloads on Android devices, according to Search Engine Journal. That's strong, early proof that you'll want to account for this app in your strategy.
Where's the best place to start? In its write-up, Search Engine Journal offers several tips for optimizing for Allo, including ways you can position your brand for voice commands, local search, rich snippets, and AMP. But don't ignore this one—your users certainly won't.
7. Don't Feed the Penguin
You might remember Google Penguin as the algorithm update designed to catch so-called spammy websites and punish them by negatively affecting their rankings in search engine results pages (SERPs). With its new update, Penguin's going real-time, which means two things: first, sites that were penalized during Penguin 3.0 could, slowly, regain their rankings; and second, that changes made through Penguin will be visible much sooner, "taking effect shortly after we recrawl and reindex a page," according to Google. What's more, because this update will make the technology much more granular, "Penguin now devalues spam by adjusting ranking based on spam signals, rather than affecting ranking of the whole site."
To adapt to the update, ShoutMeLoud recommended ensuring your pieces fall within a one to two percent keyword density—which is proven to be ideal in ensuring your content doesn't come off as keyword stuffed or otherwise cheapened.
8. Mind Your Metadata
This is a short, sweet reminder that content optimization doesn't stop when your story's been written. As shown in this infographic from Dilate, metadata and formatting are key. In fact, 99 percent of top 10 sites used meta descriptions as part of their optimization strategies, and 80 percent used H1 tags in their content.
9. Get Up on Your Schema Game
In a recent post, Search Engine Watch recommended that, as part of your 2017 strategy, you implement a schema markup. "Google has…been increasing its usage of Quick Answers, growing from just over 22 percent in December 2014 to over 40 percent by the beginning of 2016. Schema can help make the purpose and content of your site clear, so your text is more appealing for a snippet boxes."
So, when you're thinking about metadata, you want to think about more than you used to in your 2016, keyword-and-catchy-description days. You want to start incorporating other stats so readers know exactly what they'll get when they stop by.
10. Audits Are Still Key
Audits, amiright? I know, no one likes to even hear that word. But according to Search Engine Journal's 2016 State of Marketing Report, while 77 percent of marketers believe business ought to perform full SEO audits every six months, 56 percent said they never perform them for new clients.
So, while you're crafting your new year's resolutions, make room for one that will change not just your business' health, but the health of your clients, for the better. Search Engine Journal offers audit guides to get you started.
I love autumn as much as the next person, but I know all too well how quickly it flies by. Don't let the season get away from you without making strides in your SEO strategy for the new year. Your CMO will thank you—and with all those boosts in traffic, you'll be happy, too!