Influencer marketing's efficiency as a solid marketing strategy continues to become apparent as proven by data from annual surveys that are regularly done to analyze the industry's performance. Take note that these surveys themselves only started gaining ground fairly recently (as recent as 2015, in fact). Unsurprising, since influencer marketing is still relatively a new form of online marketing strategy. 
However, one thing's certain: influencer marketing 2020 will involve a lot of changes in the industry. This comes along with the robust growth that the industry has been enjoying, as evidenced by the growing number of agencies and platforms that focus solely on influencer marketing. That said, influencer marketing will definitely have a big impact on mobile marketing as a whole as a direct result of this. If it is one of the strategies you are using (and aptly so), the best first step to take is to know what these changes are.  
Prepare for Stricter Regulations
Particularly, for those partnering with influencers in the US. The Federal Trade Commission's endorsement guides are consistently being updated, after all, and marketers and influencers need to exerting effort to comply with these guidelines as they are introduced. As of this writing, there are already numerous guidelines that both parties need to be mindful of, and they are still changing rapidly. 
These changes could arguably even match the velocity of the rise of the said industry, which goes to show just how much of an eye-turner influencer marketing has become to federal authorities. While this is just the case for US in 2020, it pretty much illustrates the trend of influencer marketing having stricter regulations with the passage of time. 
Now May the Best Time to Start Concentrating on Instagram, But Don't Overlook Emerging Platforms
Marketers and influencers should pay closer attention to Instagram because it is becoming apparent that it is the best platform to get the most influencer marketing benefits. The most compelling reason lies in the fact that nearly 90% of influencer campaigns are now being done in the said social media platform. 
Even Facebook, which has been a formidable contender in influencer marketing has since fallen behind. The same goes for Youtube and Twitter. Pinterest is a different story, though, as it has actually been enjoying an increase in influencer marketing campaigns through the years since 2015. Even so, it still pales in comparison to Instagram as proven by the staggering lead it is enjoying.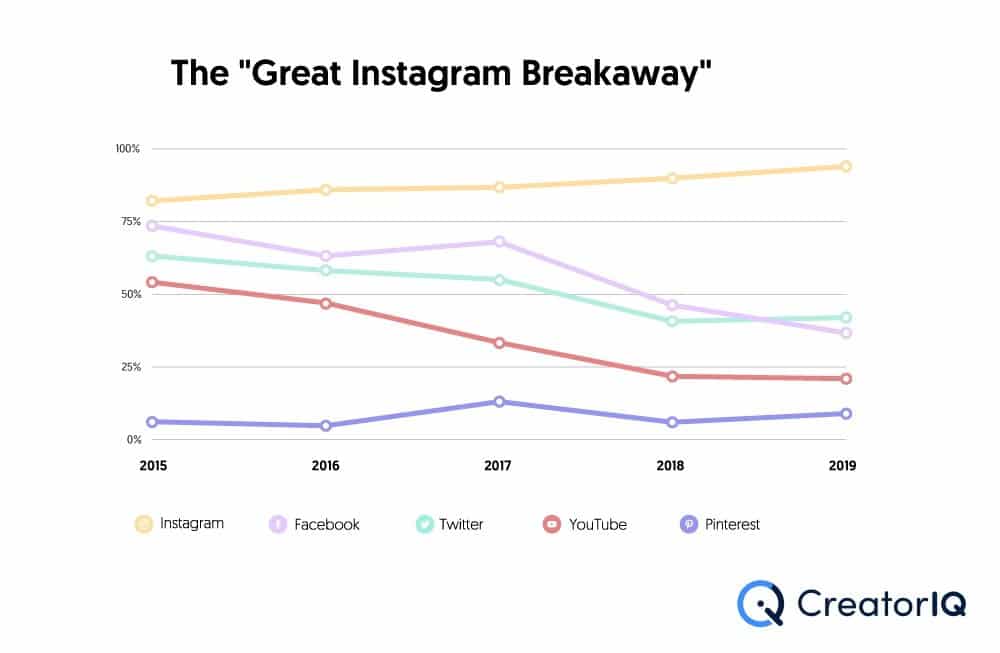 The real noteworthy platforms, though, are "newcomers", TikTok and Twitch. Noteworthy simply because of the fast growth in user bases that both are enjoying. They are also known for having a large number of younger users.
Data is Shaping Influencer Marketing Further
Make no mistake, the role of data in influencer marketing has long been established in the past years. But it can't be denied that metrics will be more important in influencer marketing 2020 simply because marketers are all greenlit to start investing more money in their influencer marketing campaigns. 
Not only does this make it important for you to start closely tracking and analyzing the data you gather but it also underlines the importance of discussing your goals and expectations with the influencer you are working with. Greater transparency, nothing less, rules above everything else in this regard. 
Sales and Conversions are Becoming Top Metrics of Influencer Marketing Success
In the past and arguably still at present, marketers tend to rely on IM to solely increase awareness. But this is no longer the case, as proven by the steady growth of marketers who are using influencer marketing to directly drive sales. 
In fact, there are not marketers who are using the number of conversions made (not awareness) as a sign of how successful a campaign is. This increase in favor of sales undoubtedly serves as clear proof of influencer marketing's potent ability to function as a primary marketing strategy when doing any kind of online marketing campaign. And the data only prove this. 
Expect Influencer Marketing to Become More Adaptable
Versatility is the key facet of any bonafide innovation, and influencer marketing is definitely on track to achieving just that this year. This should not come as a surprise since more marketers are inevitably going to come up with newer, more creative ways to make their campaigns stand out. Bigger and better efforts to increase engagement will always characterize any marketing strategy, and influencer marketing is certainly no exception. 
This is why it's high time for you to start brainstorming with your influencer as to fresher ways that you can present your brand to your audience. Start pinpointing their needs and paying attention to their feedback and start basing your content generation on the data you gather. Be more open to using influencer-focused tools on the platforms you use. Instagram, for one, now actually has the Branded Content Ads tool that lets you promote your influencer posts in Stories and feeds. 
The Meaning of 'Influencer' Could be More Diverse than You Think
The creation of the term, 'micro-influencer', largely owes itself to the discovery that influencers themselves actually have plenty of variety. Sure, there are influencers with millions of followers that almost any brand will be ecstatic to be endorsed by. But there are those who, though possessing a relatively small of followers, can actually drive more conversions and sales simply because they fit your chosen niche perfectly.  
This, again, highlights the importance of working with influencers who can really tap into your target audience. Genuineness and authenticity are the keys to achieving this, besides, of course, the natural authority that the influencer should readily exude. 
Conclusion
As is evident from the facts laid out above, influencer marketing 2020 signals the industry's rise to unprecedented levels. It is fast becoming a major marketing industry, so it's no wonder as much as 61% of marketers actually intend to, according to data from a top platform that analyzes influencer marketing called CreatorIQ. This alone underscores the relative impact of influencer marketing on standard marketing campaigns.
This is why you should not be surprised if the industry is now being strictly regulated and benefits just as well in data analytics as any other mobile marketing strategy. Done properly, influencer marketing can be very powerful. Of course, one way of ensuring this is partnering with an influencer that will manage to resonate with your brand and your target audience. 
As a final note, always keep in mind that audience relationship is still at the heart of influencer marketing. This may very well be the aspect of influencer marketing that won't change, considering this strategy is, in essence, rooted in trust.