We're all drowning in content ideas.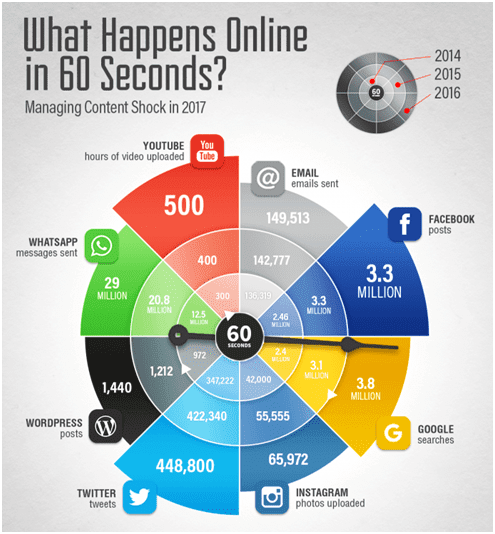 You've probably seen this infographic from SmartInsights. Or, something like it. Every minute, the average person on the internet is bombarded with far, far more content than they can ever hope to handle, leading to urban myths like our attention span is now shorter than that of a goldfish.
While that isn't true – hey, I binge watched all seasons of House of Cards and Game of Thrones – creating the right content that keeps your target audience engaged is one of the biggest challenges that marketers face today.
In fact, generating ideas for content, getting down to creating it, ensuring quality, and scaling the process are the top challenges marketers face today, as per ClearVoice's recent survey.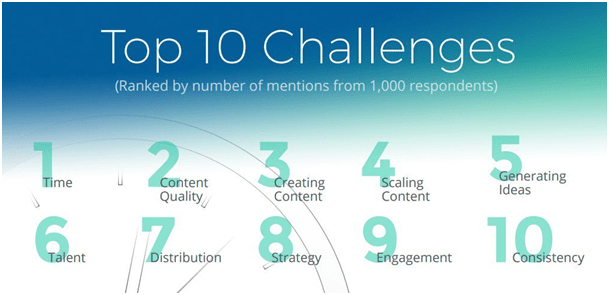 That being the case, most of the sources to find content ideas online have now dried up or squeezed to the last drop! So where can you find the right content ideas that will draw and keep your audience's attention without wasting valuable resources on what might best get a passing look from them? Read on.
Ditch the content idea generators, not the technology
We all know of idea generators. They're dime a dozen now. And they look like this: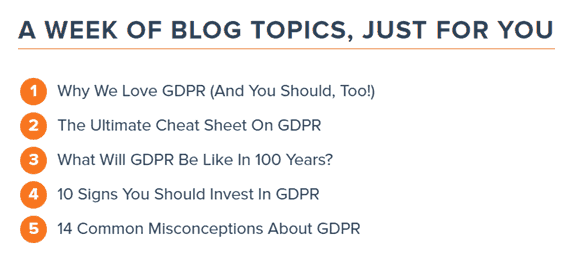 We badly need to move beyond the Ultimate Guides, Cheat Sheets, and Common Mistakes. The average reader is increasingly developing an immune response to clickbait and clichéd headlines.
So what do you do here? Fall back on customer research, pain points, and good old questions that people are really asking.
Don't get me wrong. Tools are not the problem. Tools are in fact the solution. Instead of relying on a basic tool that simply takes the term you enter, mixes it up with a set of words from a database of headlines, and regurgitates another corny headline for you to use, you try and mine the web for related terms that are actually being searched for or appear in conversations on social media or elsewhere.
Digital marketing tool suite SEMrush helps you do that. Their Topic Research tool formats related terms gleaned from Google, along with questions and existing headlines on the topic you enter.
The data is presented in the form of neatly organized Cards or an intuitive Mind Map.
Answer questions on the go
Your customers, followers, and others are talking about your niche. They're hanging out on Twitter, Facebook, Instagram, Quora, your competitor's blog and probably a couple of digital platforms you haven't even heard of. How do you be everywhere at the same time?
Well, if you want new ideas, you simply have to figure out a way to be everywhere. The best way is to watch your social streams like a hawk. The second best way is to fall back on a tool –one like Mention can come to your rescue here.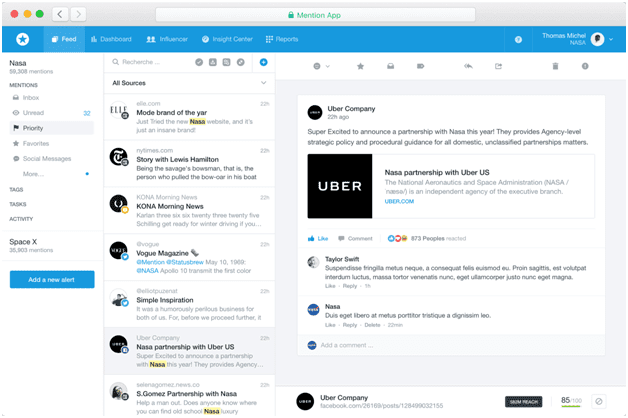 But what do you do once you've identified these interesting conversations? Just getting a bunch of conversations from social media won't get you anywhere!
What you do, is mine these conversations for any questions, doubts or misconceptions, and quickly answer them. This is easier than you think. All it takes to explain something is a short video. You can shoot a quick a quick video explaining something or even record a product tutorial straight from your iPhone screen (and I've rarely seen a marketer who doesn't carry one of those) if you see an opportunity to promote its benefits.
You can even take what you learned on one channel and create content about it on another! I recently did just this – there was a great conversation on Twitter that led to Google contemplating making changes to their Search Console. I immediately made a video about it and posted it on my new marketing-focused profile on Instagram!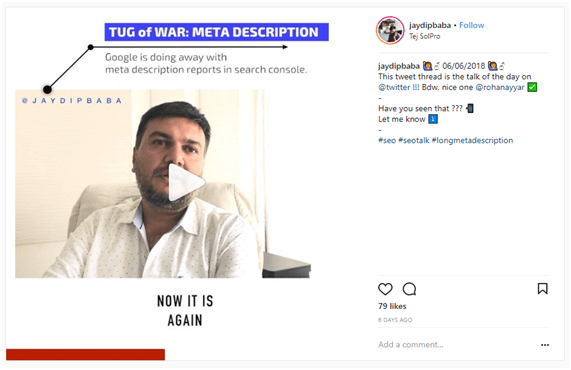 Mine customer data
Today, every company runs on information – current and historical information about your market, industry, and most important of all, your customers. While almost all businesses have processes in place to collect data, few know when, where and how to use it, beyond campaign-specific applications.
With a thoughtful analysis of the data you've already gathered, you can     zero down the aspects of your customers' behavior, intents and profiles that are most relevant to your business. For content creation purposes, you can identify and use
The key factors that convert your audience into customers
Your customers' real-time behavior on your site
Your customers' personal tastes and preferences
For retailers and e-commerce websites, this task becomes even more simple with the availability of integrated point of sale (POS) systems such as Shopify's, which help you create customer profiles, analyze product performance, forecast sales trends, and create personalized content based on all these. Specifically,
You send personalized emails (and you thought email wasn't part of content marketing?) based on customer profiles and shopping habits, outlining the benefits of products they're likely to purchase.
Customers' shopping habits will give you a better idea of what content they consume along different stages of the buyer's funnel.
You can decide to create more or in-depth posts, or even encourage user generated content (UGC) on your blog or social media channels focusing on your bestselling products.
I don't need to tell you that when you find better ways to engage with valuable customers, you ultimately end up selling even more.
Learn from your failures – but don't forget to teach
Who doesn't fail? If you don't, you're probably not reading this post because you're already great at generating content ideas and turning them into awesome posts that all rank #1 on Google.
However, I'm betting you're just another human and you've fallen short of your business goals dozens of times. Why not turn this into an opportunity to educate your audience on what not to do?
Neil Patel is a pro at doing this. He admits his mistake right there in the title – with a hyperbole of course!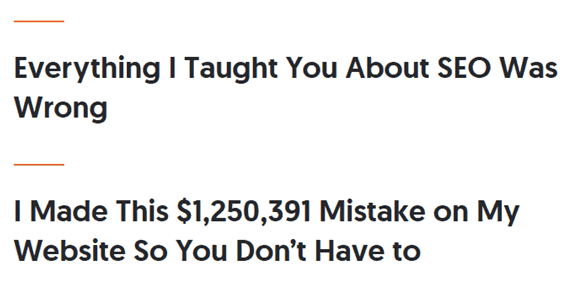 And he follows it up with a detailed analysis of
what he assumed
what he did
what went wrong
And the engagement he gets on these posts is beyond great! Everyone likes to learn from other people's mistakes, don't they? All you have to do is bare your heart (and your losses).
Over to you
Struggle with finding content ideas is a serious problem today. You might think you've come up with the best idea ever, and chances are, someone else has already thought of it – and written a monster post about it. But don't let that discourage you. The best check to see if your content is valuable is whether your audience really needs it. If you can consistently meet their needs, and manage to entertain them in the process of educating them, you're all set for content marketing success.