Starting an eCommerce business has never been easy.
Between setting up your online store to coming up with a marketing strategy, everyone faces some common obstacles that test your patience.
These eCommerce mistakes can, in fact, make your sales plummet.
According to a study, the eCommerce industry has about an 80% failure rate.
Another study claims that the failure rate is as high as 97%.
So, if you don't want your new eCommerce business to suffer the same fate, it's necessary to understand what these common eCommerce mistakes are and how they can be avoided.
In this article, we've shared the 5 common yet serious eCommerce mistakes that every entrepreneur must avoid when building their first eCommerce store.
5 eCommerce Mistakes to Avoid When Building Your Online Store
Whether you're planning to launch a brand new eCommerce store or you already have multiple stores, there are some obstacles you're bound to face.
Fortunately for you, we've already done the research and found that there are 5 common mistakes that almost all eCommerce businesses make while building their online store.
1. Desktop-Only Design
We no longer live in the world of desktop computers today.
Since the past couple of years, technology has evolved a lot and people now carry gadgets that can help them with the assistance of the internet right in their pockets.
In fact, most of the transactions happen through smart phones nowadays.
According to Statista, mobile accounted for more than half of web traffic globally.
This is mainly due to the website compatibility.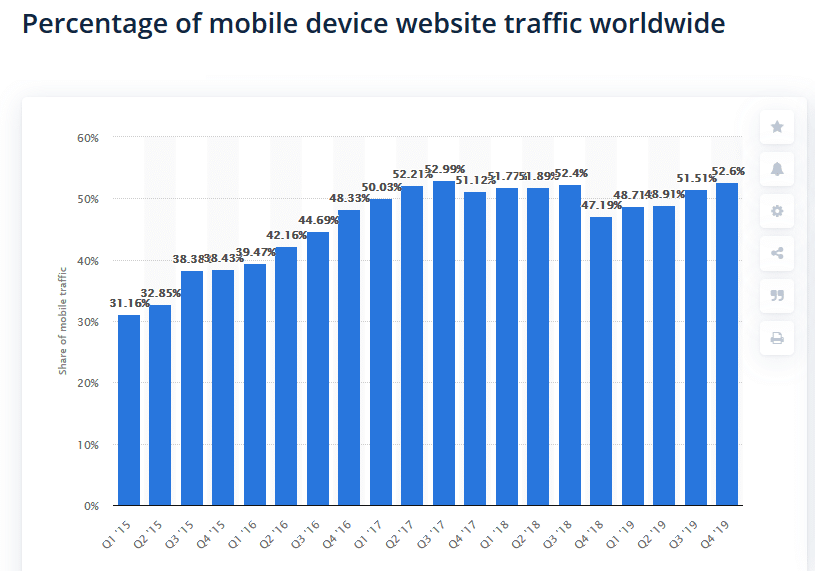 In fact, it's for this reason, today the majority of website owners, including the online store owners, have incorporated the mobile-compatibility feature.
Despite this report, however, many first-time eCommerce entrepreneurs are still making  the mistake of building desktop-only online stores.
But, having a desktop-only eCommerce store will not only discourage mobile users from making a purchase, but Google will rank your eCommerce store later in its search results page.
So, if you're also planning to launch any website, especially an eCommerce store, then you must make it mobile-friendly so that your target customers can seamlessly view products on whatever device they use.
2. Poor Store Navigation
Nothing can discourage a potential customer from making a purchase like poor store navigation.
Just think about it. – If you had to put too much effort into finding the right information, buttons, or see lots of font types or colors, you would be pretty much disappointed, right?
Therefore, it is extremely critical to make your eCommerce website easy to navigate.
In other words, your online store visitors must be easily able to navigate product images, product descriptions, checkout page, and instantly get right back at the home page with a click on the header.
The good news is, you don't have to reinvent the wheel for making your online store navigation smooth. You can simply use the best website navigation practices that have proven to help get the most out of your eCommerce store.
3. Inadequate Product Images
After store navigation, the next common eCommerce mistake that most first-time eCommerce entrepreneurs make is uploading inadequate images for their products.
For some reason, they're in a hurry to get their store online up as fast as possible and then later regret when they see no sales even though visitors are coming in.
The reason, as most of you might have guessed, is because of inadequate product images.
You see, apart from the product description, product images are the best option for potential customers to understand what they're buying, especially when they can't physically see or test the product.
Therefore, it's crucial to upload more images for your products from different edges.
In fact, if your product comes in different colors, you must also include images for option colors as well.
4. Complex Checkout Process
Checkout is the most critical process in an eCommerce business.
And if your online store has an extensive checkout process, requiring customers to compulsory go through a number of pages and fill out different forms to place their orders, you'll definitely lose many of them.
In simple words, if a customer finds it difficult to place an order on your eCommerce store, he is highly likely to abandon the purchase.
In addition, you should also take guest users into account and let them place an order without having to register on your online store first.
Fortunately, you can achieve this in your eCommerce store with One Step Checkout extension.
The extension basically allows displaying everything from cart items to the shipping address and shipping options in one place.
This ultimately makes the checkout process on your eCommerce store faster, which ultimately increases the chances to make more sales.
5. Poor Customer Service
Customer Service is another important aspect that can make or break your eCommerce business.
Just last year, half American consumers abandoned their purchase because of the bad customer service.
Though the majority of customers directly place their orders without communicating with customer support, it's still important to have a proper customer service strategy.
You see, when potential customers arrive at your online store, you need to make sure that they feel confident about any questions they may have and they'll be instantly able to speak to a person in case of a query.
In fact, since today's consumers are shopping 24 hours a day and 7 days a week, you need to carefully implement a proper customer service plan so that customers' queries can be answered quickly at any time of the day.
Concluding Thoughts
These are the 5 common eCommerce mistakes that most first-time eCommerce entrepreneurs make when building their first online business.
In fact, it's also now clear that if you don't avoid these mistakes, you'll be definitely left behind.
So, avoid these serious eCommerce mistakes described above if you want to make your potential customers feel happy, confident, and satisfied!