When you're engaged in content marketing or any other kind of promotional activity, you have one main goal: attract as many website visitors as possible, and convert them into paying customers. However, you have another important goal that determines the flow of your campaign: you want to keep those customers coming back.
The goal of retention is commonly neglected by business owners. A report by Econsultancy showed that 82% of companies agreed that retention was more affordable than acquisition. Still, 40% of companies were more focused on acquisition, and only 15% of the companies were more focused on retention. 45% of them had equal focus on acquisition and retention.
The conclusion is clear: we have to focus on retention a bit more. High retention means that you're getting repeated business and you're not losing too many of your customers to the competition. Existing customers have already used your product or service, so they are more willing to buy it again if they have good experience with it.
Improving the retention rate is a challenging process. Your customers have needs and requirements regarding the product and service, so you'll have to be flexible to make changes along the way.
So how do you do it? How do you develop a functional customer retention strategy that won't fail? We have 5 proven suggestions for you.
1. Provide Great Support
Elijah Merck, part of the BestEssays marketing team, shares an interesting experience: "Once we started providing an extremely effective 24/7 support system for our customers, the retention rates went up for over 50%. The loyal customers felt so safe with the non-stop support that they didn't think about going to a competitive site for a similar service."
That teaches us a valuable lesson, doesn't it?
Take apps as an example. When you install a new one on your phone and it starts crashing, you simply delete it. You don't expect a support team to tell you what to do, so you search for a similar app to replace that one. If there is a support team, however, you'll troubleshoot and you'll stay with the app because it works.
Invest in a high-quality support system that will act at the first sign of trouble. Whenever a customer faces an issue, it should be easy for them to get in touch with the support at any time. A live chat feature at your website would be great! If you think that's too much, make sure to provide a contact email and hire a team that is going to respond to every single message.
Needless to say, the support team should also be available on social media channels. Today's Internet users find it easy to write a tweet or send a message through Facebook. They should be able to get the support they need via social media, and they shouldn't wait long for it.
2. Pay Attention to Your VIP Customers
When you're engaged in a business, you're not solely concerned about making sales and counting money. You want to know data about those sales. You must identify the key variables of a customer's behavior. VIP customers are the ones who spend more money on your products and services, and come back to you more often. Even they could leave if you don't make an effort to keep them.
Observe the journey of your VIP customers. How do they use the product? What are their purchase patterns? How often do they require support? You can track their behavior through your CRM (customer relationship management) software. When you catch any signal of dissatisfaction, put things in order before you lose them.
The first thing you need to do is create a list of your VIP customers. If you notice that some of them haven't purchased from you in over 6 months, you can send them a discount code along a message "We miss you. Here's a discount code for you!" Just remind them how great your business is and make sure to keep them happy with the value they get.
3. Make a Special Offer for Your Customers
When you have data about someone who has made a purchase from you, you can customize their experience in future. You can tailor an individual approach in accordance with their purchase history. If, for example, your business sells strollers and someone purchased a particular model, you may craft a special offer for the accessories that go with that stroller. You may also offer baby clothes with colors that match the ones of the stroller the parent bought.
When you make special offers tailored specifically to the customer's needs, you keep their interest in your offer. You may even consider rewarding your most profitable customers with free products or services with the next purchase they make.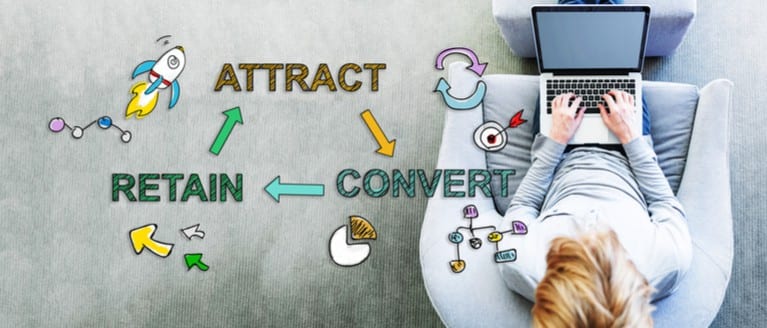 4. Harness the Power of Social Proof
You're aware of the power of social proof when it comes to attracting new customers. But did you know it was important for retaining customers, too? When your previous and current customers start seeing negative social proof regarding your brand, they will simply assume you're no longer providing the satisfaction they once got, so they won't risk making another purchase.
When they keep seeing great social proof, however, they will be constantly reminded of the awesomeness of your brand.
So how do you get this social proof? Keep your social media pages active. People will rate your business on Facebook, Yelp, and other services. Respond to the comments if someone shares a negative experience. Make sure to make up for their loss by offering a refund or a new product.
5. Get Testimonials!
Are you assuming that people have no time for surveys and testimonials? You're wrong! When they are extremely happy with a product or service, they want to share their opinion. Plus, they get a chance to say what they didn't like about the experience, hoping that you'll improve the service for their return.
Send a brief survey to each customer. Ask them what they liked and what they would want you to improve. Pay attention to the complaints; they are good for you. They tell us where the product or overall experience is not meeting the customer's expectations, so you can identify the aspects that need more work.
Once your customers answer a survey, keep them informed about the product enhancements and improvements of the service. In addition, inform them about special offers and discounts. Just show that you're listening, and they will still prefer you over the competition.
Final Thoughts
The right direction towards customer retention is listening to your users and improving the product and experience in accordance with their requirements. There's no shortcut. With the 5 methods we listed above, you'll definitely make important steps forward!