You've created an awesome article, but your traffic and conversions are still poor.
Why is this so?
It's probably the way you promote it online.
If you still believe that it's enough to post a piece of content on your site and share it on your social networks once it's live, you're wrong.
Content promotion is a critical aspect of your content marketing strategy and, as such, it requires a detailed research and planning.
1. Research your Target Audience
Any solid strategy begins with an extensive research.
To tailor your content promotion efforts to your readers' expectations, you first need to know who they are.
This is why you need to start by segmenting your target audience.
You can segment your audiences based on their demographics, psychographics, sources of influence, etc. One of the most effective ways to do so is to divide them based on the benefits sought, or the value they expect to get from your content.
Let's say you've written a comprehensive guide to link building. Who would be your target audience in this case?
Beginners that want to level up their link building skills.
A marketing specialist that is in charge of their agency's link building team, wanting to add your guide to their list of training resources.
An SEO expert who already knows all about link building, but wants to share your piece as a useful resource to their target audience.
2. Personalize your Messaging
Now that you've segmented your target audience, you need to create marketing personas. This is an awesome way to determine what you want to communicate to your readers and how.
You need to take numerous factors into consideration. For starters, ask yourself the following questions:
Who is my target reader? Try to define them as precisely as possible.
What am I offering them?
How will they find my content?
When they come across it, why would they care about it?
Which channels am I going to use to put my resource in front of them?
Why would they like to share my resource on their social media profiles?
Is there a reason why they would decide not to share it? If there is, what can I do to solve this problem?
3. Find your Link Building Opportunities
If you've already started writing your content, it's time you started finding your link building prospects. You will also need to think about what channels you will use to reach out to your prospects effectively.
You need to do the following:
Create the list of prospects. You need to estimate the approximate number of people you want to share and link to your content and divide it by the average response rate you had in the past. The number you get tells you how many outreach emails you need to send. This usually means that your outreach list will be significantly narrowed down. Use link building tools to analyze your prospects carefully and cherry pick the most relevant ones.
Engage with your prospects. If you believe that a cold pitch would work for them, tweeting a post and mentioning them will be enough to get them to notice you. Of course, it's more difficult to reach out to those that expect you to invest more effort. Start by tracking them on social networks and analyzing their site in order to personalize your approach and build relationships.
4. Prepare for Launch
A week or so before the launch of your content, you need to pretest its performance. Before you publish your content, you can simply inform a subset of your prospects that you're finishing a killer piece of content and ask them whether they are interested in getting a review copy. Just make sure you give them enough time to review it.
You should also write outreach email templates for each of your target audience segments. Make sure you personalize your emails, create a few catchy subject lines, and have clear CTA.
5. Promote your Resource Regularly once It's is Live
From the moment your new resource is live, start connecting with the people from your outreach list. Do so as soon as possible so you can have enough time to see what outreach templates work better than others or, if the need arises, even make a completely new template.
Invest heavily in social media marketing to build stronger relationships with your target audience. Post your content across multiple channels your readers use, answer their questions, and share all those nice reviews you've received.
While you're waiting for your prospects to answer, you can always leverage some simple and yet effective link building strategies:
Promote your content on Reddit or Quora. Find a post that is topically related to your content and make sure you provide a relevant answer with a link to your post.
Do some broken link building. Simply put, find a link on your target site that doesn't work and that covers the same topics as your new resource. Then, reach out to a blogger, offering your content as a replacement.
If they start seeing your content as valuable, people will share it without crediting you. This is a great link building opportunity, since you just need to ask them politely to include a link to your site.
3 Ways to Use Email Signatures for Content Promotion
There is no denying that email continues to be a critical communication modality for businesses. In fact, rather than shrinking, email usage is expected to continue to grow upwards of six percent per year for the foreseeable future.
6. Make Sure You Get the most out of your Post
When the noise dies down, the popularity of your content will plummet. To prevent it from fading into oblivion, you need to:
Keep promoting it on social networks.
Use social media monitoring tools a to track people's discussions about you and keep up with your post shares. Don't forget to thank them for their shares and mentions.
Repurpose your content to keep it fresh. If it's a guide, you can divide into a few smaller articles. You can also make an infographic out of it, make a presentation, or even dedicate a podcast episode to it.
Over to You
Once your content promotion campaign is over, you need to track its results. Keeping track of your content marketing metrics will give a full insight into what strategies work for you and help you focus on them in the future.
How do you plan your content promotion campaign?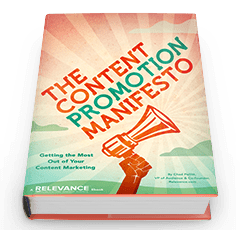 The Content Promotion Manifesto
In this manifesto, content promotion expert, author and speaker Chad Pollitt takes a hard and realistic look at today's content marketing environment and explains why content production without planned promotion can be a recipe for lackluster results.