6 Top SEO Tools Perfect for Local Businesses in 2018
Search engine optimization, or SEO, has become a very familiar, necessary part of doing business online, but for location-based businesses, it works a lot differently.
Instead of driving traffic to your website and encouraging online sales, it's all about spreading information to people in your area and driving traffic to your physical location.
Many local businesses, particularly small ones, tend not to pay a lot of attention to SEO because they don't see the potential for their small geographical audience. But it's worth remembering that, according to Google, 50% of consumers who use local search on their smartphone visit a store, and 18% of those searches lead to a sale within a day. So if you're not maximizing these opportunities, then you could easily be losing business to the competition.
Here are some tools you should be using to make sure you get the best out of your online marketing efforts for your local business.
1. Ubersuggest
Since the whole point of SEO is to get found, one of the most important first steps for any business engaging in SEO is to know what people are looking for.
The best way to do that is to learn what keywords they are searching when they want to find your businesses and products. The best tool for this? Ubersuggest. Not only is this comprehensive keyword suggestion tool completely free and very useful in providing keyword suggestion, it pulls its data directly from Google so you can always be sure you're getting the best results.
Additionally, Ubersuggest tells you how often people are searching for these terms and how difficult they are to outrank or outperform, so you can choose the most ideal words for your strategy based on your content quality and budget.
For local businesses, the best way to start with Ubersuggest is to simply plug in the type of business you run and your city, like we've done below with "barber los Angeles". Once the tool gives you suggestions, choose a few of those and plug them in as well to get even more relevant, useful results.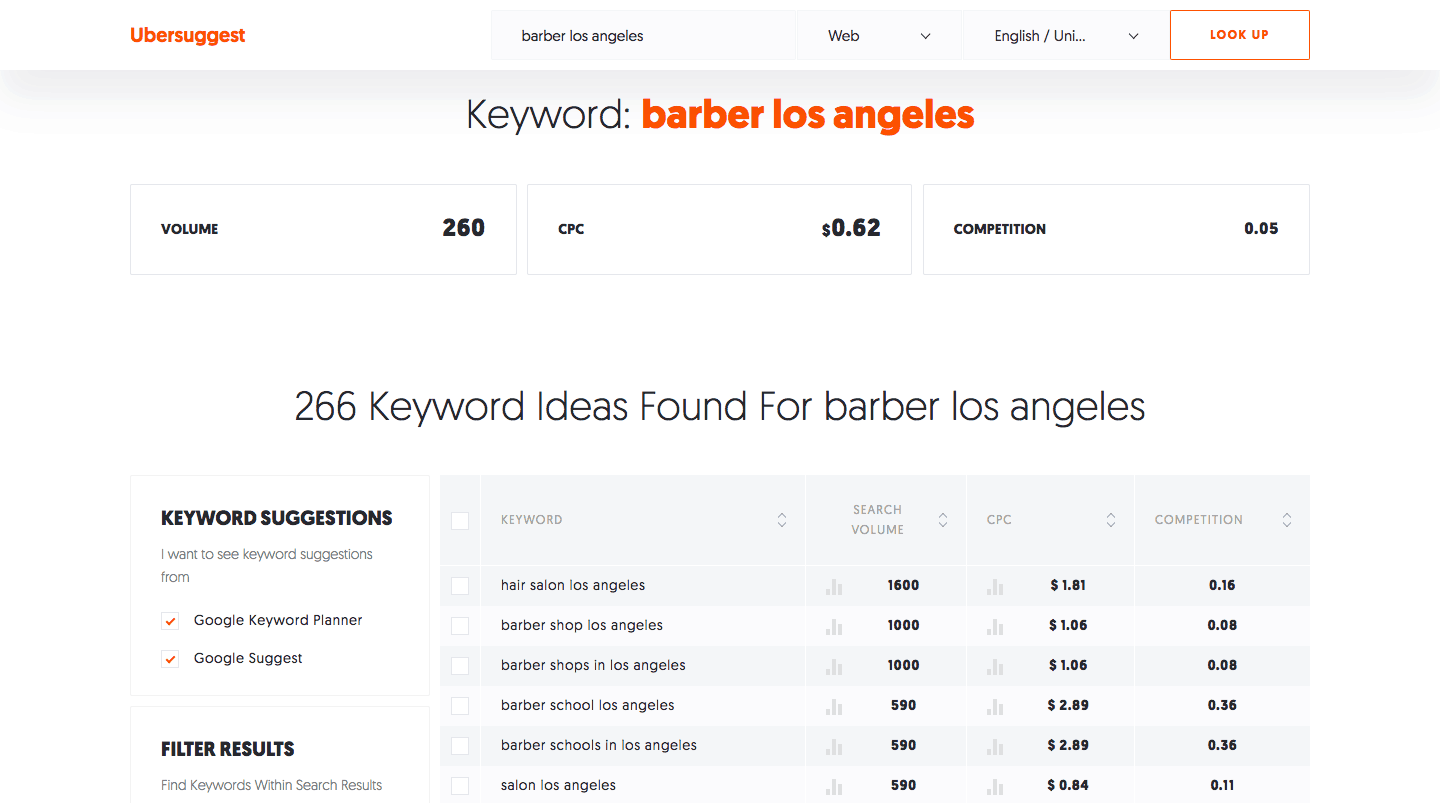 2. Local SEO Questionnaire
One of the most important things about local SEO is ensuring that all the information you put out – such as business name, contact numbers, emails, opening hours, etc. – is accurate and doesn't raise any red flags.
Moz has put together a comprehensive Local SEO Questionnaire to ensure that you capture the correct information and have it recorded for use in your local SEO pursuits. For each question, it provides a short explanation why this information is important to search engines.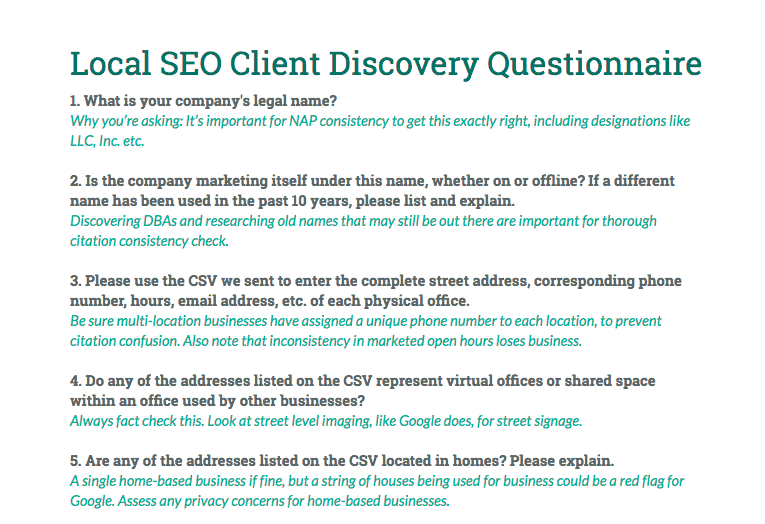 This questionnaire was meant for agencies to distribute to their clients, however it will also come in very handy for small businesses handling SEO on their own. Simply answer the questions on the form, then keep a copy on hand as reference when updating your online profiles. And don't forget to review it regularly to ensure that all the information is still accurate.
If you need some guidance, Moz walks you through filling out the form and provides additional resources in this blog post.
3. Moz Local
If you've ever had the experience of showing up to a store at a time listed on their website, only to find out their not opened, you know how disappointing that can be.
According to research by Placeable, 73% of consumers lose trust in a brand if its listings contain inaccurate information. This drives home the importance of keeping consistently accurate information about your business online.
For $99 per location per year, Moz Local promises to help you:
Make sure your business listing has been verified on Google or Facebook
Complete your business listing with the most accurate information
Distribute your business listing across the search ecosystem
Help customers find your business through search
They do this by automatically update your listings once you provide them with details of your business locations, constantly check listings online to alert you of any discrepancies and provide stats on performance of listings so you can know what's working and what's not.
If you're not quite ready to start using Moz Local, you can make use of Moz's free SEO tools for both online and local businesses, before diving into a paid subscription.
4. Local SEO Checklist
Have no clue where to start with optimizing your online presence for your location-based business? That's where Local SEO Checklist comes in. As the name suggests, it gives you a comprehensive listing of 39 areas you should be optimizing on your site, online directories, social media, search engines and more.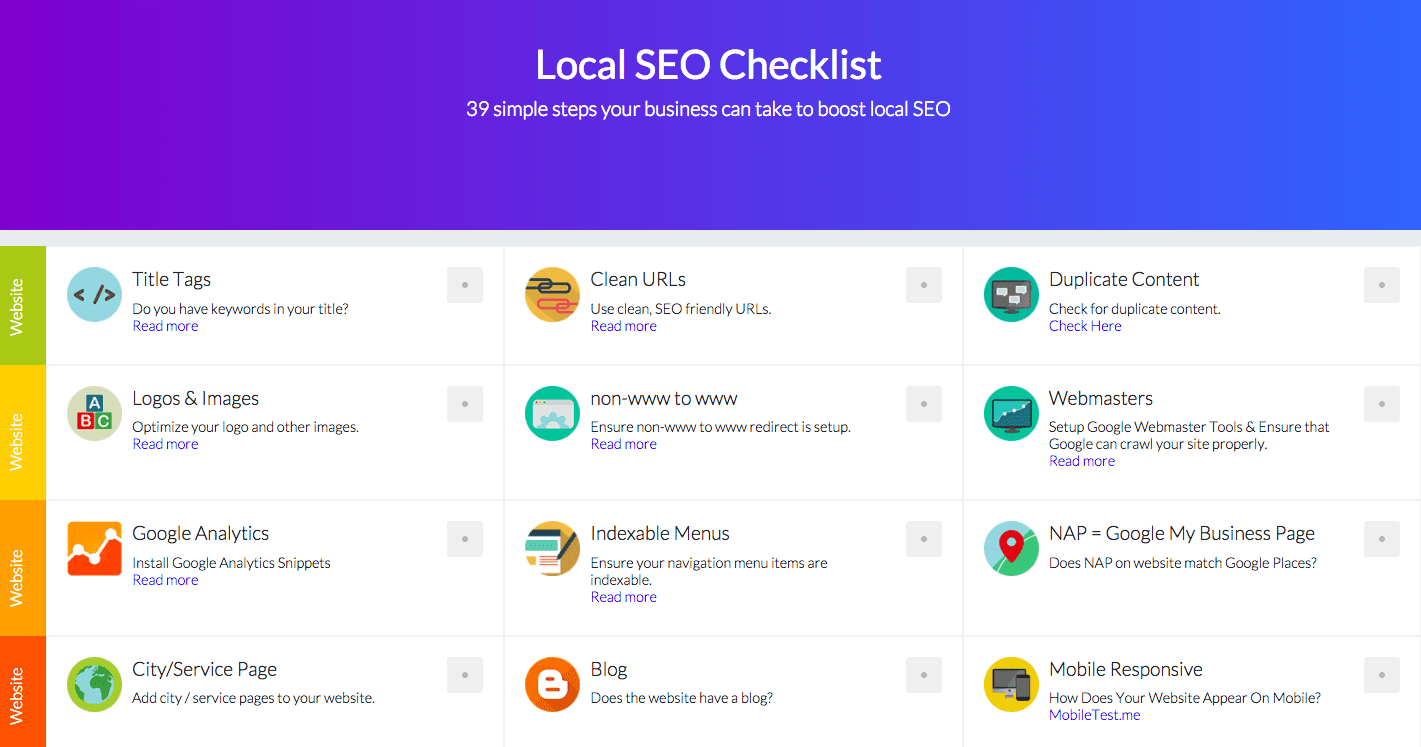 One of the best ways to get started with local SEO and learn more as you go along is to simply work your way through this list, reading the explanations and guides provided, and checking each item off as you go along.
Once you've completed this checklist, you can be confident that you have a solid online presence that's ready to work for you whenever anyone searches for your business online.
5. Google My Business
One of the primary things Local SEO Checklist will tell you to do is get listed on Google My Business. This is a free listing which appears at the top of results in Google Search (as shown below) and in Google Maps.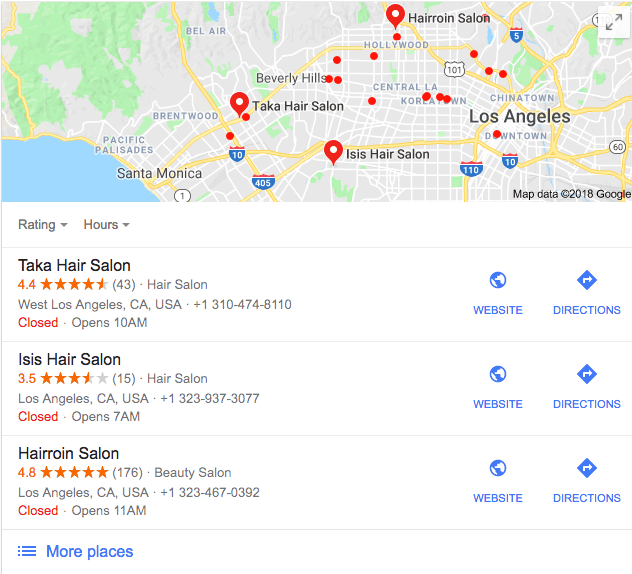 Along with general information about your business, such as name, address and contact information, you can also add opening times (including differing hours for special days, if applicable) and photos of your establishment.
Google's interface will automatically provide one-click buttons for your potential customers to give you a call, get directions to your closest location or check out your website. And if you don't have a website? No problem. Google takes care of that too by giving you a free simple, one-page site. It won't be very fancy, but it will serve you well until you can get a better one on your own.
Customers can also add photos they've taken and leave reviews that searchers will see when they click on your listing. This will help provide material you can use to promote your business and drive more customers to your business.
6. Yoast SEO
If your website is powered by WordPress, the number one SEO tool to have in your arsenal is Yoast SEO. There's a reason this tool has millions of users and a five-star rating in the WordPress Plugins store – it simply works.
For every page or blog post that you publish, Yoast gives you a checklist to ensure these posts meet the basic requirements to be loved by search engines, and allows you to customize titles and snippets that appears on search engines, and social media, when your page or post is shared.
To take advantage of this in your local business, ensure that everyone post that goes out mentions your location, so that you can maximize the clicks you get from people in your geographical area.
And if you love Yoast SEO, you should also check out their Local SEO for WordPress plugin made specifically for local businesses. The Local SEO plugin takes care of all that technical stuff for you and optimizes your contact page to help your customers find your business easily. While this will set you back $69, you'll probably make it back in the first few store visits that you'll generate from having it on your site.
It's Time to Focus on Local SEO
It's easy to ignore SEO as a location-based business. You may think your audience may not be big enough geographically to warrant wasting time and energy on it.
However, not only is there proof that local SEO is highly beneficial to those who engage in it, this list proves that you can do it at a low cost and with minimal input.
The best part? The effort you put in today can serve you and your business for a long time to come.