There seems to be a disconnect between what content marketers want to achieve and what they actually measure.
In a survey of B2B and B2C marketers this spring, we found that their most common goal (73 percent) is brand awareness. The metrics these marketers gather, however, tell a different story. Most of them (69 percent) use pageviews and unique visitors to gauge the success of their content. These are metrics typically used for selling ad space and are not meant for measuring brand awareness.
In other words, brands have been measuring their content the wrong way—and how can they not? Pageviews and visits are easy to understand and, until recently, it was hard to track the other behaviors of website visitors. But if your brand is like most, and your endgame is truly to increase awareness and build deeper relationships with your audience, shouldn't you be using metrics that tell you whether you're achieving your goal?
With that said, here are some highly undervalued metrics to help you get a better picture of how your content shapes your relationship with your readers.
1. Brand Lift
"Brand lift" is the blanket term for a brand's increase in customer or audience perception. How to measure brand lift differs with each campaign, company, or industry, but some common factors are increased brand awareness, brand recall, customer purchase intent, and customer affinity for a brand.
But how do you measure something that seems to be so closely tied with your audience's intentions and feelings? While you can't read their minds, there are ways to quantify how they feel about your brand. Google AdWords uses customer surveys to measure it for their clients. BuzzFeed uses reader surveys to identify brand lift and purchase intent for their sponsored content, but they also measure "social brand lift," which is the increase in brand lift after being exposed to their content via social media.
Given that most marketers want to boost brand awareness, it makes sense for them to start defining what "brand lift" means for each of their campaigns and how they should measure it. (The other metrics on this list can help you get started.)
2. Engaged Time
While brand lift measures the general way your campaigns are performing, a specific metric like engaged time can help you look at how well individual content pieces are performing. According to a survey from Eloqua, only 27 percent of marketers track how much time their users spend on their content, and in our survey, just 43 percent of respondents said they were examining time spent.
But brands are starting to catch on. Engaged reading time is one of the primary metrics that Coca-Cola uses to measure the success of their sponsored content, and engaged time is the primary metric that both Upworthy and Medium use to measure the success of brand-sponsored content.
Unlike other time-based metrics like "time spent on page" or "time spent on site," which typically measure the amount of time content pages are open, measuring engaged time is much more involved. Basically, engaged time measures the amount of time users spend actively paying attention to your content. Are they viewing it in an active window, or is it left waiting in a background tab of a user's browser? Are they scrolling, clicking, or interacting with the content in any way?
This metric can tell you which of your stories captivate audiences the most. Knowing this is essential because the more time a user spends engaging with your content, the more likely they are to come back and read more.
Chartbeat, a web analytics company, found that "visitors who read an article for three minutes returned twice as often as those who read for one minute." In a separate analysis, they also found that higher engaged time leads to better brand recall.
3. Average Finish
"Try to leave out the part that readers tend to skip," wrote Elmore Leonard in his 10 Rules of Writing. Average finish is the number that tells you exactly if your readers skip, giving you the percentage of people who actually finish reading your page. Like engaged time, this is best used to measure how engaging an individual piece of content is.
A study from Microsoft Research found that the first 10 seconds a user spends on a page are crucial in getting them to stay longer. This means that if your average finish is low, especially among the users you want to engage, perhaps you can audit the 10-second impression that your content makes, and enact changes that encourage people to keep reading.
4. Return Readers
Getting your target readers to check out your content once isn't enough; that's a one night stand, not a relationship. The long-term strategy is to keep them coming back and turn engaged readers into loyal readers.
This is where the "returning readers" metric comes in. How many of your readers come back? More importantly, how do they behave differently from your single-visit readers?
Unlike visitors or pageviews, which often reflect a disproportionate amount of new visitors, looking at the amount of returning readers and their behavior can help you focus on how to acquire and retain them. This retention is crucial. How often your readers return can have a strong effect on purchase intent. According to a BuzzFeed case study on Virgin Mobile, users who were exposed to Virgin Mobile's branded content between five and nine times were 278 percent more likely to consider the brand in their next mobile phone purchase.
5. Visitor Loyalty
Relevant to your returning users is visitor loyalty. Visitor loyalty tells you how often people revisit your site within a week, month, or within any specific period. In Google Analytics, this metric is called "frequency" and is paired with "recency"—how many days it takes for a user to revisit your site.
Visitor loyalty leads to a snowball effect, since the more visitors return to your site, the more loyalty you can expect in the long run. According to a study of Vulture.com's reader loyalty, visitors who came to the site five times in a month were more likely to keep regularly returning to the site.
6. Longevity
How long does your content keep reaping rewards? This is the question that longevity attempts to answer. Every status update, blog post, or video has a period of time where they bring in results. For example, data from Bitly's URL shortening tool shows that the half-life of a typical link is three hours, which means that in three hours, a Bitly link would have received half the clicks it could possibly get after reaching its peak.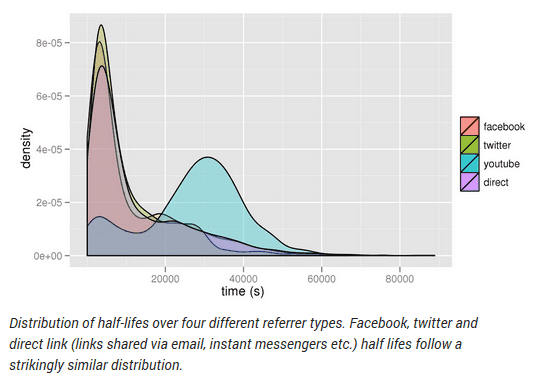 Emailed content can have an even longer shelf life. Email marketing firm Alchemy Worx used collective data from their clients' email campaigns and found that at least 25 percent of purchases were generated three weeks after an email campaign was deployed. So if you think the immediate results from your email campaigns are less than stellar, try looking at it from a longer time frame.
How long do your landing pages keep bringing in new sign ups? How long do your blog posts bring in new engaged readers? How long do people keep viewing your videos? The more you know about how long your content brings in active engagement, the more informed you'll be when planning your publishing schedule.
7. Email Engagement
While we're improving how we measure engagement for our on-site content, let's not forget how we measure our email campaigns, especially since 60 percent of marketers state that email marketing is producing a positive ROI. In fact, according to the Direct Marketing Association, email's ROI is at 4,300 percent.
But the metrics most email marketers track is often limited to opens and click-through rate. Someone opening your email for a second is measured on the same level as someone opening your email for 30 seconds. This view is limited because half (51.1 percent) of those opens last for less than two seconds.
This is why it's important to also track your email engagement data, if you can. Email analytics tools like Litmus track email engagement based on how many seconds your email was left open. An email is marked as "glanced" if it was open for a maximum of two seconds, "skimmed" if it was open between two to eight seconds, and "read" if left open for longer than that. While this approach has some limitations, with enough analysis and testing it can still provide a deeper understanding of how your audience engages with your email, and what you need to do to improve that engagement.
The Rise of Relationship Metrics
While the above metrics aren't perfect—we can't look inside a user's brain to see how truly engaged they are— they do provide far more insight than simply looking at pageviews, visits, or likes. If you truly want to raise awareness and build deeper relationships, track your metrics like you care.
This article originally appeared on Contently.