7 Things That Make Your Content Marketing Campaign Successful
"Marketing is no longer about the stuff that you make, but about the stories you tell", says Seth Godin and American author, entrepreneur, marketer, and public speaker.
A decade ago, content was considered the source for providing information about the latest products and sales offers for consumers across the globe.
Today, with the increasing demand of consumers and easy access to content over their phones, business owners need to understand the importance of performing content marketing strategies to enhance engagement and retain more customers with time.
B2B content marketing statistics in the United States
– 70% of B2B organizations are expected to produce more content in 2017 than 2016.
– 80% of B2B content marketing goals are towards generating leads.
– 83% of B2B content marketing source is via social media platforms.
Source:Content Marketing Institute
B2C content marketing statistics in the United States
– 86% of B2C organizations are using content marketing for promotion.
– 42% of B2C organizations had a positive impact.
– 77% of B2C organizations confirmed content creation to be the major factor for their overall success.
Source:Content Marketing Institute
So what can make your content marketing campaigns successful?

Considering Google Panda and Penguin update, you will first want to ensure that your content is fresh, original, and relevant.
Lead generation, sales opportunities, lead nurturing, and brand awareness can be some of the most important factors for performing B2B content marketing strategy, while customer retention, and engagement for B2C.
Whatever may be the reason, given below are ideas that you can apply to ensure actionable content marketing strategy for your organization.
Let's begin:
1- Considering lead generation

E-book, webinar, real-life events, whitepaper guides, image gallery, and consumer case study are the most influential methods for promoting your content.
The better you educate your customers the more the chances of them sticking with your brand increase.
Best lead generation content marketing example from popular brand
H&M- a Swedish multinational clothing-retail company offers an "Image Gallery" section on their website which I consider it to be one of the most effective lead generation content marketing strategies for influencing customers.
Apart from highlighting their best-selling products, the brand offers exclusive content of fashion events featuring their use of products, as well as, the making of their products.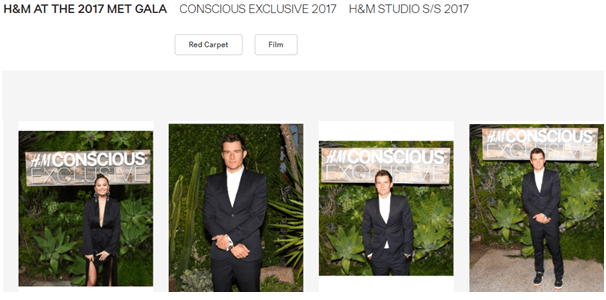 Image source:H&M
What do you learn?
Offering your customers an ability to gain information about your products from influencers of the same industry will develop a unique trust and customers won't mind engaging with your brand.
2- Considering brand awareness
Guest articles/bogging, videos, podcast, media coverage, PR, and social media are some of the common yet most accessible sources used by consumers to access news and updates from their favourite and new brands.
Making your valuable content available across multiple resources will automatically increase the chances of your brand being visible in front of a large crowd who regular visit online.
Best brand awareness content marketing example from popular brand
Starbucks- an American coffee company and coffeehouse chain regularly post eye-catchy updates about their products over social media sites to keep their customer's informed about the brand happenings.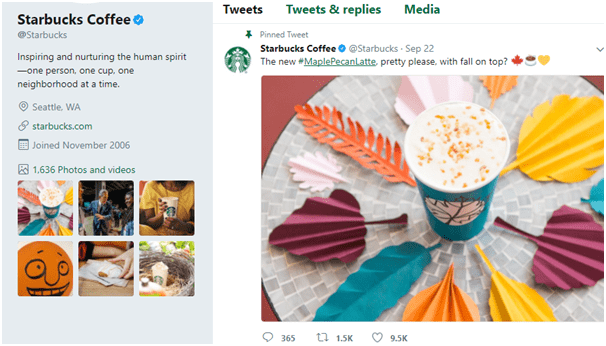 Image source: Starbucks Twitter
What do you learn?
Educating consumers across popular online sources that already are receiving high visitors on a daily basis will increase the chances of your content being shared in their networks too.
3- Considering brand engagement
User-generated content is here since long, yet many overlook the importance of it for increasing brand engagement.
UGC (User-Generated Content) can include stories and product reviews that are direct voices coming from real customers which are highly referred and trusted by online consumers across the globe.
Best brand engagement content marketing example from popular brand
Burberry- a British Luxury fashion house performs a unique content marketing strategy for their audience by allowing them to post their wonderful experience via The Art of the Trench.
Image source: Burberry website
What do you learn?
Encouraging your customers to share their shopping experience and upload pictures using your products will help you generate free content.
Additionally, being present on visual-oriented sites like Instagram and Snapchat will automatically help you target more consumers who frequently visit these sites to engage with the brands that allow them to do so. 
4- Considering lead nurturing
Not all customers will have same interests, priorities, and timelines, therefore, offering content campaigns based on list segmentation will help you target better.
Online videos or YouTube videos are the most engaging form of content and are being accessed by consumers to make purchase decisions and gain information about using their favorite products.
Best lead nurturing content marketing example from popular brand
Old Spice- an American brand of male grooming products is one of the oldest brands performing video content marketing via its YouTube channel (672,624 subscribers at present).
https://www.youtube.com/watch?v=I_R3BoPojm4
What do you learn?
By offering content via videos you can relate your products to match your potential customer's day-to-day life and keep them updated with multiple trends and styles of using your products. 
5- Considering sales opportunities
You may have the best of the best offerings; however, not providing information about the purpose of purchasing your products may encourage your customers to give a second thought about their purchase decision.
User guides, also known as buying guides, allow business owners an added advantage by offering self-assistance and encourages consumers to make strong decisions on their own.
Best sales content marketing example from popular brand
Sephora- a French chain of cosmetic stores makes it easy for fashionistas to not only stay updated with their latest products, but also offers insights about using their favorite products via their HOW-TOS section over their website.
Image source: Sephora
What do you learn?
Allowing your customers to understand the usefulness of your products will automatically eliminate them for depending on other customer's reviews and make satisfactory purchase decisions on their own. 
6- Considering customer retention/loyalty
Loyalty discounts and reward for referring a friend are the most common technique to infuse in your content marketing campaigns to retain your customers.
However, the value and ability to redeem your loyalty benefits will contribute to the success of such content marketing campaigns.
Best customer retention content marketing example from popular brand
BirchBox- a New York City-based online cosmetics shopping portal really offers the coolest loyalty program benefits to their customers.
The program offers points to each customer for every purchase they make. The benefits are extended to free shipping, gifting, referring friends, and subscriptions too.
Image source: Birchbox
What do you learn?
Instead of blindly offering discounts via email marketing campaigns, allowing your customers to earn and manage their discounts as per the actions will encourage them to accumulate points for their future purchases and shop from your brand always. 
7- Considering subscription growth
I'm sure like any other business owner you are always looking to increase the number of email subscribers for your brand.
However, offering a simple "subscribe now" call-to-action button on your website will not be enough for today's consumers to take action.
Best subscription growth content marketing example from popular brand
Adore me- a recognized women's intimate company in New York City has made subscription forms even more engaging via a "Quiz" format.
Image source: Adore Me
With personalized subscription options, customers can enroll for the one that they are interested in and they won't mind receiving updates from the brand.
Image source: Adore Me
What do you learn?
Allowing your audience with an ability to receive updates of their choice will help you target them better and understand your growing customers' preferences. 
Over to you

With the above examples, you can perform the best and innovative content marketing campaigns and increase the number of subscribers and followers for your brand.
Additionally, you might not want to miss on tracking each campaign and optimizing your content with time.
Good luck!