Why is content marketing no longer the revolutionary trend that it used to be? Now that such a large volume of content is being produced every day, the technique is beginning to lose its charm. Thankfully, influencer marketing is increasingly effective, and quickly becoming the most powerful digital marketing technique.
This post will highlight the main reasons why content marketing is losing its luster, and why influencer marketing is the future.
3 Reasons Why is Content Marketing Dying
#1. Content Explosion
There has a content explosion recently, with different types of content being produced every day. Consumers are overwhelmed by content. But the reliability and quality of that content is being called into question.
TrackMaven found there was an 800% increase in the blog posts produced by brands over the past five years. However, the report also found that, during the same time, the organic social shares of those blog posts fell by 89 percent. This means that although brands were producing more content, consumers were sharing them less.
The same research found that brands aren't just producing more content, they're producing longer content. This content overload is becoming a problem for brands and consumers alike.
#2. Low Quality Content
People are creating content without putting much thought or passion into it. With longer content being produced more often, that often means less time and money being spent on each piece of content. Thus, most of what consumers are getting today is low quality.
Before the Google Panda algorithm update, even low quality content was helpful for SEO and traffic generation. But now, your blog's search rank, (and traffic) will suffer if it has even a few low quality posts. And once you are hit by a penalty, getting back that search ranking and lost traffic is very time consuming and difficult.
So how can you identify thin, low quality content?
Although there is no definite handbook for identifying low quality content, here are few points on which you can measure it:
The content is not original, and has been copied from somewhere else.
The content has a low word count.
It contains broken or low quality links.
The content has formatting and grammatical errors.
It contains inaccurate information.
It doesn't offer value to the audience.
A Beckon study found that content production by brands has increased by 300% over a period of 12 months. But only 5 percent of that content was effective in building engagement. The report further pointed out that around 19 out of 20 pieces of content today have little or no engagement.
According to the study, one of the possible reasons for the lower level of engagement is the content quality.
Some brands have strict guidelines and review procedures in place for all of the branded content they produce. But most brands hand over the task to local teams who publish the content independently with little or no brand review. This, according to Beckon, leads to the decline in the quality of the content.
#3. Content Marketing Alone is No Longer Effective
People want new experiences, and that is when the old trends make way for new ones. Although content marketing is not out of the picture completely (yet), there are several signs of decline. And these signs underline the fact that consumers are demanding more than just PDFs and whitepapers.
The report by TrackMaven points to the fact that content marketing alone is no longer as effective as it used to be. This is partly because of the content explosion, and partly because of declining content quality and other factors. Even if you are creating good quality content, it may get lost in the sea of content.
If you focus on the ultimate goal, content creation is not your target. Your target is to get people's attention, and win their trust so that they take an action, like making a purchase. Therefore, you need other strategies to go with content marketing so you can reach that ultimate goal.
This is where influencer marketing comes in. Influencer marketing is now used by brands to reach out to and engage with a relevant audience. The influencers share their content with their communities of niche-specific followers.
6 Reasons Influencer Marketing is the Future
Influencer marketing is now the talk of the town. As people's trust in brands is waning, they are becoming more and more dependent on recommendations from other sources they trust. Those sources can be a peer, a family member, a friend, or someone else they trust for reliable information.
Those people are called influencers, and they have the ability to influence the buying decisions of others with their honest opinions.
Content marketing is one part of influencer marketing, which may also include social media marketing, email marketing, and other digital marketing techniques.
Influencers create authentic and high quality content to reach out to and engage with their audiences. But that content is not directly controlled by brands. Brands are now relying on influencer content to boost their content marketing strategies. Thus, influencer marketing has provided a fresh, new push to content marketing.
Here are a few reasons why influencer marketing is the future:
#1. They are the Best Content Marketers
Many influencers agree to work with a brand only when they develop a genuine appreciation for it and its products. Influencers do not directly advertise a product. They merely create brand awareness and promote products that they like through their content. But since they are honest about their sponsored content, people trust them more.
Check on the Instagram post by Sarahy delaRosa below.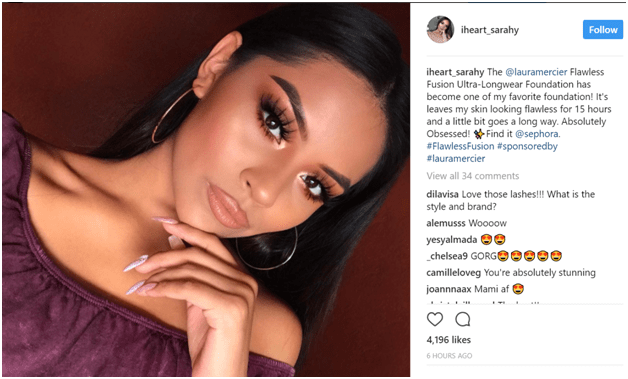 Sarahy is a beauty influencer with 166,000 followers on Instagram. In the above post, she is promoting a product by Laura Mercier. She has also mentioned in the caption that the post has been sponsored by the brand.
#2. They are Trustworthy
Influencers are highly trusted individuals. This enables them to have a much stronger influence on their followers than any other form of internet marketing. Consumers are willing to listen to these individuals, and even base their buying decisions on their recommendations.
Therefore, brands can effectively reach out to a relevant audience by collaborating with influencers in their industries.
The following images are screenshots of a YouTube video posted by beauty influencer Stacey Baez.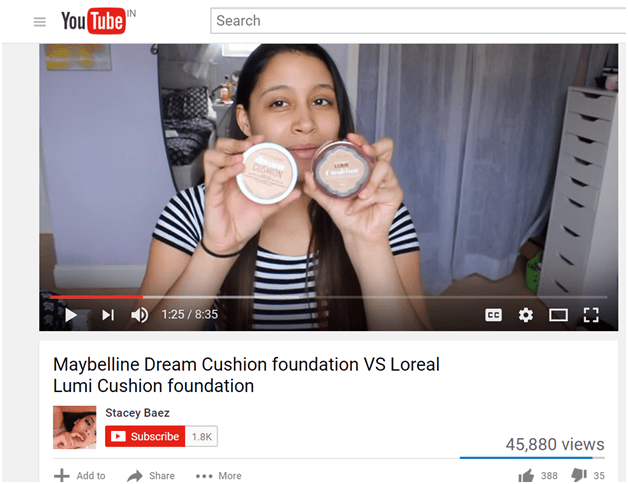 In the first screenshot she is comparing cushion foundations from two brands – Maybelline and L'Oreal.
And the second screenshot shows fans' comments on the video. It is clear from the comments that she is highly appreciated by her followers. Stacey has almost 2,000 followers on YouTube.
#3. They Enable Brands to Reach Consumers Who Crave Authenticity
Consumers are growing tired of the advertisements that bombard them wherever they go. People are now looking for honesty and authenticity. That's why they trust influencers, since they are transparent, and are true to their followers.
This helps brands engage with their target audiences better. The influencers promote the brands to their audience through different types of content. This includes honest reviews about their products, video tutorials, DIY blog posts, etc.
In the screenshot below, YouTuber Bella Fiori is giving a one-brand makeup tutorial to her followers using only NYX products.
The next screenshot shows comments by her followers requesting her to do more such tutorials. Bella has over 1 million followers on YouTube and the tutorial received over 500,000 views.
#4. They Offer Value and a Higher Level of Engagement
Influencers offer value to their audience, and that's why their followers like to view and share their content. They have their own creative method of content creation, which differs from one influencer to another.
The audience can relate to this content, as it comes from another consumer rather than directly from the brand itself, or an ad agency. And if they learn something useful from it, they will most likely share it with others too. This will increase the reach of both the influencer and also the brand they are collaborating with.
The screenshot below shows YouTuber Rotem Beauty offering a makeup tutorial using all Mac products in the video.
Rotem is a beauty micro-influencer on YouTube with a 2,300 followers.
#5. They Drive Traffic
Influencer marketing helps to drive traffic to a brand's website through a number of methods. A few of these methods include:
Link building
Improving its social signals
Contributing guest posts to the brand's websites
Allowing brands to submit guest posts to their websites
This helps brands to increase their website traffic and also improve sales.
Traackr, an influencer marketing platform, presented a case study on how their client, Orange, benefited from influencer marketing.
The case study stated that Orange increased their website visitors to more than 20,000 daily by working with influencers.
#6. They Are Less Inexpensive
If brands want to, they can keep their influencer marketing budget low. While there are big influencers who charge very high rates, there are smaller influencers as well, and they are typically quite affordable.
These micro-influencers charge much less for a post compared to the bigger influencers. So if you cannot afford a celebrity, you can still launch an influencer marketing campaign with the help of micro-influencers.
They also have a higher engagement rate than the big influencers because of their smaller number of followers. And brands are currently focusing more on engagement than reach. This is because a highly connected audience has a greater chance of converting into loyal customers.
Conclusion
There's a strong connection between influencer marketing and content marketing. After all, it is only through creating high quality content that influencers reach out to and engage with their audience. If they weren't creating something of value and authenticity, they wouldn't be influencers in the first place.
If brands want their influencer marketing to be successful, they should allow their influencers creative freedom when they create content. This will maintain authenticity and also the quality of the content, and set them apart from everyone else.