Harnessing Google AdWords to scale up conversion rates is easier said than done. Whether you are a small business or an industry leader, it is a daunting task to get things right immediately. However, an organization specializing in AdWords knows that the effort expended in overcoming process challenges are worth it.
Creating efficient ad campaigns requires insight. It takes a lot of research, optimization and a world of patience to cultivate ad campaigns that work.
In this article, we will take a look at a case where Allbound—a renowned partner relationship management software solution provider—was having trouble with their AdWords campaigns and how a digital marketing company helped them in increasing conversions while reducing the costs substantially.
About Allbound
Allbound specializes in providing partner relationship and channel management solutions across different aspects of a partner lifecycle. Their Software as a Service (SaaS) partner sales acceleration platform allows businesses to accelerate growth through sales and marketing partners. Allbound aims to make the engagement between the businesses and their partners simpler, rewarding, and more productive than before.
The Problem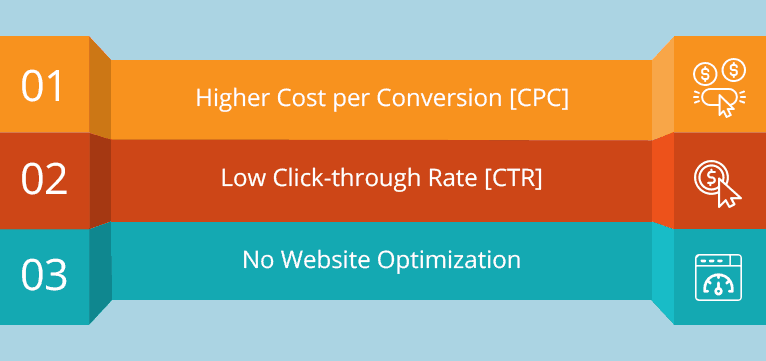 Allbound was investing in Google AdWords campaigns to increase reach. But conversions were not coming. Their cost per conversion (CPC) was on the high and the click-through rate (CTR) wasn't at par with the industry standards.
In addition to the aforementioned problems, their website was not optimized for search engines. All of these reasons led to low organic traffic and an increased bounce rate. Additionally, their keywords, both paid and organic, focused only on one service.
Main Objectives
Their primary concern was to increase high-quality traffic and the lead volume. They also wanted to reduce the cost per lead and target keyword themes related to their services on paid and organic platforms.
What Happened Next?
In order to target paid and organic search results, they conducted a thorough keyword research for Allbound. They analyzed themes used by the competitors and keywords relevant to their services which yielded a higher search volume. Let's take a quick look at the details:
Technical SEO fixes followed on the Allbound website. The goal was to optimize the website for search engines. The work focused on meta tags, heading tags, image tags, URL errors and redirections
Allbound syndicated their content.
To set Allbound apart from the competitors, the experts at the digital marketing company performed a detailed content gap analysis for their website. This helped them in evaluating the current position of their content and suggesting the areas of improvement
All the existing Google AdWords for the client were revamped and new keywords were added for bidding and custom targeting
New ad copies to map the keywords to Allbound's services were drafted and ad extensions were implanted to improve the ad rank
In the final step, separate ad campaigns for different geo-locations were created to reach the target audience effectively
The Outcome
Allbound observed a 67% scale up in conversion rates within the first five months of project execution. The cost per conversion dropped by 60% and the click-through rate witnessed a hundredfold increase. The project improved the organic traffic by 21% and reduced the bounce rate by 50% making it one of the most successful projects undertaken by Grazitti Interactive.