At one time or another, we've all fallen victim to clickbait – clicking on a story with a sensational title that's proven to have false, worthless or misleading content. Stories that say click here to see What State You Really Belong To, The 10 Baddest Bad Guys of all Times or What Happened When I Proposed to My Boyfriend are all too familiar to us.
As Jon Stewart put it, "I scroll around, but when I look at the Internet, I feel the same as when I'm walking through Coney Island. It's like carnival barkers, and they all sit out there and go, 'Come on in here and see a three-legged man!' So you walk in and it's a guy with a crutch."
Why do advertisers use clickbait? Because they want to drive traffic. But what does that traffic really mean? Does it mean the person who clicked actually read the content? According to Chartbeat, 67 percent of people who click on promoted content leave before 15 seconds have passed and only 24 percent ever scroll. People who are 'clickbaited' typically leave the site feeling deceived and frustrated. That in turn chips away at a consumer's trust level and ultimately tarnishes a brand's image.
As described so well in this Mashable article by Jason Abbruzzese, clickbait is an issue of tricking the consumer to click coupled with a lack of good quality content. With the native advertising industry expected to grow to $4.3 billion this year – up 34 percent from 2014, that's a lot of money to be spent by brands for not getting real engagement.
For engagement to happen, two things need to occur: a) promote content that people actually want to read and b) get that content in front of people who want to read it. Research from Nielsen examines what type of content most affects a consumer's opinion of a product. The study finds that when it comes to positively affecting familiarity, affinity and purchase decision, expert content (articles and reviews) always surpasses branded content and user reviews.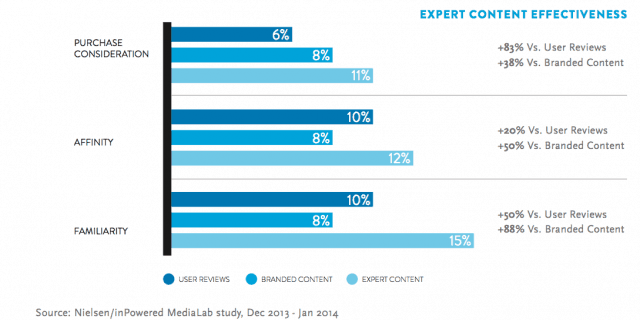 This finding coupled with the Chartbeat data suggests that once you have identified the right target audience, the most influential message you can get in front of them are expert articles and reviews which, in turn, drive the highest engagement and brand affinity.
Driving Engagement
Here are some surefire tips to move away from clickbait toward engagement:
Change your success metrics for content promotion. Traffic and clicks fail us all. We want to focus on metrics that actually impact our business. For direct response marketers that may be lower funnel metrics like actual conversions and sales. For brand advertisers, metrics that show time spent, sharing and a shift in consumer behavior are ultimately what matter.
Lead with engaging content that people actually want to read. Test and learn is an approach many successful content marketers are deploying. Promote multiple content pieces and see what's actually driving engagement. Focus your ad budget on that content.
Say "No" to using clickbait for content promotion. As tempting as it is to buy cheap clicks and show big traffic numbers, ask what that traffic is actually doing for your business. Instead, get your most engaging content in front of people who want to read it.
Engagement in Action
Let's take a look at an innovative way to create engagement from a fast-growing social media company we all know well. Snapchat has recently opened its platform to advertisers requiring a minimum ad spend of $750,000. One might say that's a lot of money to spend on advertising. However, engagement is guaranteed wherein the user is required to hold down a button to view the ad before it disappears, as opposed to idly having the window open and not engaging with the ad content.
As another example, my company inPowered introduced our Guaranteed Engagement platform in December 2014, which got positive reaction from industry experts like Wall Street Journal's Mike Shields, ZDNet's Tom Foremski, VentureBeat's Barry Levine and Relevance's Chad Pollitt. Chad expands on the concept in his post saying that if content discovery networks dropped their CPC model and moved to the CPE model instead, marketers and publishers would be incentivized to promote good content and get it in front of the right audience, which would, in turn, lead to real engagement and real action.
Planning for Engagement
As engagement becomes an increasingly important indicator of a campaign's success, some key questions to ask yourself are:
How do you want to spend your advertising dollars?
What type and level of engagement are you after?
Does your current content promotion strategy cut through the noise and amplify your voice?
If not, do you have the right tools to get real engagement in 2015 and beyond?
By moving away from vanity metrics like page views and click-throughs, you're leading the way for the next generation of content promotion. Find the right audience, make sure they can discover your content and be creative about measuring the way that they interact with it.
When you shift your mindset to this kind of thinking – instead of tricking your audience into clicking on a headline – you really won't believe what happens next.