Apple Surprises with Several New iOS 12 Updates
Yesterday, developers from over 77 countries migrated to San Jose in droves for Apple's annual Worldwide Developers Conference. The world famous, four day event, packed with intensive sessions, hands-on labs, consultations, and meet-ups, culminates in a highly anticipated developers keynote where Apple's leadership whisk attendees away on a journey into design and development.
[bctt tweet="Apple announces several new iOS features and updates including Group FaceTime, ARKit 2, and Shortcuts. Here's what marketers need to know." username="relevance"]
Yesterday, Apple CEO Tim Cook took the keynote stage first. He made some introductory statements and then introduced Apple's software VP Craig Federighi who would drive the remainder of the talk with a plethora of new feature and update announcements for each of Apple's four core platforms: iOS, MacOS, Apple TV, and Watch OS.
The following is a brief overview of some of WWDC's most relevant iOS 12 announcements for you; the content marketers and content promoters of this digital world.
Faster Speeds for Old Devices
"We are doubling down on performance. We're working top to bottom making improvements to make your device faster and more responsive," stated Federighi.
The VP announced that iOS 12 would be available on the same devices as iOS 11 and more importantly, Apple would be focusing their efforts on improving the speed and performance of older devices like the iPhone 6 and 6 Plus.
According to Federighi, apps will be launching 40% faster on older devices, the keyboard will pop up 50% faster, and the camera will swipe open up to 70% faster.
For marketers, faster speeds on older devices will, naturally, make sites run just a little bit faster, potentially increasing page ranks. More and more users are reading, watching, and listening to content on their mobile devices and fast turnarounds are necessary to keep people from abandoning your site.
Many other factors come into play when it comes to keeping bounce rate low but an increase in iPhone and iPad speeds could give marketers a bit of a boost…no work required.
Group FaceTime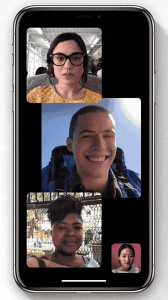 One of the most surprising, and potentially chaotic, iOS announcements, was the introduction of the Group FaceTime capability that allows a whopping 32 people to hop on a call at once.
Gone are the days of primitive one-on-one video conversations. The new Group FaceTime could make long-distance meetings with large, remote team members easier and more efficient, granted all 32 team members take turns talking. Group FaceTime will be supported across iOS and MacOS.
When more than two people are on a call, their video windows will get bigger when they're speaking and smaller when they're silent, making the screen a little less cluttered.
For fun, you can also use Memoji (more on that below) and existing Animoji characters during your calls…although you might want to reconsider turning your face into a panda for those particularly important professional calls.
Groundbreaking AR Capabilities
AR is transforming the way we experience the world around us and it's given content marketers a new, relevant, and cutting edge way to bring visual content to audiences.
Apple teamed up with Pixar team members to create a new file format for AR called USDZ, a compact format optimized for sharing while retaining 3D graphics and animations. The format is cross functional across the iOS system, including Safari, and can be shared over Messages and Mail. Interactive AR images can also be integrated into News.
Federighi stated, "We want all kinds of creatives to be able to create content for AR." As a way to make that happen, Apple is working with 3D tool companies like Adobe, Autodesk, TurboSquid, Quixel, PTC, and more to bring their support and skill-set to USDZ in the form of new apps.
Executive VP and CTO for Adobe Abhay Parasnis also announced that Adobe is going to bring native USDZ support to creative cloud, allowing designers and developers to use apps like Photoshop or Dimension to create AR content.
Apple will also be updating their ARKit 2 framework, bringing advancements in face tracking, realistic rendering, 3D object detection, and shared experiences (two users can experiment the same environment when running the same app at the same time).
The possibilities for content marketing here are virtually endless. AR is advancing at an incredible rate and it's becoming easier for branded content creators to access this technology, experiment with it, and bring exciting new 3D graphics to their audiences.
Siri Improvements and Shortcuts
Siri continues to be the world's most frequently used AI assistant but in terms of overall intelligence, Amazon's Alexa has taken the driver's seat. In iOS 12, Apple is making some much-needed improvements to Siri and introducing Shortcuts and the Shortcuts app which allows any app to expose quick actions to Siri.
Users can assign their own phrases to 'Shortcuts' in the app. Once programmed, users can say the phrase and the app will automatically open.
This could be a huge advantage for brands who are searching for new ways to make their app more accessible to users. Federighi gave the example of the Tile app, which helps users locate their keys. All a user has to do is say the phrase 'Hey Siri, I lost my keys' and Tile will automatically open.
This could also be good for various publications where keywords can expedite the search process. You can even ask Siri to order your favorite coffee from a coffee shop app. Siri will also send suggestions to users before they even ask.
Limiting Distractions
We may not be too eager to admit it, but most of us spend way too much time on phones, browsing the multitudes of apps that take up chunks of space in our lives.
Notifications often keep us up at night and between Facebook, Twitter, Snapchat, Instagram, etc. etc., those notifications can get overwhelming. Apple is introducing Do Not Disturb at Bedtime for iOS 12 which turns off notifications during night hours (that users can adjust).
Apple is taking even more steps to fight excessive notifications (some of which may not be too positive for marketers). New for iOS 12 is Instant Tuning for notifications. Instant Tuning enables users to access notification controls from the lock screen and pick and choose which app notifications pop up on the lock screen and which ones are sent to Notifications Center.
Balancing App Time
iOS 12's new Screen Time feature gives users insight into how much time they're spending on apps and is perhaps most relevant for marketers. With Screen Time, users can go in and view app activity reports and review how their phone use breaks down throughout the day.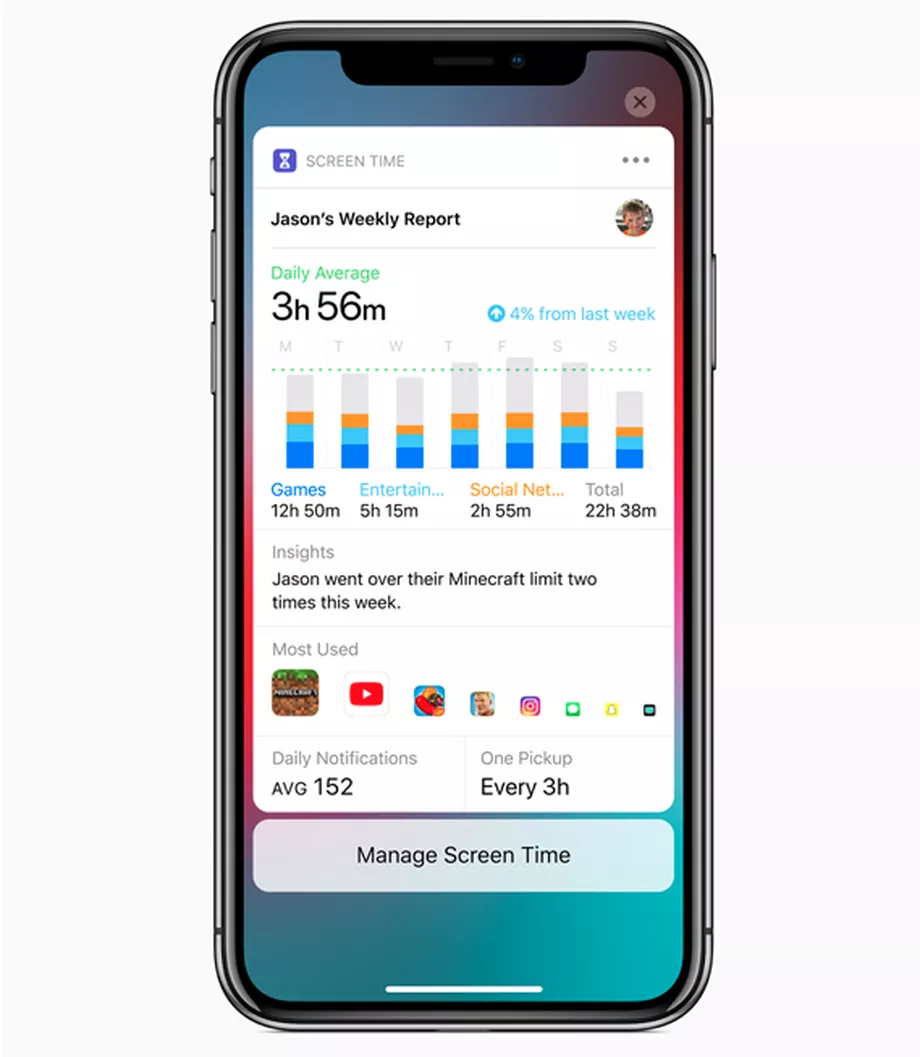 Users can even see how often they pick up their phone in the day and/or night and which apps send out the most notifications. Google recently came out with a similar usage monitoring tool in an effort to curb phone addiction.
iOS 12 users can also set their own app time limits and apps will remind users when time is almost up for that app for the day.  
Some marketers may see this screen time news and groan but the best marketers shouldn't aim to spam their users with endless notifications anyway. To keep your audience from muting you or shutting off mobile notifications, simply send less content but make the content that you do send more valuable.
Quality over quantity never fails and it will become more necessary as more tech companies start giving users usage monitoring tools.
Privacy is, of course, a major concern and Apple is strengthening its anti-tracking and data mining tools for users in Safari.
Memoji and Animoji
Apple is letting users create their own custom, and incredibly diverse, Memoji avatars that have the same expressive capabilities as Animoji. In regards to expressiveness, Apple is bringing tongue detection technology to Animoji and Memoji…which is pretty self explanatory.
Animoji and Memoji might seem silly in regards to marketing strategy but it's important to understand that these things are insanely popular right now, especially among younger audiences. Think about your brand's opt-in text message groups.
Animoji and Memoji can bring some flavor to your messages, boost engagement, and most importantly, they could bring a smile to your audiences' faces.
Final Thoughts
Most developers were expecting mainly performance improvement updates for iOS 12 during this year's keynote but Apple stunned everyone with an onslaught of new capabilities. More surprisingly is how impactful some of these new features could be for content marketing.
The three things that content marketers ought to be paying attention to this year (AR, A.I., and speed) are the three things that Apple is going all in on.
Along with the features discussed above, Apple also announced a redesigned Stocks app, AR enabled measurements, new Photo features, a new look for News, and new CarPlay capabilities that allow drivers to access bring third-party navigation apps.
The iOS 12 announcements only covered the first half of WWDC keynote and dozens of other updates, including MacOS specifically, could bring some useful tools to marketers.
Be sure to leave a comment below saying which iOS 12 update you're most excited about.