Ever since the dawn of the social media age, marketers have been in an ongoing race to capitalize on the vast audiences now found on a variety of social platforms. Of course, there's one social media platform in particular that draws most of their attention. Since taking off around 2007, Facebook has been the undisputed king of social media, making it the place for businesses to see and be seen online. Recently, though, a string of scandals and downright user fatigue has threatened to knock Facebook off of its perch atop the social media world.
Due to Facebook's ongoing struggles, social media marketers all around the world are going to have to come to terms with the fact that times are changing in the world of social media and that they're going to have to start working out what's going to come next. So far, there's no broad consensus on what will be the next service to wear the social media crown – but there is a picture beginning to emerge that shows Snapchat to be the early favorite. Here's why.
A Key Demographic
At first glance, it's easy to see Snapchat as a tiny, niche service within the broader social media landscape. With only 188 million daily active users, it's still dwarfed by Facebook, which counts 1.47 billion daily active users. If you dig a little deeper, though, a picture begins to emerge of a generational shift between the platforms. According to the latest forecast by eMarketer, Facebook is continuing to post solid growth in its user base, with one glaring exception – the 12-17 age group.
[bctt tweet="For the first time ever, the social media giant reports that fewer than half of US internet users from that age group are using Facebook once per month." username="relevance"]
If that weren't worrisome enough, eMarketer also estimates that Facebook is going to lose at least two million users under the age of 25 this year, with no end in sight. At the same time, Snapchat's user base continues to grow among teens, where it already bests both Facebook and Instagram in active users.
The writing on the wall for Facebook has been a looming problem as far back as 2017, when a survey conducted by the NORC at the University of Chicago reported teenage Snapchat users had gone up to 75 percent of all polled teens, compared to just 66 percent of teens using Facebook. In fact, Facebook's use dropped a whole five points from the previous year, signalling a slide in growth that would soon either plateau or sharply continue. This was proven to be the case by the time 2018's usage data landed, showing Facebook sliding down even further to only 51 percent of responding teens reported using it regularly.
This downturn isn't terribly shocking, even compared to a poll of the slightly older side of Facebook: young adults in the UK have also shifted to Snapchat and its use among the older crowd will likely overtake Facebook before the year is out.
It seems to be a combination of factors, especially with Facebook's resistance to change and its practically ancient interface making it feel like the relic of the late 2000s that it is slowly becoming. The site has garnered a reputation for being the website that a teen's parents will use rather than social media geared towards the young. Incidentally, the wave of massive scandal following the Cambridge Analytica leak has further driven users away from the platform, though the younger segment of its user base has yet to show an outspoken reaction to security leaks. Siding with the brand that did everything but outright sell user data isn't the strongest position to take, especially now.
Highly Engaged Users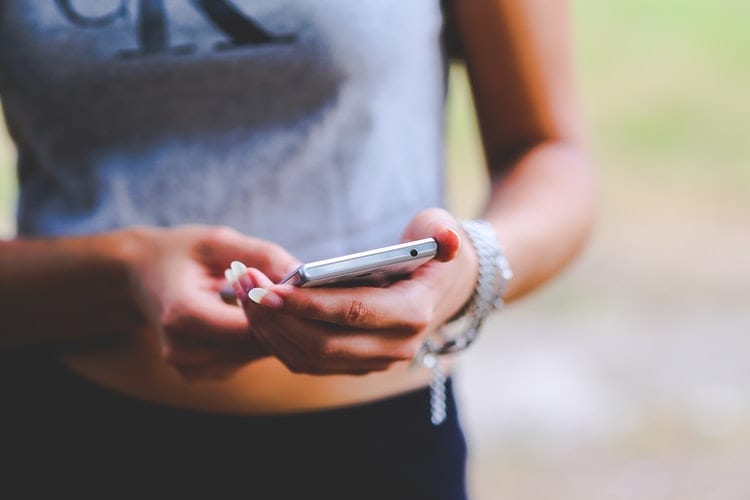 One of the proven ways to get customers to buy more from you is to reach them faster, anytime, anywhere. For marketing professionals, reaching a coveted demographic is a top priority, making Snapchat's growth pattern of particular interest. After all, the 18-24 age group is often the prize target of marketers, and that's right in Snapchat's wheelhouse. The good news doesn't stop there, though.
[bctt tweet="The behavior of Snapchat's users also shows it to be a veritable marketing goldmine waiting to be explored. " username="relevance"]
According to research about content trends on Snapchat, 54.8% of followers will watch a user's (or a business's) stories, which is a rate that's almost unheard of in social media. What's more, a full 87.5% of those that do watch a story will watch it to completion. That means that marketers that successfully build a loyal following on Snapchat will find an audience that's both demographically valuable, and surprisingly receptive to brand messaging.
Into The Future
The most important thing to note about the statistics cited here is that they're not static – they represent real people. That means that there's a good chance that Snapchat will retain their young audience as they age, and will soon become the platform of choice for marketers looking to reach 18-24-year-olds well into the next decade. For businesses, that means it's high time to reevaluate their social media marketing strategies and begin to make more vigorous use of Snapchat in their overall efforts. Several brands seem to have already gotten that message and are already beginning to establish themselves with a whole new generation of consumers. For those that haven't, the message is now clear: go Snapchat or miss out on what's next in social media.