Getting your audience to download your app is great, but it's not enough to keep them active and engaged beyond the first look. They've got things to do and people to see; they need to be reminded of your existence if you want them to pay attention, and even then there's a chance they might ignore you all together.
If your app doesn't employ push notifications, you're not taking it as far as it can go, and you're probably leaving money on the table, too.
Push tech startup Urban Airship has found that push notifications can lead to a 540 percent increase in daily app activity, a 30 percent increase in social sharing and a 20 percent increase in mobile orders.
What's more, this year mobile analytics and advertising company Flurry reported that 86 percent of the average US user's mobile time is spent on apps, and another recent study by global marketing company Responsys found that 60 percent of adults have downloaded apps from their favorite brands – and 70 percent of them have enabled mobile alerts.
That sounds like more than a few good reasons to start paying attention. With Apple's iOS 8 platform just around the corner, along with its revamped notifications system, here are some things to keep in mind when push comes to shove.
Analytics
Today there are many tools to create and distribute targeted content, and those tools should be used to their greatest potential. Using analytics, brands have the power to discover more than ever about their customers, namely useful information like their interests and shopping behavior – what they end up buying, for example, and what's left behind in an abandoned cart.
Keeping an eye on data and metrics is the best way to start planning your push notification strategy. Directing specific material to a specific user segment ensures that it's relevant to those who matter most – that potential customer on the other end of the screen.
Timing
Keeping the frequency of your notifications under control is crucial to successful engagement, as is scheduling alerts for the most opportune times of the day. Make sure your app and its alerts are operating on local time, for one, since you definitely don't want to risk disturbing users who might be soundly sleeping on the other side of the world.
Know when your customers are engaging with your app and when they're not, and shape your strategy around their behavior. No matter what, keep messaging to a minimum. Put yourself in your user's shoes; no one likes to be bombarded with useless, time-wasting information. There's usually no reason for daily correspondence unless it's regarding emails, the weather, and other day-today basics.
Depending on your industry or the service your app provides, ideal alert frequency might be a few times a week to just a couple of times a month. Experiment and see what works best – just be careful not to over do it.
Geo-Location
If timing is everything, then you know what comes in at a close second: location, location, location. With the wide-spread prevalence of today's geo-location technologies, there's no reason not to mine the potential of knowing exactly where your audience is at any given moment – and steering them to where you'd like them to go.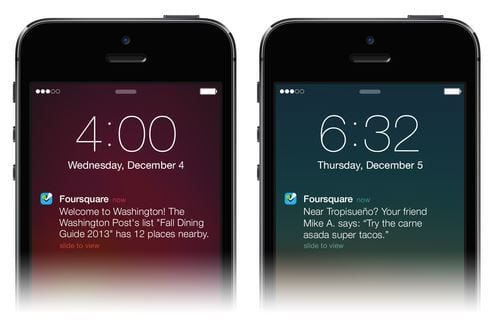 In addition to their numerous studies regarding the effectiveness of push notifications, Urban Airship has also found that:
"60-80% of users commonly share their location with apps. With an average 62% location opt-in rate and an average 51% of users opting in to receive push notifications, most apps can reach more than half of their users with location- and proximity-triggered push messages."
I don't know about you, but I'm a sucker for a good deal. When that deal is in my immediate vicinity, a gentle push in the right direction is very welcome.
Communication
With 1.2 million apps on the iTunes store as of this June, competition is fierce. Users are inundated with multiple options for each and every kind of application under the sun, be it related to games, GPS, finance, or anything else. On top of that, it's not uncommon for someone to have two or more apps on the phone or tablet that serve the same purpose.
Targeted messaging is important, and how that messaging is delivered is even more so. That's why crafting the perfect push notification is so important. People have lots to choose from; give them something they're not going to delete after a day or two. Instead, devise ways to communicate that keeps people coming back for more. That means writing that's fun, brief, engaging, and never annoying or too pushy in any way.
The trick is to be as gentle as possible. Create your messaging as a subtle suggestion, softly guiding users to content that is inspiring, informative, and of interest. You'll know it's working when the clicks keep coming in – and conversion starts going up.
At the end of the day, not everyone loves getting push notifications, and some users will want to opt out of them entirely. Make this is as easy as possible for your audience, because if they can't figure out how to turn off pesky alerts – no matter how non-annoying you've designed them to be – they'll turn to the next best thing: deleting the app all together.
The best alerts are personalized, relevant, timely and informed, as well as short and sweet. Don't be afraid to liven up a message here and there with more human, personable elements like birthday wishes or seasons greetings. And always preview before going live and pushing out. No one wants to be notified of a sale that happened two days ago or of a restaurant coupon that's no longer valid. Check, edit, and edit again. Considering a custom push sound to make yourself stand out all the more? Just make sure to keep it subtle. Let us know who you think does notifications best by tweeting screenshots of your favorite notifications to @newscred!
This article originally appeared on NewsCred.