Facebook Keeps Building Amidst Security Concerns
Day one of Facebook's Annual F8 Developer Conference wrapped yesterday and there's a lot to unpack. From an unexpected new dating feature to the new portable Oculus GO VR headset, the company unveiled several new devices, updates, and tools in an effort to get users excited about its platform again.
The troubled company has struggled to keep its user base intact since the Cambridge Analytica debacle earlier this year and CEO Mark Zuckerberg has made it his personal mission to regain user trust. Based on positive initial reactions to the new additions announced yesterday, Zuckerberg and Facebook seem to be hitting their stride again.
The following is by no means an exhaustive list of all the splashy new tools, updates, and devices unveiled at the conference, but they do have promising outlooks for marketers.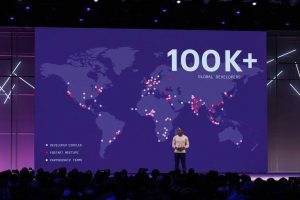 A New Privacy Control Feature Called "Clear History"
[bctt tweet="Facebook announces "Clear History" a new privacy control feature that will allow users to flush their browsing history. #F8″ username="relevance"]
Yesterday Mark Zuckerberg announced 'Clear History,' a new privacy control feature that will allow users to flush their browsing history on Facebook, including sites they've visited and what they've clicked on. This is similar to clearing cookies and history in web browsers.
Along with being able to clear browsing activity, users will be able to see information about the apps and sites they've interacted with and clear it from their accounts. Users can also turn off having this information stored with their accounts.
As with all 'clear history' features, clearing Facebook history can make the experience works. Users may have to resign in to certain apps and the platform will have to relearn user preferences. Zuckerberg states,
"This is an example of the kind of control we think you should have. It's something privacy advocates have been asking for — and we will work with them to make sure we get it right."
Zuckerberg hasn't mentioned when this new feature will roll out or how it can be accessed and used.
This option is clearly good for users whose privacy was compromised after the data leaks but it could spell bad news for branded content. If mass amounts of users start adopting it, marketers will have a tougher time targeting audiences based on their browsing history.
It seems that as Facebook gets more secure for users, it becomes less accommodating for advertisers. Arguably, promoting content on Facebook is still worthwhile because of its massive user base and reach capabilities, but marketers may have to jump through more hoops to get their content seen in the coming months.
Branded AR Filters Are Coming to Instagram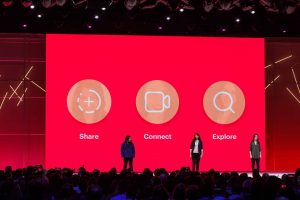 [bctt tweet="Branded AR filters are coming to Instagram. Here's what you need to know #F8″ username="relevance"]
Zuckerberg announced that branded AR face and environment filters would be coming to Instagram in a closed beta for the first time. Made famous by Snapchat, AR filters are ridiculously popular and are improving in quality every day. Instagram announced the AR camera platform at last year's event but now they're bringing it to Instagram and inviting brands to join in on the fun.
According to a report courtesy of The Verge, the first filters announced are being produced in collaboration with several influencers and brands including Kylie Jenner, Buzzfeed, Ariana Grande, the NBA, Vogue, and more.
The branded filters will only be made available to users that follow the brand or individual providing them. There's no word yet on when the filters will roll out but the possibilities for promotional AR experiences are limitless.
Instagram will also be opening up a new AR Studio, similar to Snapchat's Lens Studio, for brands to create their own AR experiences with ease. Facebook states,
"Using AR Studio, creators will be able to design unique, interactive camera experiences, including face filters and world effects, for their followers on Instagram."
Facebook Redesigns Messenger
[bctt tweet="Zuckerberg announces a revamped, simplified Messenger app at #F8 day one." username="relevance"]
After persistent complaints regarding it's busy design and superfluous features, Messenger is finally getting an overhaul. The new Messenger will be more streamlined and navigable. The bottom navigation is noticeably more simplified. The games and discover tabs are gone and three communication-focused tabs have taken their place.
Both the icons at the top and bottom have lost their labels and appear cleaner and less busy. There will also be a dark mode on the refreshed app. According to Messenger VP David Marcus, the new app will be arriving very soon.
Marketers have been able to set up and manage ads on Messenger for a while now and it's been a pretty good platform for visibility and engagement. Setting up Messenger ads is a relatively simple process and Facebook Ad's automatic placements toggle has made it easier for brands to take advantage of the placement.
It's unclear whether ads will look different on the revamped Messenger or if the amount of promotional content will be limited but it's likely that things will continue as usual. If they do change, it's likely that they will look slightly better to fit the new simplified theme. Of course, it's up to marketers to create good content that sells.
A New "Commerce" Analytics App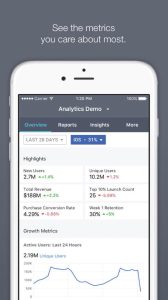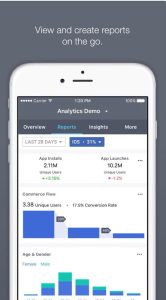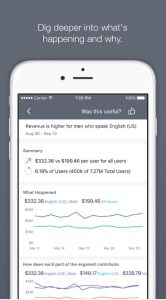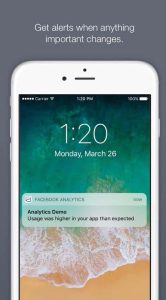 [bctt tweet="The new "Facebook Analytics" app is here! Read on for all you need to know about the app's new features and capabilities. #F8 " username="relevance"]
Last but certainly not least, the new "Facebook Analytics" app for iOS and Android devices is now available. The app dropped into app stores yesterday, before the official announcement was made at F8. According to the app description, it "enables you and your team to stay on top of your growth, engagement, and monetization efforts on the go."
According to TechCrunch, the app allows businesses to create a custom mobile view of their key metrics, including active users, revenue retention, demographics, and more. The app sends alerts when anything important changes such as lower or higher than expected app usage or a sudden drop in revenue (fantastic for ecommerce advertising).
Certain businesses will also be able to browse their automated insights, allowing them to easily check for data anomalies.
Having a fully capable, intelligent, and personalized analytics dashboard close at hand is a game changer for marketing teams. Beyond giving businesses typical advertising metrics, it helps ecommerce businesses in particular target their sales and keep track of what they sell.
The app will be a companion piece for the full web analytics suite.
Final Thoughts
Some of the new updates, tools, and features announced at F8 may be detrimental to advertisers (here's looking at you 'Clear History') but many of them are beneficial. It's only natural that the company would ramp up their security policies and fight against spammy ads in the wake of Cambridge Analytica.
It's an expected and necessary evil (for brands at least) but thankfully, F8 has proved that Facebook is still looking out for the advertisers helping drive their revenue.
The Analytics app in particular is a refreshing indication that Facebook has not forgotten about us. The future of Facebook marketing may be uncertain but it certainly isn't dead. So long as Facebook is still around, it will always be a viable, and effective option for social media marketing. Sure, we may need to put more effort into making our ads more engaging but truthfully, we should be doing that anyway.
What new Facebook features, tools, or apps are you excited about? Share your thoughts in the comments.