On Thursday, September 8th during lunch, Jesper Laursen, founder of the Native Advertising Institute, and I were fortunate enough to give a presentation at this year's Content Marketing World. We covered the native ad tech landscape, publisher's content studios and explored what the future of paid distribution may look like.
Why Paid Content Distribution
However, before diving into those topics we ask the simple question, "Why paid content distribution." Here's why. Today we live in an era of content surpluses on the web – meaning: There's more content on the Internet today than there are people looking for that content. As opposed to last decade's content deficits – meaning: There was more people on the Internet looking for answers than there was content to fulfill that need.
That's why last decade, and a few years into this decade for some industries, brands could literally just hit the publish button and Google and social media would drive enough organic traffic to hit KPIs. That's not true today for most brands. This problem is highlighted in the GIF below: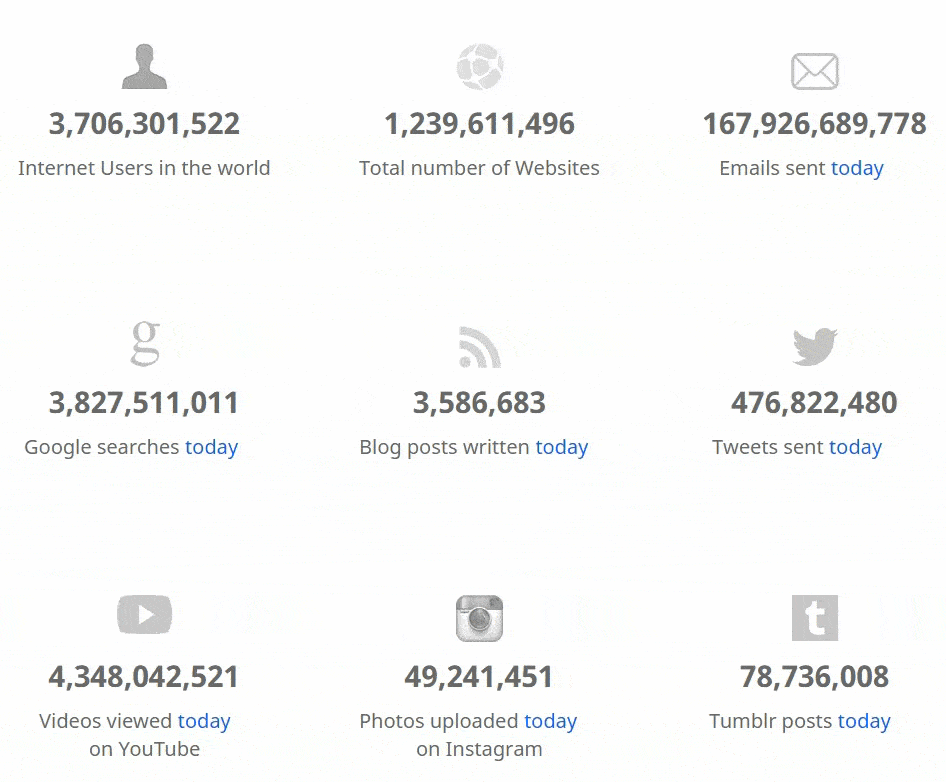 I took this screen shot at around 16:30 about a month ago, and you can see that in less than 17 hours nearly 3.6 million blog posts were written. That's just blog posts. Toss them in with everything else and we're definitely in an age of content surpluses.
Today, most content marketers can't rely on last decade's model of publish and pray. There's only ten positions on the first page of Google and the social media networks have hampered brand-visibility to push them towards paid social solutions.
Content Marketing Priorities
Generally, content marketers focus much of their time, energy and resources producing top-funnel content. I usually recommend a 70/20/10 split from top-funnel to bottom-funnel. With this model, it is clear where the priorities lie – helpful, non-salesy content.
Now, by aligning the paid channels of distribution to the funnel it looks something like this: native advertising/traditional sponsorships, advertorials/PPC, display. Since content marketers prioritize the top of the funnel than it only makes sense to focus the presentation on native advertising as the content promotion channel of choice. It's the best channel for top-funnel content distribution.
Brands surveyed globally said their top two goals for native advertising are:
Brand Awareness 69%
Audience Growth/Engagement 49%
These are top goals for content marketers, too. It's doubtful the PPC department has these goals in mind.
Because many content marketers are still trying to rely on last decade's model of publish and prey, hoping the organic channels will deliver the KPIs they need, they're not budgeting correctly for distribution.
Television executives spend $5 on distribution for every $1 they spend on creative. Based on my own passed research content marketers do the opposite. This is starting to change, but the industry still has a long way to go. It's time content marketers start thinking like television executives.
Native Advertising
Unfortunately, there's still a lot of confusion surrounding native advertising. While the Interactive Advertising Bureau (IAB) has its definition and categories, Jesper and I are not big fans of them. As a result, the Native Advertising Institute has its own definition:
Native advertising is paid advertising where the ad matches the form, feel and function of the content of the media on which it appears.
The following categories meet the above definition:
Long-form native advertising (sponsored content)
Programmatic native advertising (widgets and non-widgets)
Non-programmatic native advertising (solutions that require manual work to connect brands with advertisers)
Paid social media
The Native Advertising Technology Landscape
At the beginning of the year I spent nearly a month researching as many native ad tech companies as possible to understand what the landscape actually looked like. This had never been fully done before and was critical in helping content marketers understand it. It culminated in to a full blown directory on the Native Advertising Institute's website.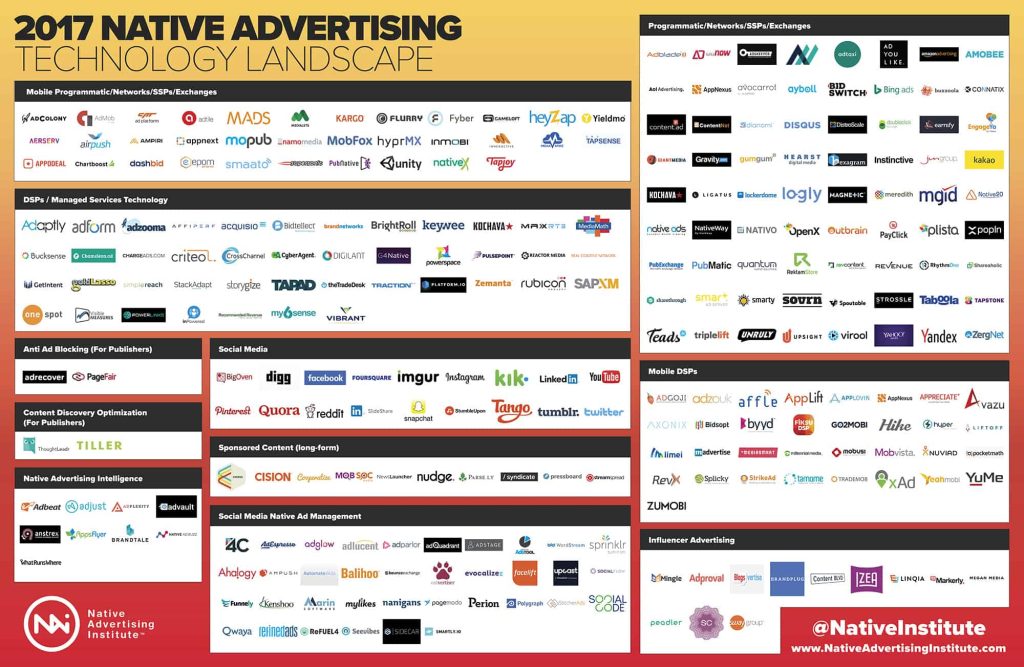 The high-resolution and PDF versions are available here
When completed the landscape had 272 companies featured. However, that was in February. Since, then landscape has grown to over 360 companies. There's lots of ways to slice and dice this graphic into various categories, but for the sake of this presentation we decided to focus on content marketers. As a result, the below represents just one way to group them:
Contextual (Outbrain, Nativo, Taboola, etc.)
Audio (DAX, Triton, Pandora for Brands, etc.)
Video (Teads, Virool, Jun Group, etc.)
VR/AR (Adtile, Vertebrae, Media Spike, etc.)
Gaming (Ad2Games, Gameloft, Unity, etc.)
Mobile/In-App (Avocarrot, Yieldmo, PubNative, etc.)
Email (LiveIntent, Gold Lasso, Powerspace, etc.)
Influencer Advertising (Adproval, Izea, Peadler, etc.)
B2B Lead Gen/Demand Gen (Netline)
GIFs (Gfycat)
Content Studios and Sponsored Content
According to Margaret Boland of Business Insider, over the next five years sponsored content will be the fastest-growing native format. This format sits in the long-form category mentioned above and is generally executed by publisher's content studios. Publishers are figuring out quickly that engaging with brands like an agency is highly profitable. Brands are also figuring out that there's a lot of value in working with publishers. Native's share of overall advertising is expected to grow from 11% in 2015 to 25% in 2018.
Working with publishers, brands have access to the audiences they want, are working with folks that know how to engage that audience, and have access to other amplification platforms used by said publisher. Many publishers give brands access to their social channels, influencer networks, programmatic tools, YouTube, etc.
The Future of Paid Media
There's a new data collection revolution that's happening today. Because of the Internet of Things (IoT) and wearables, new forms of data are being gathered about us. Whether from our stove or washer, or our vital signs and light bulbs, marketers have never had access to this robust data stream before.
It's likely that within our lifetime wearable technology will accurately be able to read our emotional state of mind. This means that marketers will be able to target their content based on emotions. Add to that the growth of augmented reality in the same timeframe, and it's likely marketers will be able to deliver content in real time with one-to-one personalization that only the person can see and hear. Just watch the movie Minority Report for examples.
Takeaways
Guests at our session left with five major takeaways:
Native advertising is a cost-effective way to distribute top-funnel content
Spend $5 on distribution for every $1 spent on creation
Publisher's studios are the new (strong) kid on the block, not just a viable alternative to agencies
Studios can help on multiple platforms
Targeting in augmented reality based on emotions will be possible in the future because of wearables
Just like the attendees, you have access to additional free resources on native:
This year's Content Marketing World was a blast, like always. I'm already thinking about what to pitch for 2018. The native advertising technology landscape will certainly be bigger and a new generation of marketers will be asking about content distribution. As they should. We'll be sure to share discount codes in 2018. Hope to see you there!