Facebook has been under a lot of fire lately!
Compromising the data of 87 million Facebook users, the infamous Cambridge Analytical Scandal has created ripples that will be felt for sometime in the near future. Private information of these users was put to risk and an investor's lawsuit followed soon blaming Facebook for being grossly irresponsible in safeguarding the privacy of their users. The #DeleteFacebook campaign amplified to an extent which saw big names like Brian Acton and Elon Musk leave Facebook in retaliation, after this blunder.
The scandal crippled their stocks by 10% which in dollar value is almost $50 Billion. Take a moment to let that sink in.
With a loss that big, one would think that Facebook would finally be pulverized. But, if you are an old follower of the digital media space and Facebook in particular, you'd know that this isn't the first time Facebook is facing some serious backlash over user privacy violations.
However, Mark Zuckerberg has been making efforts to regain the lost trust ever since, again. The impact of issuing full-page newspaper apologies remains abstract.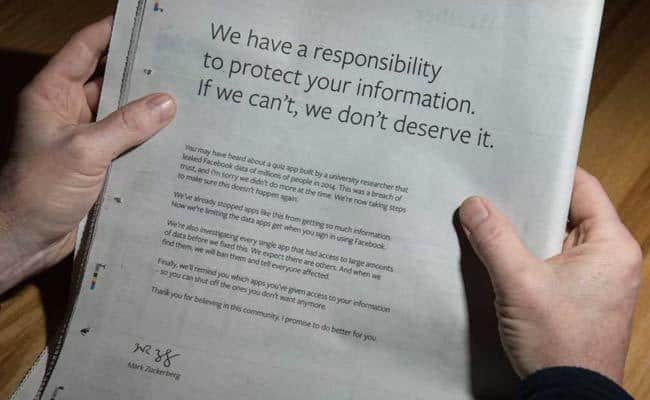 However, we know its not their first time and if history is of any evidence, I really don't think that this would be their last privacy fumble.
So, it all comes down to – Will Facebook survive? Or will it be the next Myspace?
It is certainly not going to be the same anymore, and we can expect some upgrades in the near future.
According to a NBC report, the trust we put on platforms like Facebook for our data safety and more has plunged down a whooping 66%. This includes the likes of general users and advertisers who use this platform on a regular basis.
Source: NBC News
The survey also suggested that nearly 40% of all users and advertisers have decided to completely stop or reduce their marketing efforts and advertising spend on the platform. Out of which, 9% have already left Facebook for good.
But there's a twist. Despite of all the rage, privacy concerns and exit threats, Facebook reported a strong start to 2018 with a massive Q1 ad revenue of $11.8 Billion!
Which gives us a clearer picture of the actual behaviour of users & advertisers present on the platform. While a lot of people are upset with this scandal, they just can't imagine their world without Facebook.
And advertisers too are just not ready to ditch the amazing opportunity Facebook presents to them of advertising on the platform where their customers already are (an advantage still unmatched in the Social Media space).
With this kind-of surprising latest report, one thing is for certain; Facebook will slide past this controversy just like it has been doing from the past decade and users will soon flock back to the platform because seriously, what other option is out there that's better than Facebook? There's not current alternative to Facebook, yet!
The bottom line – Facebook isn't going anywhere!
And if you are a business owner or marketer actively marketing on the platform, keep this scandal at the back of your head and focus on what matters to you the most – making business.
I am pretty sure Facebook is an integral part of your 2018 Social Media Marketing strategy and the recent Facebook news feed algorithm update is making you sweat as it further hampers the overall reach of brands & publishers in news feeds.
According to the latest algorithm update, Facebook is trying to be social again. Focusing more on budding conversations and interactions with family and friends.
Though, posts from brands and publishers will still be visible to users in news feeds, priority will now be placed on posts of friends and family that spark real engagement.
So, for brands to thrive under this new update, it comes down to not only knowing your users and what they like to consume but also predicting their behaviour. To thrive, you will have to make sure that users are actively engaging with your content.
And that no longer means focusing on just getting a big number of likes or reach in your posts. Real engagement comes when your users actively comment on, and share your content with their friends (according to the new algorithm). So, it makes sense to focus on publishing the kind of posts that will make them do exactly that.
Or you can take a different route like HBO and build your own Facebook group as an alternate approach to publishing branded posts in crowded news feeds filled with posts from friends and family.
They created a single space in the form of a 'Facebook Group' for all their 'Big Little Lies' fans to comment, like, share, invite their friends, discuss, watch and theorize together what their heart wants.
An old, creative yet amazing way to spark engagement with your fans under the new Facebook news feed algorithm…. ain't it?
But don't just rely on Facebook!
The already declining reach of brands & publishers on Facebook has continued to decline after this news update and there isn't really anything they can do about it.
With the dwindling organic reach combined and the bumpy privacy road Facebook is currently walking on, it's just plain destructive to focus all your marketing efforts on Facebook alone.
By doing so, you run the risk of ending up like 'LittleThings'.
'LittleThings' was a full fledged media company which had 12 million followers on Facebook and generated millions of views on their videos organically.
But the recent algorithm shift wiped out 75% off their organic traffic.
Being a self-funded digital publisher, their profits also took a dive and they had to abruptly shut down their operations. All because of some guys at Facebook tweaking their news feed algorithms for the greater good.
So, it makes perfect sense to not just cling to Facebook and spread the wings of your marketing efforts to other Social Media platforms as well. Instagram, Linkedin and Pinterest are some pretty nice weapons that you can add to your social media marketing arsenal.
Wrapping up
Just like the aftermath of their earlier privacy scandals, Facebook isn't going anywhere with this Cambridge Analytica Scandal as well. The amount of user exposure and ad revenue the platform has amassed over the years is something this industry has never seen before. Unlike Myspace (which only topped 100 million users at its prime), Facebook is huge and with time, the likeness and the level of dependency users (or advertisers) have developed for the platform is the only thing that will protect it from oblivion.
But is your data safe on the platform? Under the new GDPR compliance, Facebook is taking some concrete steps to protect user data. Believe me, your data hasn't been much safer with the platform than now.
So, focus on mastering the new news-feed upgrade by sparking some real engagement (not 'likes', and especially not 'reach') and don't keep all your eggs in the same basket like 'LittleThings'.