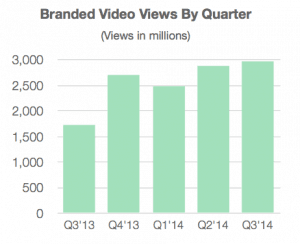 Consumers are devouring branded video, and the trend shows no sign of stopping. Branded video views hit 2.9 billion in the third quarter of 2014—the highest ever, Visible Measures reports (see graph at right).
Moreover, brands claim that online video marketing is effective. Seventy percent of marketers say video converts better than any other medium, as the Content Standard previously reported.
Electronic brands are fueling the increase in video viewership. iPhone and smartphone buzz in September boosted branded video views in Q3, Visible Measures says. In fact, campaigns created by electronic brands accounted for 16 percent of the quarter's total views. That increase helped branded views surge overall by more than 73 percent from a year ago.
Samsung led the pack in Q3 with the "Galaxy Note 4 – Official Introduction" video, which boasts over 24.4 million YouTube views. Visual Measures estimates the total "true reach" of this video at nearly double that amount, which combines the viewership of brand-driven and audience-driven videos across hundreds of the Web's most popular video sites.
But the surge in branded video views isn't limited to electronics. Nonprofits are also seeing a significant response to their online video marketing efforts.
Nonprofits launched 146 major campaigns last year, generating nearly 670 million views, ReelSEO reports, compared to 90 campaigns which generated just under 70 million views back in 2009. In other words, video views for major nonprofit campaigns increased by a whopping 857 percent in just six years.
The signs are clear: Online video marketing works, whether for a product announcement or a nonprofit campaign. Smart video storytelling earns eyeballs. A strong content marketing strategy can help brands create moving stories that connect with viewers.
This article originally appeared on Skyword.