How many times per day do you cue up your cloud-based voice assistance service to play your favorite song, set your alarm, check the score or remind you to perform a certain task at a set time? Chances are it's often. Research shows that nearly one-third of U.S. adults now own a set of smart speakers that can respond to their needs as soon as they're spoken aloud. Moreover, of this group, 71% use them on a daily basis, and not for the exact reasons one might think. While these devices are still used for entertainment, they increasingly taking the place of phone and laptops when it comes to conducting web searches, performing online research, shopping e-commerce sites and more.
To this end, forward-thinking marketers are realizing the advantages of making their brands available via chatbots and voice assistance technology. Yet, while this technology is transformative, even simple text messaging-based outreach is equally effective. Why? At their crux, these methods serve to do one specific thing: engage the content consumer in a conversation.
In a digital marketing age where one in three customers prefers personalized and customized product offers over mass, generic engagement, finding a way to better understand and communicate with target buyers is quickly shifting from a nice-to-have marketing aim to an essential and necessary one. It also allows companies to build convenience and immediacy into their messaging, reaching audiences where they are and via the devices they prefer. Adapting to this change in consumer culture and expectation is required for today's brands to stay relevant, boost sales and best the competition.
Yet, succeeding in this sphere requires a robust content strategy. Not every SEO tactic, promotional message or social media post will translate well to a messaging-based campaign. To this end, it's important to understand what makes a solid messaging platform and what can derail it.
Correlating Voice Content and Brand Stories
Anyone can hop online and find a list of best practices concerning what to say and what to avoid with promotional messaging. However, unless those standards are aligned with your individual brand story and mission, they could fall flat and land on deaf ears. Why? Experts reveal that along with personalized marketing, today's consumers also crave authenticity, especially from brands that offer an omnichannel customer experience.
With so many options available at their fingertips, customers have to be more discerning than ever before to weed out the viable options from their faux or imitation counterparts. As such, the more transparent and straightforward a brand can be online, the better its odds are of improving its virtual readership and leading web visitors along the path to purchase.
This is where specialized software may be required to translate traditional messaging, such as content created for white papers or data slicks, into conversational content appropriate for use within chatbot technology.
One major change to keep in mind? While those formats may have been directed a hard sell, these technologies are more aimed at initiating an ongoing customer conversation. That means that opportunities for interaction and personalization should be capitalized on around every corner, and it begins with adjusting content to meet a chatbot platform. To that end, let's take a look at a few ways marketers can craft content that converts, designed specifically for today's conversational culture.
Converting Messaging to Work in a Chatbot Realm
It would be ideal if marketers could simply record their standard marketing messages into a chatbot format and leave it at that. Yet, doing so will only set them back and harm their efforts to improve personalization. Rather, the goal is to reach your target audience in a non-intrusive, non-interrupting format that puts them in the driver's seat. According to a recent survey, 88% of consumers prefer the ability to opt-in to an SMS messaging service to make sure the offers they receive are directed and targeted toward them.
In this way, chatbot or messaging-based marketing is not too unlike standard outreach efforts, though there are a few considerations to keep in mind that can amplify success in this sphere.
1. Specifics surrounding opt-ins and permissions
A user activates a chatbot. In that sense, permission is implied and implicit. Conversely, brands send SMS text messages directly to consumers who choose to opt-in or subscribe to the alerts in exchange for the timely updates or promotions they can receive. In turn, they receive the notifications on their native smartphone apps. Though the cycle of requesting and processing opt-in permissions can be time-consuming, research reveals it's a worthwhile aim for marketers. In fact, recipients open 98% of the SMS text messages they get from marketers and 45% take action on them. This is instant, cost-effective outreach at its finest, but it must be carefully crafted to be successful.
The key? Know when to appropriately message your subscribers to ensure an optimal response. Rather than inundate them every time your brand is holding a sale or releasing a new product, use this platform instead to send timely reminders or follow-up alerts, and keep them to the maximum 160 characters allowed for an SMS message. This brevity works because in these cases, you will already have a clear picture of where that buyer has been and what he or she might be most interested in and don't have to spend time on broad outreach messaging.
For instance, if someone spends 20 minutes on your e-commerce website, clicks around your inventory and puts an item in the online shopping cart only to abandon it five minutes later, you can send an SMS message (granted they've previously opted-in) with a discount code for a small percentage off that item to encourage them to visit again. Messaging platforms can also be appropriate when used to send real-time alerts when shoppers are near a brick-and-mortar store or when a deal is nearing expiration. This brings us to the question: What does value look like in a chatbot or messaging context?
2. Adding value in a conversational tone 
In the greater context of content marketing and especially within chatbot and messaging platforms, the concept of value is two-toned. First, you want to express the value that your brand provides. How can it improve the lives of your users and what benefits and advantages does it offer? Yet, while some marketers stop here and create purely self-promoting content, savvy advertisers understand there is another part to the story.
Next, you must make the user feel valuable. This can be difficult to achieve via one-sided outreach campaigns that don't so much ask questions or initiate conversation. Yet, one advantage of reaching your customers via chatbots is that it allows this communication to occur naturally.
How? Before even delving into a new product launch, brands can ask customers about themselves first. Simple surveys that seek to understand what buyers prefer, what they're most interested in and what they'd rather not learn about can help companies better target and direct their current and future engagements. These questions also make the user feel important.
Consider, for instance, the chatbot that Spotify uses to help users create customized playlists from their Facebook accounts. By asking a series of questions surrounding genre preferences, current moods, activities and more, the bot narrows down the selections until what's left is a unique, curated list of songs designed specifically around those answers.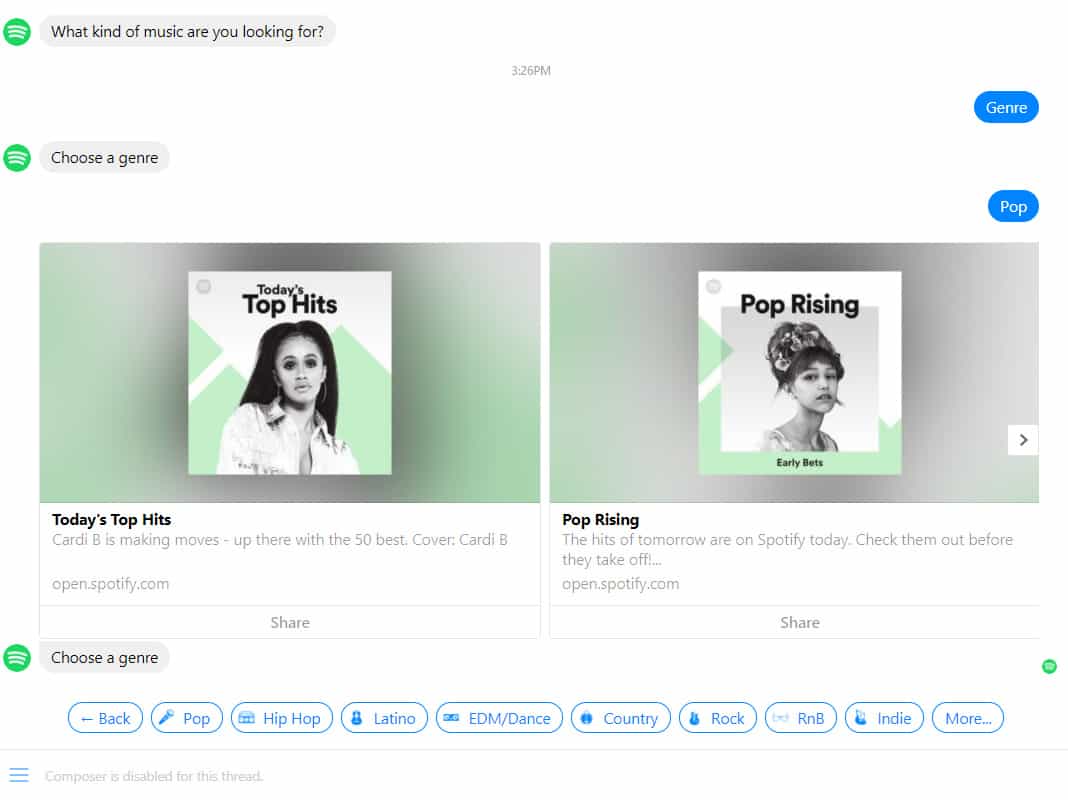 Image via Fonolo, "5 Brands That Are Successfully Using Chatbots."
Moreover, the more detailed and layered your questioning, the more likely respondents are to answer you honestly, as they understand the intent behind your inquiry. Though this technology can be created in-house, others may seek to understand more about managed services through providers that can implement and manage these solutions for them. This is especially beneficial for companies that offer more than one type of service and as such, require a multi-faceted chatbot capability that can respond to myriad user needs. Regardless of the software used, the aim is still the same. You're trying to get to know your listeners better to create scenarios that appeal to them the most. As a result, your bot now has data that it can store for next time, so you can ensure a seamless, engaging interaction every time the user logs in.
3. Creating opportunity for ongoing engagement
Especially if you send a message and don't get an immediate reply, it can be tempting to send back-to-back follow up messages to your subscribers to ensure they're getting them. Yet, most experts recommend only sending around one to two messages per week. The key? The second third, and other sequential messages you send should build upon another and demonstrate to the user how you're adding value along the way. Adding delays, however slight, between messages can help duplicate human interaction and add an element of courtesy into the exchange rather than making it seem like you're constantly interrupting.
For instance, using the above mentioned abandoned shopping cart scenario, you might send one initial message that reads, " We saw you abandoned your shopping cart. Do you have any questions we can answer?" Then, the next message will read "Don't let your items expire! Here is a coupon code for 15% off the item." When read alone, these messages might seem independent of each other, but when received in context (as your subscriber will get them), it's clear that value is added at every step.
Keep in mind that though this strategy of delayed messaging might work well with SMS efforts, chatbots are typically designed to send messages in quick succession, though they should still build upon each other. In these cases, the emphasis is on creating a brand personality.
4. Building a chatbot with personality
Though SMS messaging is text-based in nature, brands that deploy chatbots have a little more freedom to inject personality into their outreach campaigns. One way to do this is to use images in place of text. As an example, consider how Whole Foods uses imagery to engage its chatbot respondents and showcase its wares at the same time. The brand's simple, clean aesthetic is revealed through the photographs, as is its emphasis on healthy eating.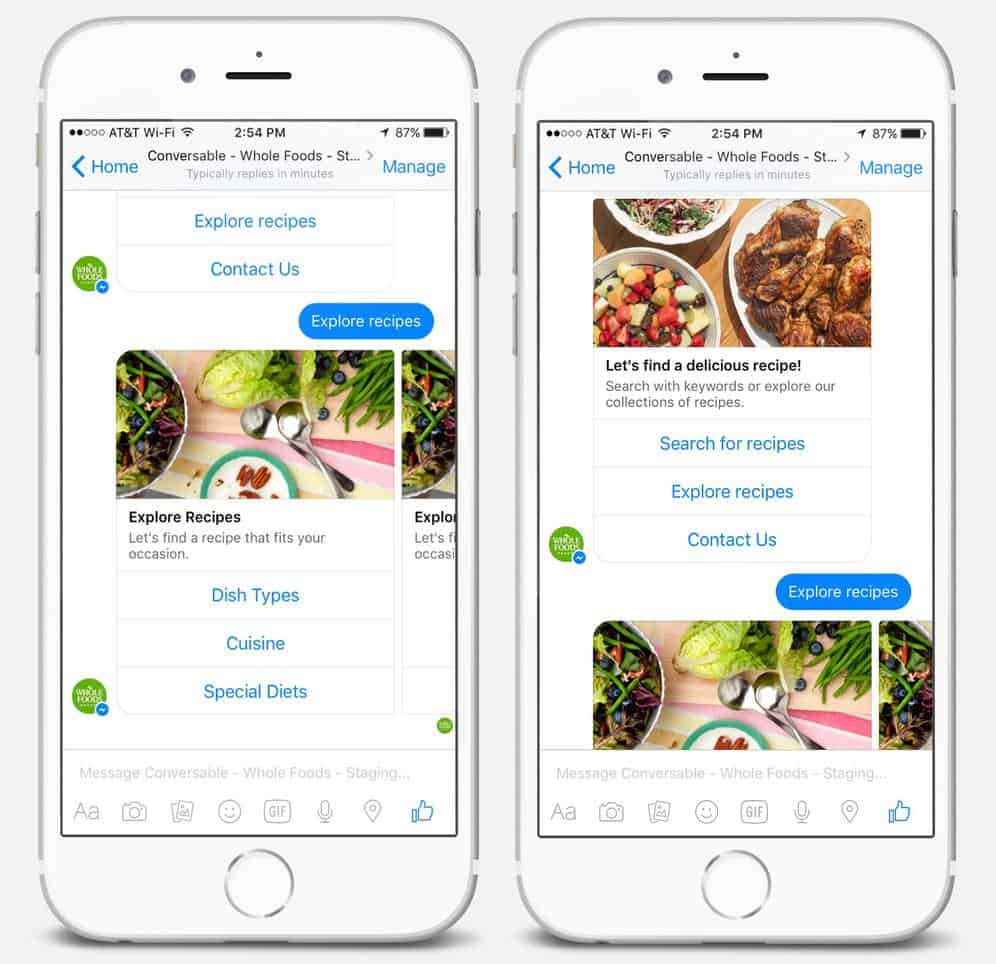 Image via Social Media Today, "9 Great Examples of How Brands are Using Chatbots."
While this tactic might not work for all brands, it can be an effective way for visually-centered ones to portray their personality, build conversation and engage users along the way.
5. Finding openings for conversations
Sometimes, the most meaningful consumer/brand interactions aren't those that are totally business-focused. Rather, there are many cases in which simply engaging your users in a more conversational tone can be equally effective. This is one place where trivial questions can go a long way. Consider, for instance, how National Geographic encourages chatbot users to tune into its programming.
Is the brand truly interested in what the user has going on that evening? The answer is likely "no" but similar to the way voice-activated technologies including Siri and Alexa can carry on a conversation, asking these types of seemingly trivial questions can help a brand boost its name recognition and stick around in its users' minds for longer. They can also serve as a valuable segue into promotional messaging, such as how National Geographic used the respondent's answer to reveal its new show "Genius."
The Takeaway: Succeeding with Message-Based Content Marketing 
Though digital marketing continues to change the way brands and consumers interact, there are specific shifts in focus and intention that can make all the difference in an effective outreach campaign and one that ultimately falls flat. When companies use chatbot or messaging technology to reach their intended audience, the approach cannot be the same as they would take with a standard, traditional format.
Instead, both platforms should be used strategically, with the right number of characters, the correct timing and the appropriate use of imagery, to ensure that loyalty and return visits are achieved. After all, a valuable conversation isn't just a one-time, flash-in-the-pan occurrence. Rather, it opens the door to a deeper, more meaningful dialogue that adds value to both parties. When this is the aim for the modern marketer, these campaigns are set up for success.