Almost one year ago, popular news magazine Newsweek published what was touted as its final print issue. Newsweek's recently departed editor, Tina Brown, cited cost as just one reason to abandon the physical edition of the publication. Other magazines have been successfully making the move to digital for years — not only to keep production costs down but to follow both readers and ad dollars.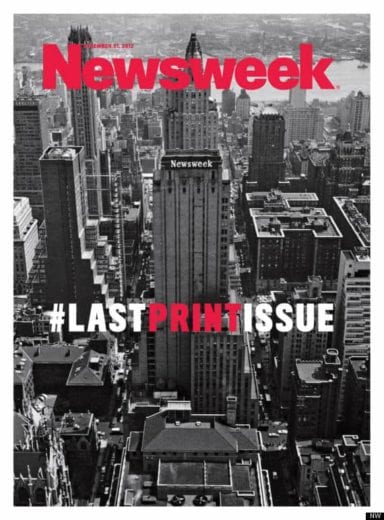 Now the pendulum appears to be swinging back to print: with Tina Brown's exit, Newsweek has announced that it plans to return to print in January or February of 2014. Pitchfork, an online publication lauded for its music and culture coverage, is also making the move to a quarterly print schedule for the first time in its all-digital history. A return to print is a trend that's bearing out in ad spend as well: the Standard Media Index Ad Spend Report shows that magazine ad revenue grew 11 percent over the last calendar year.
Studies show that most consumers prefer hard copies of their favorite magazines, but 60 percent of survey respondents are eager to access digital magazine content along with physical content. And more than half of the survey takers would be willing to buy their favorite publications if they went digital-only. The challenge for digital marketers is to bridge the gap between reaching print readers and engaging online audiences. But how can publications and their advertisers effectively do both?
Make it exclusive
Tech magazine Wired enjoys a total circulation of more than 850,000 and exists in both print and digital editions. While the two versions of the publication mirror each other in written content, the digital edition frequently features video, audio and interactive elements that range from articles to ads. With its 2012 article "Snow Fall," The New York Times used responsive design and elements of transmedia to transform the way news articles are presented online. Offering readers a new kind of user experience is just one way to provide value in the digital space.
Make it mobile
According to Pew Research, reading news is the second most popular activity on mobile devices. With mobile news aggregators like Flipboard, Pulse, and Feedly, readers can consume news from a wide variety of sources on the go. And whether a reader uses a smartphone or a tablet, making content easy to consume and share is essential. This means an online publication's site must be optimized for mobile. Spending the time and resources on creating an entertaining, informative and stress-free mobile experience can give digital readers a reason to keep picking up their favorite magazines in physical form.
Make it social
Publications are increasingly depending on their audiences for propelling their distribution and promotion strategies through social media, so a strong social presence is also important. While Twitter and Facebook are reliable social channels, many online publications curate their comments sections to encourage conversation among their readers. Finally, journalists and bloggers use social media to build their personal brands and to lend authority to the publications for which they write. Encouraging the writing staff of a publication to interact with readers is just one way to keep an audience engaged both online and off.
The tug-of-war between print and digital continues as advertisers try to decide where to invest dollars. Digital marketers, however, must pay attention to both types of publications in order to reach the best audiences at the right time.
Image credit: Huffington Post