Love it or hate it, it's hard to deny the colossal audience that lives on Facebook.
And as a wise man once said, "Audience is king and he who has the audience is the king maker."
Facebook knows this to be true, so it's finally brought to market what many have seen coming for a long while now: the ability to publish native, interactive articles directly to Facebook from a publisher's domain. They've named this new product Instant Articles.
Weighing the Pros & Cons
On one hand, Instant Articles keep readers on Facebook, which prevents publishers from pushing additional products and content from their own domain. This is a decision clearly made in favor of user experience.
But, as reported on DigiDay, clicks on Instant Articles count toward the publisher's site traffic (as tracked by comScore). And when an Instant Article is shared, the link leads new readers directly to the publisher's site.
So, readers get a pleasant, streamlined interaction with publishers, while publishers get "credit" for the engagement on their own domain. This is a win-win situation, right?
Let's keep icing that cake. Facebook is also letting publishers keep 100 percent of the revenue when they sell ads on their Instant Articles. Moreover, Facebook is disclosing data about the people engaging with the ads and content to its publishing partners.
To Publish Instantly, or Not?
One would be wise to take it all with a grain of salt, as the age-old argument about building your audience on someone else's platform definitely still applies here.
But it's hard to ignore the fact that nine high-profile publishers have signed on (albeit cautiously) and are already enjoying the benefits of experimentation in the Wild West before the sheriff shows up and starts arresting regulating early adopters.

So what's a publisher (or marketer or brand or agency) to do?
If publishing Instant Articles on Facebook is of any interest to you, let them know directly by filling out this form. After completing the questions and submitting my request for more information, I received this message from Andy Mitchell, the Director of News and Global Media Partnerships for Facebook: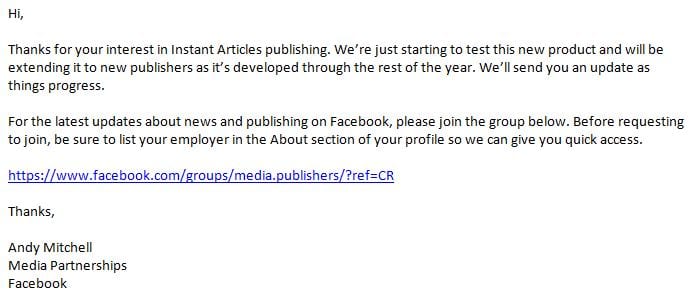 There's no guarantee of being selected to participate, but you're also not signing on any dotted lines by completing the form, either. Whether you're chomping at the bit to start publishing directly to Facebook or still carefully evaluating the ins and outs of Instant Articles, signing up and joining their official group are both great ways to continue either pursuit.