FAQ Directory
Can I create a free listing?
Yes. Absolutely. We encourage all our users to list their brand and services using the free listing option. The listing is free for first 3 months.
How much time does it take to get approval?
We try to make sure that approvals are granted in the quickest possible time. In most cases, approval is granted within 24 to 48 hours. You will receive a notification as soon as your listing is live on Relevance.
Do I have to commit to a yearly subscription?
No, you need not sign up for yearly subscriptions if you do not wish to. We offer monthly subscriptions as well for the convenience of our members.
Can I add images to a free listing?
Sorry. We allow the addition of images only in paid listings. We have to give you some reason to upgrade now, don't we?
What does a Premium Directory Listing offer?
Relevance Premium Directory Listing assures you the top spot on the home page as well as on the category page. It also gives you:
A website link on the listing page
Space for an email address and contact number on the listing page
Logo, banner, images and a link back to the website on the landing page.
Also, with the premium directory listing, there will be no distraction on the landing page. The page will have information only about the listing.
What does a Standard Directory Listing offer?
Relevance Standard Directory Listing offers free listings on the homepage as well as on the category page. You will also get a space for placing your email address on the listing page.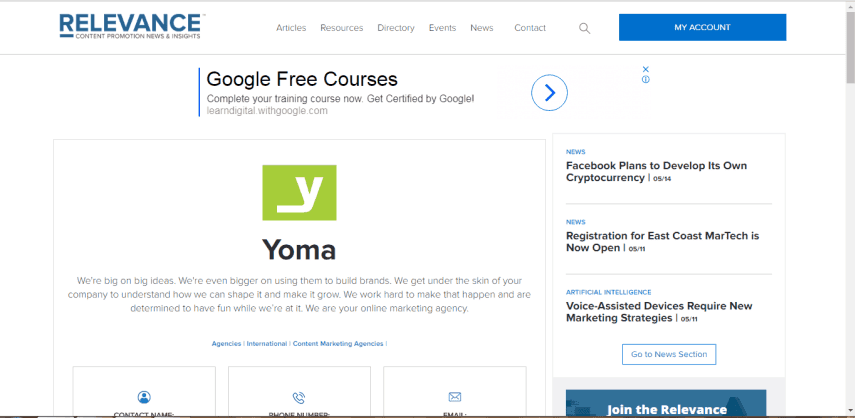 You can also place your logo, images and a link back to the website on the landing page. These links make it easier for users of the directory to find out what they can get by associating with your business. That's why it is important to choose a link that clearly provides the kind of information that your potential users and partners are looking for. Also, make sure that the link text is limited to a few words of around 25 characters each. Link URLs must be directed to one of the web pages of your organization. Ideally, the web page should provide detailed information about your product, service or event. Multiple links to the same URL will not be accepted.
Can I Specify Link Anchor Text?
Only the Featured Directory Listings gives you the option to specify link anchor text for products, services and event sessions. The Standard Directory Listing does not allow any link anchor text options. It must be noted that all links and link anchor text must comply with the quality standards described in the terms of use of the website.
When will I be charged for Featured Directory Listings?
You will have to pay for the Featured Directory Listings in advance.
Can I modify a submitted Directory Listing?
Yes, you can modify a listing as many times as you need though each time it will take us 24-48 hours to update the listing at our end after it has been reviewed by our team.
Can I upgrade my Directory Listing?
Yes, you can upgrade your directory listing anytime by logging into your account. Click on upgrade the listing to complete the process.
Do you list companies that have not made their own submission to the Directory?
Yes, we do. We want our directory to be comprehensive so we will add companies that have been researched by our team. The company profile may be our own description or a 'copyright fair-use' excerpt from the publicity material of the company. These will usually appear in a free listing style.
If a company subsequently makes their own successful submission to the directory, we will replace our researched content.
Can I have a Directory Listing removed?
Yes, you can remove your listing anytime you want by writing to us at info@relevance.com.
What happens to Featured Directory Listings after 12-months?
If you have not already renewed your listing online within 12 months, we will contact you to urge you to renew the listing.
If you choose not to renew the listing for another 12 months, or we are unable to contact you, the listing will revert to a Free Directory Listing or may be removed entirely at the discretion of Relevance.
What happens in I am unable to locate a relevant category at the time of creating my listing?
You should select the category that you believe is closest to your service. The team will make modifications or reach out to you for clarification at the time of approving the listing.
Who do I contact for advertisements and questions not mentioned here?
Please write to us at info@relevance.com for additional information.