Future Marketing: The Ultimate Collaboration of Digital Marketing with AI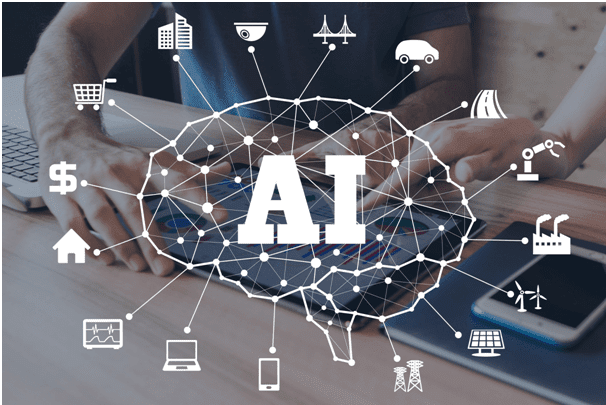 Digital Marketing meets AI
Artificial intelligence (AI) is the future of marketing. It is a globally disruptive technology already in use today. You will benefit from knowing the fundamental technologies affecting digital marketing today. This will help you transition into the AI industry that is growing by leaps and bounds.
The Changing Climate of Marketing
Change and digital marketing go hand in hand.Some of the recent trends that we find shows that wearable technologies, Chatbots and many other tools are becoming new source for advertising & marketing. Further down the road, AI will drive the marketing world and will have a larger part to play.AI deals in probabilities, not guesses or intuition. AI is more than a tool. AI alone does not make the strongest industry competitor. Human factors will still be needed. Balance and wise implementation will ultimately be key to maximize your success in future business operations.
Chatbots Demonstrate the Usefulness of AI
The world has changed the way it uses information. The here and now of relevant information is in growing demand. There are a few reasons for this. First, the Internet made information widely available. At the same time, it facilitated new information. The turnover of new information is always getting faster. Users demand higher information quality and relevance. The timeliness of the information is also a factor. Chatbots offer advantages in this area. Their limitations may only be dictated by the quality of an AI algorithm.
There is another aspect of Chatbots. They can be used to personalize advertisement for users. Putting all the features of Chatbots together can be quite powerful. Consider that they allow businesses to instantly tailor marketing strategies. Users get what they need in the moment and digital marketers become more connected to the purchase decision. AI is more powerful than Chatbots. However, the world may be influenced enough by Chatbots alone to support AI as the dominant force many experts predict.
Voice Computing has Arrived
Maybe you remember the days when speaking to your computer was too cumbersome to be anything by a novelty. It is still a running joke. The Big Bang Theory (tv show) uses this sort of humorous tech failure time and again. Innovation in voice technology has finally become practical. In fact, many big name companies market a voice assistant. These are devices dedicated to voice input that are separate from your computer.
Voice assistants are designed to make life easier. The computer was designed to improve living standards. Just like the automobile has evolved beyond the mere need for transportation, so too have many aspects of computers. This is important for marketers to know because consumers grow accustomed to technological luxuries. They will begin to expect easy to operate voice assistants. You need to reach consumers through their voice assistants. Voice already represents over 20% of Google searches. It will soon become a much more significant way of interacting online.
The Future of AI Marketing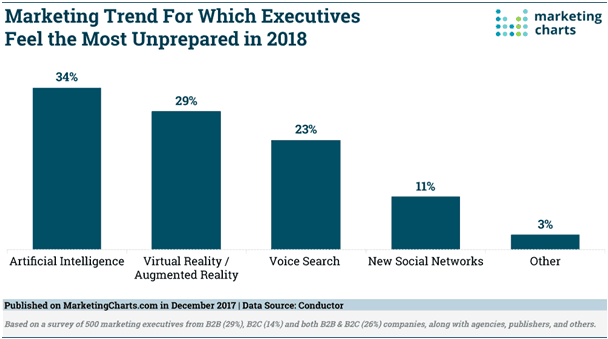 There are many AI applications coming in the near future. Some will be more apparent than others. Innovation of AI technology has only begun. Even though you may need to change your approach from time to time, the foundational principles of AI algorithms are here to stay. You are better served to take advantage of these technologies now, rather than, down the road.
Users become more Familiar with AI
Google incorporates AI to answer a user's queries. The specific algorithm is called RankBrain. It is only a few years old, and yet, it is a representation of what the future holds. Machine learning makes it possible for this algorithm to not just answer user questions, but to robustly satisfy their queries.
AI, Images, and Digital Marketing
It is one thing to compare a library of texts and definitions. It is quite another thing to differentiate images. For a while now, innovations in online searches have been working on how to best use images. AI has not only made it possible to profit from their comparison, but has found a way to describe images in detail. It can now distinguish among faces, emotions and objects.
What is impressive about AI advancements are the kinds of conclusions it can draw. Using the image resources that populate websites and social media throughout the world, AI can change the dynamic of searches. It will bring a better understanding about consumers. Their behaviors and social patterns can be used to meet their needs. This enables AI to significantly improve demographic analysis. Digital marketers are better able to map a brand. Improvements in all of these areas are known to support strong ROI. As profound as AI image technology has become, the potential for future marketing applications are not yet realized.
AI and Human Behavior Prediction
According to a survey conducted by Cambridge and Stanford, AI may be capable of amassing more information about individuals than family and friends. The implications of this for marketing campaigns are enormous. AI can shift through and analyze massive amounts of information. This has applications in human behavior.
In general, more information leads to better behavior prediction. Obviously this is of benefit to digital marketers. It allows you to more accurately target an interest group for a specific product. The benefit of this type of prediction is not just in making sales. It also streamlines production and development. Businesses can cut waste which can be passed onto consumers. When responsibly employed, AI behavior prediction is a win-win endeavor.
AI and digital marketing work well together. The future of the world is being transformed by AI. Digital marketing is one of the ways that human beings will directly interact with AI algorithms. It is important for you to recognize how consumers will change in response to an AI driven world. The future is coming quickly. It is bringing with it a lot of opportunity. If your wise and astute, AI will become a very profitable business partner.