Maintaining an engaging social media presence is essential in the digital marketing world. Got a professional and interesting Twitter bio that showcases the benefits of your business? Check. A Facebook page that's fully filled out, with an about section and profile picture? Check and check.
A Google+ page that has targeted circles and is a member of relevant communities? Check, check, check.
Even better if you're following the rule of thirds in your social media profiles to stay dynamic, interesting and informative.
But how can you use non-traditional social media methods to get the attention of your target audience? Here are three ways to do it well.
1. Vine
With the increase in external stimulation, the average attention span lasts eight seconds. Only one second more than a goldfish! That goes to show just how bombarded we are with tweets, Facebook shares, sponsored posts and online advertisements. We've now started to turn our brains off to all the rubbish so we can focus only on something that entertains and informs us.
Vine is a mobile video-based social media platform that allows you to easily create short, looping videos. As with its parent social media platform Twitter, you can follow others and be followed, re-Vine, like and comment on videos, use hashtags and tag others. When you re-Vine a video, it's visible to the people who follow you.
But how can this work for brands?
Lowes creates simple how-to demonstrations which are really useful and fun to watch.
Trident recruited some of the top followed Viners to do short, musical numbers including their new gum flavors, using the hashtag #paymeinlayers.
This Vine got more than 116,000 likes, 32,000 re-Vines and 2,712 comments! Talk about using an influencer the right way in your campaign.
But Vine isn't just for big brands. It's still a great way to show tips and demos of your product or service and strengthen the bond between your brand and your target audience. It's also a great way to humanize your brand: convey that you're fun, have personality and speak your customer's language.
2. Instagram
Instagram is a photo and video-based social media platform owned by Facebook. Instagram's videos last 15 seconds, more than twice as long as Vine's. You don't have to be an expert photographer to take photos or videos and post them to this platform.
Brands can use Instagram to introduce new products and services. Starbucks is great at doing this—letting everyone know when a new coffee is coming out when they are doing a BOGO sale or even to show a customer's tagged photo from a shop:
Nintendo is another one of my favorites. This video shows how loyal people are to the Nintendo brand, showing a video of a child's excitement receiving a Nintendo64 for Christmas:
3. Snapchat
Snapchat allows you to send pictures and videos directly to your friends. Unlike Vine or Instagram, Snapchat's videos and photos disappear forever once they've been viewed. A snap is only available for a set limit, from one to ten seconds. If you use the Snapchat Stories feature, your snap can be available for 24 hours.
Its short lifespan makes Snapchat a perfect tool to send a call-to-action that's exciting and has a sense of urgency. Consider sending CTAs like coupon codes, giveaways, new product previews, sales and special events to gain new followers and engage with existing followers.
Here's an example Snapchat promotion held by New York frozen yogurt 16 Handles: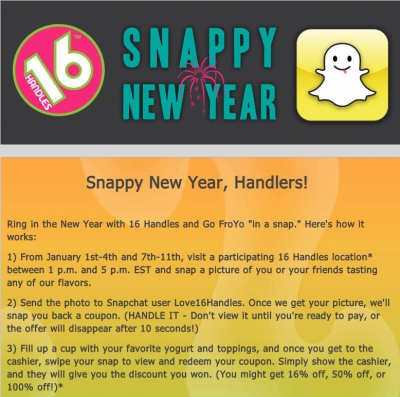 Since Instagram is integrated with Facebook, its reach is wide and its audience is vast. Vine is really popular for creative, artistic pieces, humorous vines and short, informative Vines.
These are three cost-effective and simple ways to use images and video to get the attention of your target audience. As with any marketing campaign, be sure to research your audience before you start any type of promotional efforts.
Ready to integrate media like this into your marketing campaign? Download our Content Promotion & Distribution Cheat Sheet to get started!
Image credits: mwpartners.com, John O'Sullivan