In the past week, Google has made major news by changing users' search experience. Today, Google officially released its latest initiative—Accelerated Mobile Pages (AMP). With the majority of people searching, reading, and consuming content on mobile devices such as smartphones and tablets, web performance is key for user experience—especially among Millennials.
Slow loading pages can demolish a reader's attention, and major publishing websites can quickly lose a visitor before they even capture them. However, AMP can help decrease this issue for publishers by speeding uploading time that Google says is 85% faster than standard mobile pages.
What You Need to Know About AMP
AMP will instantly serve content globally.
Publishers can still host their content and have control over the look and feel of their content.
AMP is not a template-based system and is designed to support smart caching
Also, AMP can lead to a reach improvement and engagement increase with rich content such as slides, image carousels, and videos.
AMP supports advertising, analytics, and subscriptions, which is very attractive to publishers.
AMP Demo
Google recently released these demos to show just how fast and easy it will be for mobile users to access the content.
How AMP Works
AMP is not a template-based system and is designed to support smart caching. This is an open-source framework that encourages optimized content quickly and globally. Publishers will provide an additional version of their web pages in AMP HTML.
Here's a look at the code: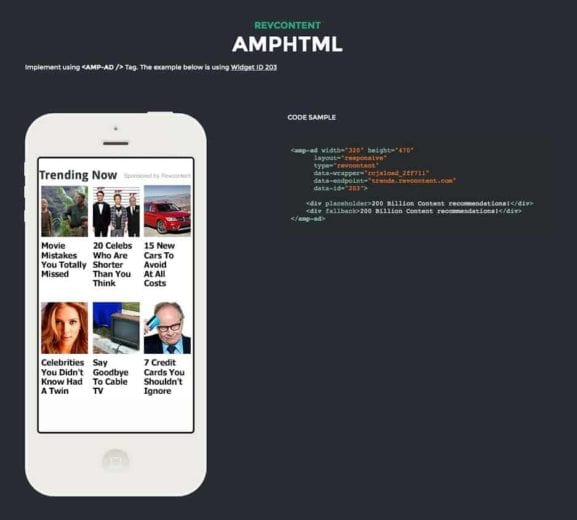 Here's a visual on how this works: 

Takeaways
Google has taken a major step by partnering with various native advertisers, brands, publishers, and platforms including Revcontent, Twitter, WordPress.com, Forbes, Buzzfeed, and The Wall Street Journal. For these partners, this may maximize their performance because most of their traffic and engagement live on mobile.
Richard Iwanik-Marques, Vice President of Marketing at Revcontent said, "Google AMP is a massive leap in that direction – and with our widgets, publishers can maintain sustainably high revenue streams, while also giving consumers a memorable content discovery experience they will enjoy."
Google AMP signifies our further enhancement in mobile-friendly web content and experience, which can be a game-changer for various publishers and native advertising.