Email marketing sounds as old as the Internet itself. It might even be so. More importantly, it continues to make online businesses successful like no other digital marketing method.
Here are some stats:
With so much to gain, and with so many email marketing automation tools at your disposal, it's high time you poured some gasoline over your efforts to grow your email subscribers' lists super-fast.
In this guide, I will explain several methods to help you do just that.
Use Interactive Subscribe Buttons
Color perceptions are an integral part of the psychological engine that drives human behavior, and it's as visible in online interactions as anywhere else. Conventional wisdom suggests that big and bright red call-to-action buttons are the safe and sure bet for soliciting email subscriptions on your blog posts, landing pages, and pop ups.
However, when every other marketer is doing the same, where's your advantage? The solution – use interactive buttons. For instance, a basic red button that turns green when the mouse cursor is hovered over it is the equivalent of a very subtle suggestion of moving from 'stop' to 'go'. The instinctive reaction of the user is to click, and complete the interaction.
Always Visible Sidebar Widget for Email Subscriptions
I'm all in for experiments with different configurations of email subscription prompt pop ups, and dedicated landing pages for collecting email subscriptions. However, when a user lands on any web page on your blog, why leave the opportunity? If the reader skips the pop up or doesn't scroll down enough to get the pop up, why lose the opportunity?
The solution – use an always visible email subscription box at the side of every web page on your blog. This proves to be a non-intrusive and respectable channel for self-driven, focused, and difficult-to-convert readers. Aweber works pretty well to set up an email subscription widget in the sidebar of WordPress websites.
Include Social Icons in Your Emails
The traditional goal of email campaigns is to get website visits. Also, traditional wisdom suggests that social sharing links are to be placed on the blog posts or web pages where you invite your existing subscribers to visit, via emails sent to them. Why would you want to place the social sharing icons in the email itself? Wouldn't it be the equivalent of suggesting the recipient to like or share your link without even reading it?
Run a Giveaway Campaign
The best things in the world are not free, and a huge list of qualified email subscribers is certainly one of them. Instead of spending on a heavily prices email marketing tool, create a small giveaway campaign and you're likelier to get more email subscribers quicker than by using any other method.
The key elements of a sustainable and successful giveaway campaign, aimed at collecting email subscriptions, are:
Make it super easy to enter the giveaway (drop down list based questions, seek minimum information, get it done in one screen)
Try to offer a guaranteed benefit to all participants (say, a collection of your top 50 blog posts in the form of an ebook)
Gratuitous entries for anybody who refers others
Target relevant audiences; quality over quantity (choose a prize that only appeals to audiences relevant to you)
Giveaway campaigns license you to unleash a blitzkrieg of promotions to all your existing subscribers, who might find it useful to share them with someone else. For what it's worth, you might even want to use an email finder tool for your promotional blast.
I strongly suggest you check out this extensive guide on how Josh Earl bagged 60,000+ email subscribers in 10 odd days, using KingSumo Giveaways to manage a pretty smart giveaway campaign.
Pop Ups – Enough Said
Digital marketing expert Hunter Boyle famously compared pop ups to Justin Beiber. In Boyle's own words, pop ups are 'everywhere, because they still pull in big crowds'.
Social Media Examiner's almost 200,000 subscribers are attributed to its killer pop up form. The key elements of a killer pop up form are:
Crazily awesome and crisp marketing copy
Visually eye catchy content
Branding (use brand logo, signature text, founder's picture, etc.)
Call to action (make the button engaging, and interactive)
Value proposition (what's the user's incentive for providing his/her email ID?)
Aussie online retailer of protein, UProtien, gets it spot on with its pop up.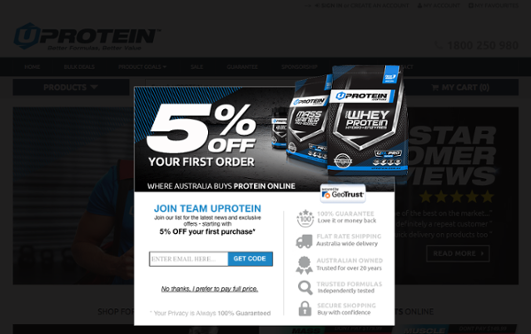 There are literally dozens of awesome pop up plugins you can use with your website builder platform to manage pop ups. I recommend OptinMonster and Bloom for WordPress websites.
Keep on Investing Time and Effort in A/B Split Tests
You can invest years' worth of time and thousands worth of dollars in email marketing, and might still find success elusive if you don't split test. A/B testing is the bulwark of success with email marketing, and will help you save unimaginable amounts of time and money in the long run.
Every blog, e-store, and portal is different, and even the best of strategies might not work for you. However, optimizing your campaigns to get mail subscriptions is the sure shot way of making incremental course corrections and reaching the destination. Landing pages, opt in forms, pop ups, referral emails, and mail outs – you can include every possible channel of getting email subscriptions in scope of your A/B tests.
Regularly Use Email Signature as a Promotional Tool
Ask yourself – how many non-marketing emails do I send every month? How many people read it? I'm sure you got a good number here. Now, what if I told you that each sent email is an opportunity of landing subscribers? You can add a craftily written snippet as your signature, along with a hyperlink pointing to your best landing page, or a killer blog post with a cool pop up form for email subscriptions.
The differentiator here is how smartly you can word your email signature text. Something like 'this 100 seconds read will make your day' is better than 'check out my blog post about productivity improvement'. Also, keep on changing your signature text every few days to keep things busy.
Use Exit Intent Pop Ups
Ever heard of exit intent pop ups? These are day-savers, really. For every website visitor who's about to bounce, you have one last chance of getting them to stay, and that's in the form of exit intent pop ups. These are pop ups configured using advanced pop up manager tools, which show up when the website visitor is about to leave the website without subscribing. You can configure these pop ups to promise heftier promotions and offers, promote your best deals and top offers, offer customer support on priority, throw in a shipping discount, ask for feedback, etc.
Here's an example of exit intent popup in action.
De-clutter
There's a lot going on inside the mind of anybody visiting your website's landing page. The typography, colors, content, images – everything is new. To make matters easier, keep things simple, especially when it comes to your emails subscription form. Some best practices:
Don't ask for anything other than the email address. Here's a terrible example of an opt-in form nobody would be courageous enough to fill in.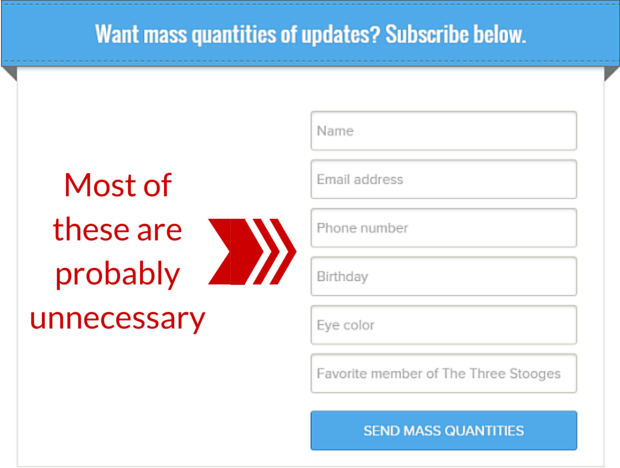 Don't add any widgets in one of the sidebars apart from the email subscription box.
Use large fields, interactive button, and make sure the subscription box catches the eye.
Use white box for text entry.
Assure privacy.
Check for email format to avoid wrong email inputs.
Make the subscription box visible at all times.
Display a confirmation message. 
Final Thoughts
As Internet becomes more accessible, the number of email users will keep on increasing. Every marketer is looking to do the same, so make sure you do it differently and do it better. The methods discussed in this guide will work perfectly, so begin now.