According to a survey by Linqia, 86% of the marketers reported that they used influencer marketing in 2017. Out of which, 92% of the marketers found this form of marketing to be very successful and efficient. These statistics indicate that an increasing number of marketers are using influencer marketing. And it is becoming an essential part of the marketing world.
Therefore, marketers are planning to increase their budgets for influencer marketing. 39% of marketers studied in this survey, plan to increase their budget for influencer marketing in 2018.
According to Bloglovin', over 90% of marketers use Instagram for their influencer marketing campaigns. Instagram tops the list of most preferred social media platform for campaigns, followed by Facebook and Twitter.
Instagram allows you to connect with more than 800 million monthly active users. This social media platform gives you and influencers the opportunity to be more creative.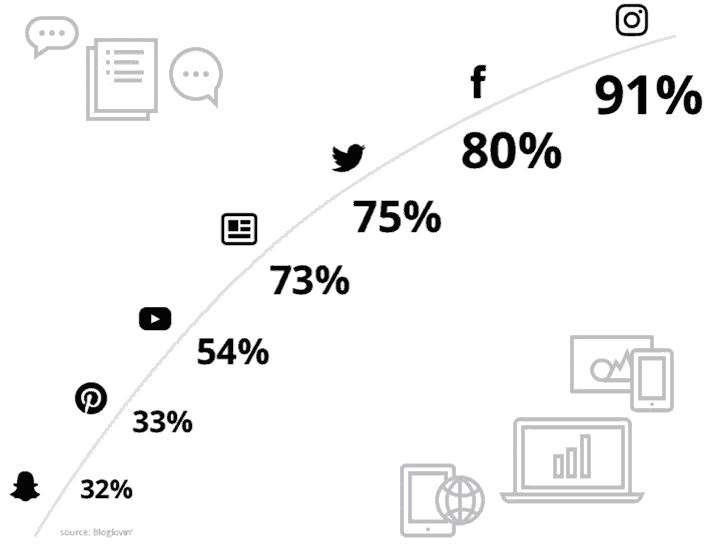 Did you know that almost 60% of the Instagram users belong to the demographic of 18 to 29 years old? If this demographic is one of your target audiences, influencer marketing on Instagram may be the perfect fit for your next marketing campaign. With a big enough budget, and the right strategy, brands and marketers have launched successful campaigns with influencers on Instagram.
But if you are on a tight budget, and still want to explore opportunities on Instagram, follow this post. This post will take you through some tips to successfully do Instagram influencer marketing when you have a tight budget.
1. Use Micro-Influencers
Users with 1k to 10k dedicated Instagram followers are known as micro-influencers. They are ordinary people who happen to be an expert in their niche or industry. A brand which has a tight budget should consider collaborating with micro-influencers.
Their rate of engagement is high, irrespective of having a fewer number of followers. They can generate up to 25% to 50% of engagement on every single post. In comparison with macro- or mega-influencers, micro-influencers are 6.7X more effective per engagement.
Micro-influencers manage to build faithful followers, because of their more personal interactions with their followers. According to a study, micro-influencers can generate 22.2X more conversations than conventional users. Because of this, their followers get an opportunity to know them at a personal level. Consumers are more likely to be motivated to purchase a product or service that is recommended by a micro-influencer they follow.
How much micro-influences charge is much less than bigger influencer, and therefore more affordable. It is advisable for brands who are just starting out on Instagram to hire and work with these niche-specific influencers.
Many micro-influencers are more flexible and are not hesitant to work with smaller brands. Their rates can vary according to the number of followers they have, but are typically between $75 to $3000 per post. For small brands, it is difficult to hire top-level influencers as they might charge tens or hundreds of thousands of dollars per post.
2. Leverage Your Resources
Promotions on Instagram rather than on other social media platforms has proven to be the most successful way of increasing your reach.
Also Read: Content Is King, But Distribution Is Queen And She Wears The Pants
It is a good idea to invite your followers from Twitter, LinkedIn, and Facebook etc. to follow your Instagram account. You can easily get more exposure by leveraging your already existing social media handles.
By using this strategy, your Instagram content will get more coverage. This strategy can help you to enhance your brand's image. It can also cut down unnecessary costs associated with developing new content.
Tools like Hootsuite and Everypost can help you to post Instagram content automatically on other social media platforms. You can generate more traffic by promoting your Instagram video content on Facebook. To increase the number of followers you have, you can promote your Instagram contests on other platforms.
These strategies, when used correctly, can help your influencer marketing on Instagram to be successful.
Bloom & Wild is one of best examples of Instagram influencer marketing with a limited budget. The flower delivery startup wanted to widen their reach and boost their sales.
They used Facebook's Power Editor to target audiences on Instagram. They experienced an increase of almost 62% in bouquet orders. They also got many new followers on their Instagram account.
3. Invest Time into Building Relationships
Building strong relationships with influencers is the base of a successful marketing campaign. Brands should not overlook the human element of influencer marketing. Building relationships goes beyond the promotions of services or products. Allowing creative freedom and proving fair compensation are two important factors that affect your relationships with influencers.
According to TapInfluence, influencers have stated that brands generally fail to offer fair compensation. According to a Crowdtap study, if the brand offers fair compensation, 68% of influencers may decide to work with that brand again. Offering fair compensation indicates that you respect and appreciate their effort and time. This further helps to strengthen the relationship between the influencer and the brand.
For influencers, being authentic and original is the most effective means of influencing their audiences. The overall quality and impact of the campaign will suffer if brands try to control the influencers' work. 83% of influencers may be interested in working with the same brand again, provided they are given creative freedom.
If you are a small brand, then you might not want to hire a team of individuals to help you organize your influencer marketing campaign. It can be quite time consuming to have your staff research a lot of Instagram profiles and then manually reach out to each of them.
Another way to organize everything in budget is to use an influencer marketing software like Grin. It allows you to easily find Instagram influencers according to your niche, reducing the time and money needed to do so manually.
Final Thoughts
Influencer marketing can be very expensive. But with a little creativity, you can launch an Instagram influencer marketing campaign, even on a tight budget. If you know any other tips for successful Instagram influencer marketing, please feel free add them in the comment section below.