I almost never visit a restaurant before reading its reviews online, and in a city with plentiful dining options, I can afford to be choosy. Don't have more than three stars? I'll probably skip it. Don't have more than 50 reviews? I can find plenty of others that do. Sites like Yelp have completely changed the way restaurants need to think about marketing to customers, just like Amazon changed the landscape for consumer products.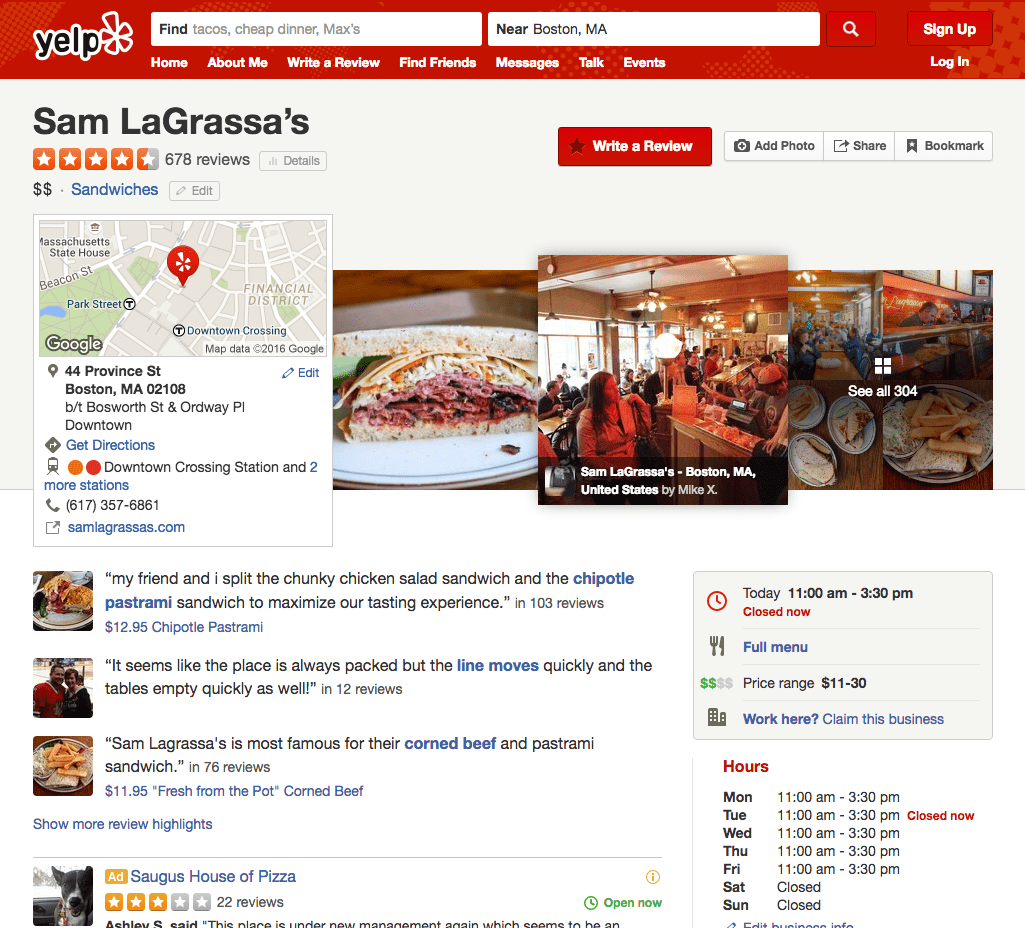 Relying on reviews before making purchasing decisions is one of the biggest markers of the shift of power from businesses to customers that is challenging companies to keep up. While the changing balance of power is obvious in B2C settings with the rapid rise of sites like Yelp and Amazon for consumer reviews, it's also happening in the B2B world. A recent study by CEB cited in Harvard Business Review of over 1,400 B2B customers found that those customers made "nearly 60 percent of a typical purchasing decision—researching solutions, ranking options, setting requirements, benchmarking pricing, and so on—before even having a conversation with a supplier." Another study by Software Advice found that 75 percent of B2B buyers consulted online reviews before making purchasing decisions about business software.
The prevalence of the traveling sales agent is dwindling. Just as we expect to obtain the information we're looking for as consumers online through customer reviews, as businesses, we expect the same. It's clear today that B2B companies that don't have a big presence online are losing business before they're even aware of it.
Some recent scientific studies have uncovered the complexities of online reviews that offer some guidance for businesses looking to make the most of this marketing opportunity.
How to Take Advantage of Customer Reviews
It's not rocket science to know that positive reviews are beneficial for a company, but understanding exactly how they serve the customer in a decision-making process can help companies—B2Bs in particular—understand how to better leverage reviews as a form of customer advocacy.
Step 1: Understand Why People Read and Write Reviews
Researchers Ulrike Gretzel and Kyung Hyan Yoo discovered that reviews are perceived as more likely to provide up-to-date, enjoyable, and reliable information about a company than content posted by the company. Further, a study by Avanade titled "Global Survey: B2B is the New B2C" revealed that 61 percent of enterprise buyers considered third-party review sites, social media, and word of mouth to be more important for gleaning information about a company than information shared by the company itself. The Software Advice study showed that 59 percent of people write reviews in order to help others and that people actually enjoy writing reviews.
Step 2: Know What Aspects of a Review Are Most Important
In a study published in the Journal of Marketing Research, researchers found that the impact on sales of one-star reviews is greater than the impact on sales of five-star reviews, so it's more important to focus on abating overly negative reviews than encouraging overly positive reviews. Look at negative reviews as a chance to engage with your customers and improve your offerings. But beyond that, the researchers found that people do in fact read the text of reviews more so than just relying on summary statistics like an overall star rating.
The Software Advice study showed that the most important details of a review for potential buyers assessing a product were functionality and quality. Support and ease of use came close, too. The study also found that a mixture of positive and negative reviews builds authenticity; people are more likely to trust a collection of views that offers a range of feedback over all-negative or all-positive reviews. Don't worry too much about unreasonably exaggerated or isolated negative reviews—customers will often dismiss these, unless they notice a pattern of negative feedback.
One study found that people don't just pay attention to the content of a review, they also pay attention to the reviewer's reputation and exposure—those with better reputations and higher exposure are more significant in the mind of your potential customer.
Step 3: Learn How Time Impacts the Quality and Salience of Reviews
In the Software Advice study, results showed that people only consider reviews written within the past year, and 71 percent only consider reviews written in the past six months. This indicates the importance of keeping reviews fresh and continually encouraging customers to review. Businesses shouldn't be afraid to ask for reviews either, 78 percent of people aren't particularly bothered by being asked to review something. But consider the timing of that ask: new research suggests that waiting a while before asking for a review could lead to more positive reviews.
5 Tips for Getting Rave Reviews from Customers
1. Wait a while before asking for a review from a customer; don't hound them right away. Make asking for reviews a regular responsibility of your marketing department to ensure they're always recent and relevant.
2. Make it easy for customers to write you a review that includes feedback in areas that are important to potential buyers. Offer rating scales and prompts on topics like functionality, quality, support, and ease of use.
3. Encourage reviewers to write textual reviews, not just give a star rating. The more detail they provide the more weight potential customers will put on the information provided in that review.
4. Focus on reaching out to influential reviewers with good reputations online, and identifying and highlighting influential reviews on your own site, particularly in the early stages of your product to help out before you have a larger quantity of reviews.
5. Be an active participant in the customer review process: respond to reviewers and open two-way dialogues so you can abate negative reviews and gain valuable feedback for product development.
Sites like TrustRadius, G2 Crowd, and Salesforce AppExchange are good places to cultivate customer reviews if your company has an app or software product, while LinkedIn, Google+ and even Facebook are go-tos not just for consumers but B2B customers looking to get a general sense of your company's reputation as a whole.
While companies are losing control of some aspects of their marketing strongholds through unpredictable customer reviews, taking a proactive approach to this important segment will yield the most positive results over time. I've got a mounted coaster above my sink that always reminds me that "We cannot direct the wind, but we can adjust our sails."
For more scientific insights into modern marketing strategy, subscribe to the Content Standard newsletter.
This article originally appeared on The Content Standard.