How to Prepare Your Images for a Twitter Chat
So, Twitter chats… they don't need images, right? You would be excused for thinking so, given how few actually use them. In fact, I just saw a Twitter chat being held by a huge organization, including interviewees who were extremely well known, and they didn't even use images to promote it, much less during it.
Twitter is a pretty visual platform, or at least it's definitely moving in that direction! While other social networks, like Facebook, have become visual by default, Twitter had a bit of an upwards climb in that regard. People were more likely to post hashtags than photos with their tweets.
Well, this is changing… Twitter is full of creative images, animated gifs, visual quotes, etc.
A Twitter chat is reliant on engagement, which means both hype and live attention grabbing. Images can help you do that much more effectively.
Preparing images for the Tweet chat is a good idea if you are a host, featured guest or simply planning to attend. This is a one-hour commitment, so why not try to get more out of it?
Here are your steps for using images before, during and after your chat.
Step One – Promote With Visuals
As you hype up the chat, you should be catching the eye as much as possible. A strong visual or two can help with that. Take a nice background image and overlay it with text that gives the time and hashtag. Don't give too much away, but instead use it alongside a link to a blog post with more details.
Share this image a couple times a day in the week or so prior to your chat. People will be more likely to retweet it with the picture attached than on its own. First Site Guide lists a ton of tools that can help you create those images.
Canva
Picmonkey
org
PiktoChart
Easel.ly
And many more!
Step Two – Show Your Guests
Your guests are going to be a big draw when you have them as an interviewee. So why not take advantage of that? Post a couple of photos early on in the chat, or include them as part of your hype images you publish.
Step Three – Create an Intro Card
When your chat begins, you should have a nice introduction card that brings up the topic. It doesn't have to be fancy, and can even be as simple as text on a colored background. That's up to you.
It signals the beginning of the chat, and gives people going through it later a starting point on your feed for when the discussion began. It is also a kind of visual gavel, telling those waiting to pay attention because things are starting.
Step Four – Create Visual Queues For Each Chat Segment
Just like the intro card, you can have a card for each new segment of the chat. Before you create a Twitter chat, you should have made a detailed agenda. This will have the topics broken up into parts, the time allotted to each part, and schedules in open discussion or question time for participants.
See how #CMWorld team is planning their Tweet chats: Awesome!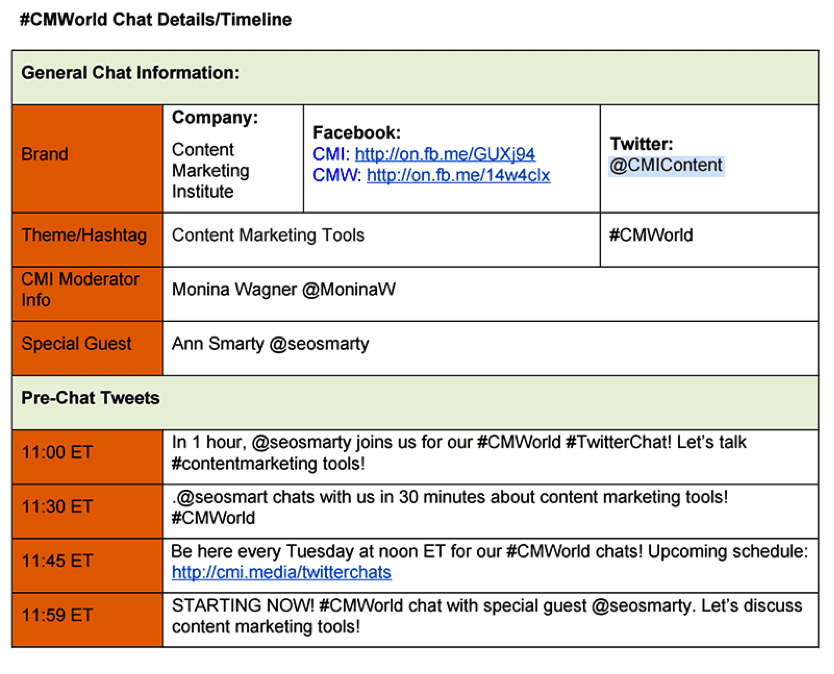 And there are images planned for each part in the timeline:

The more organized this part is, the better. And topic cards for those segments will help keep people on topic and task as you move forward. It also breaks up the chat into more easily viewable areas for those who go through your feed later.
Anyone who has ever had a couple of chatters who have failed to notice (or just failed to cooperate) when the topic has changed will know how useful this can be. Images are harder to ignore.
Step Five – Create a Personalized Thank You
This is, to me, the most important image to have. It is your thank you, which should be personalized and sent out at different points. Which means creating several different images. I recommend the following:
A personalized thank you to the guests who spoke at your Twitter Chat, @Tagged and including a link to a transcript posted on your site for easy viewing.
A thank you to participants who were especially active in the chat. Did someone really stand out during your talk? Send them their own visual thank you card, including the transcript link.
A general thank you to all who participated, but who did not stand out as much as the users who got their own card. If you have a shorter list of participants, this one can include @tags for all of them. But if they won't all fit in a single tweet, try breaking it up into multiple posts of the same image.
This last one doesn't need a transcript link, as they are less likely to share it (they will probably just add it to their favorites). But you should post the transcript link on its own from your profile regardless, with (you guessed it!) an image card.
After The Chat
This is something I have only just started doing, and it applies more to wider re-packaging of content for social media use. But it has been very effective. Take small quotes from your chats and make your own visual quotes from them.
We were randomly doing these for #VCBuzz chats: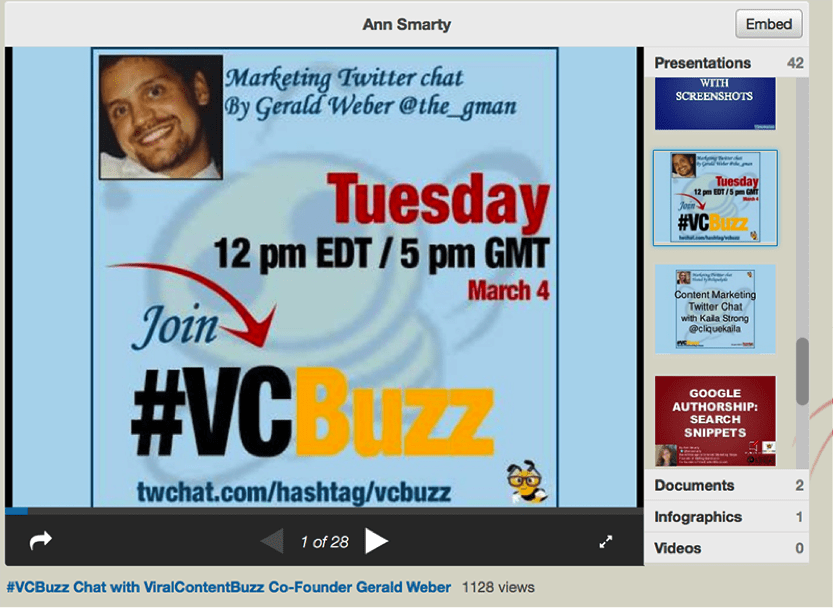 Post these cross-platform, and occasionally on Twitter with your transcript link. It will help hype up future Twitter chats.
Visual Creation Tips for (Featured) Guests
Attendees and guests don't have the control to plan out the visual component of a Twitter chat as thoroughly as the hosts but they can still do some preparations.
The point is, if you tweet a great image right where it fits, you'll get a ton of retweets and follows, so any Twitter chat will work much better for you!
Here are some quick tips for you:
Prior to the chat, spend 5-10 minutes searching for related stats and charts: These always help increase Twitter interactions. Places like Emarketer, Sitegeek, MarketingCharts have a ton of already made statistics visualizations for you to use. Save them locally, and don't forget to give credit in case you do tweet them!
Think about pages and tools you'd need to use screenshots Don't overuse screenshots but a good timely one can do wonders!
Collect 2-3 good quotes related to the chat questions and turn them into visual quotes (tagging the person you're quoting). You can create a quick MyBlogU project to source some quotes from them (in case you have no time to look for them!). TrySpruce is a good way to create visual quotes on the fly!
Do you have any tips for using images in Twitter Chats? Let us know in the comments.
Photo credit Flickr