In today's hyper-connected age of social media, a stellar piece of content easily has the potential to go viral. Social shares offer an incredible amplification opportunity and are one of the easiest metrics to track, so it's no surprise over half of marketers report such engagement metrics are the most common way they measure their social media success.
Brands and publishers alike rely heavily on these channels for reach, engagement, and amplification. Back in 2014, my team at Fractl partnered with BuzzSumo to research which networks and publishers were getting the most attention on social media by analyzing the social traction of one million of the most shared articles of the first half of the year— and sifting through about 2.6 billion social shares. Knowing a lot has changed in the past twenty-four months, my team rebooted our study by once again analyzing one million of the most shared articles, this time for the first half of 2016.
Besides realizing the number of shares grew to 3 billion for the same number of articles, Fractl also uncovered several interesting trends concerning publisher engagement by comparing the data from 2014 and 2016, which offer valuable insights for brands hoping to increase the social traction of their content.
Breaking Down One Million Articles: What Brands Can Learn From Publishers
Find Your Niche
What the data says. Niche publishers in specific verticals like tech and sports or those targeting specific demographics like gender and age, have seen exponential growth in social shares and site traffic, catching up to the major media and news groups trying to cater to all audiences. The number of articles to rank among the top million most shared for the Huffington Post, for example, was cut in half, from over 53,000 in 2014 to 27,000 in 2016. Paired with a nearly 7 percent decrease in the number of average shares per article, it's no wonder the number of total social shares garnered by the media giant dropped from 268 million in 2014 to 125 million in 2016.
Meanwhile, publishers catering to a more tailored niche saw an increase in the number of articles to make it to the top million or an increase in the number of average shares per article (or in some cases, both.) The number of articles in the top million from Bleacher Report jumped 56 percent while Gizmodo saw the number of average shares per article to rank rise 28 percent. With their primarily female readership and a median age of 45, Self.com's appeal to a specific demographic known for sharing helped the online magazine see an increase in both metrics— a 355 percent increase in the number of articles and a 162 percent increase in average shares per article.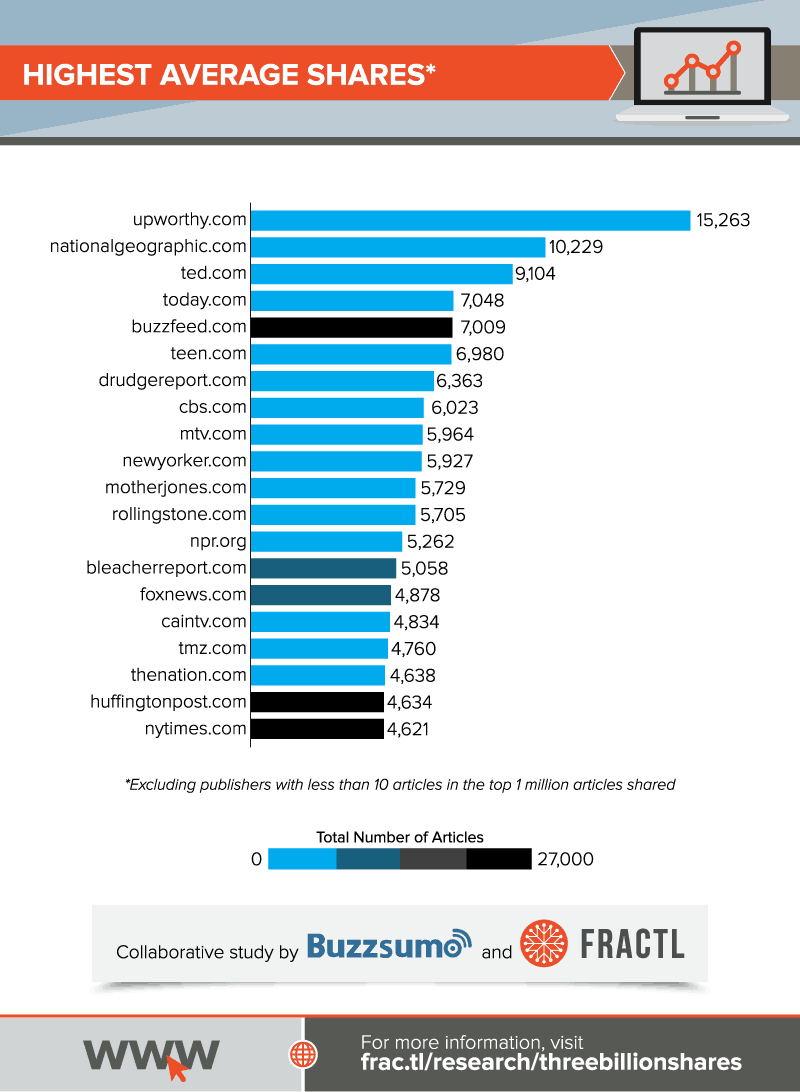 The takeaway for brands. You can't please everyone and neither can your content. Niche publishers are seeing the benefits of their targeted approach that extend beyond the increasing number of social shares. Establishing a loyal following, driving site traffic, and building an authoritative reputation are all the result of these social engagements— all of which brands can also reap by mirroring a niche social content strategy. As an added bonus, targeted strategies are known to have another advantage specific to brands: qualified leads.
Appeal to Positive Emotions
What the data says. While both viral and news publishers shifted towards a much more positive tone in their top articles, the latter saw a significant decrease in negative sentiments since 2014 and sizable increase in average shares per article. A sentiment analysis revealed at least two-thirds of the top articles for news publishers were negative in 2014, which has dropped substantially across the board to less than a quarter for the same sites in 2016.
At the same time, all of these news sites saw an increase in average shares per top article ranging from 20 percent to 80 percent. (Interesting to note Fox News was an outlier, with an increase of over 100 percent even though a portion of their sentiment shifted to neutral at best, arguably connected to their 2016 election coverage.)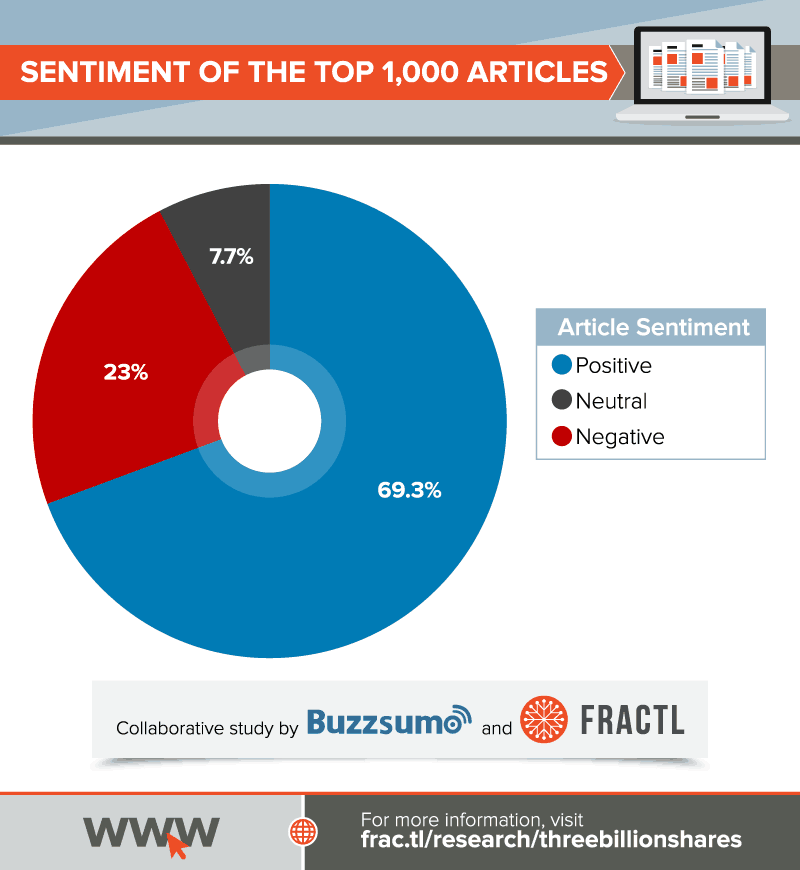 The takeaway for brands. Regardless of the vertical or demographic, positive content is primed for social sharing across all platforms. Users often carefully consider what content they post and curate on their social feeds as it's ultimately a reflection of themselves. Therefore, brands need to remember users' primary motives for sharing in the first place: to bring value to their networks, most often by appealing to positive emotions like happiness and surprise via entertainment.
Bonus: An Example From an Emerging Top Publisher
One of the top fifteen most-shared articles in 2016 is an inspiring TED Talk revealing a few key lessons learned from the world's longest study on happiness. With 10.5 million views and well over half-a-million total social shares, this article strongly appeals to the complex but overwhelmingly positive emotions that make content go viral.
Final Thoughts
Both brands and publishers must remember they aren't just competing with their direct competitors to capture their audience's attention— they're competing with everyone. Users' News Feeds are becoming bombarded with anything and everything, from addictive Tasty video tutorials to eerily accurate targeted ads to the engagement photos of your former college roommate.
While the average user spends nearly 109 minutes on social media each day, the half-life of content on social networks is short— less than 90 minutes on Facebook and 24 minutes on Twitter. Fortunately, the insights gathered from these top publishers and their most engaged posts can help marketers strategize their social content to emulate some of the best practices. In the end, it's important to think like a publisher in terms of creating and distributing content your target audience will want to read — and share.