How to Use Repurposed Content as a Competitive Advantage in Content Marketing
Let me start with a possibly surprising, but informed prediction:
"In the race to create better content faster, those with expertise in content repurposing will be the winners."
Content repurposing is not content revamping or updating old content, which has its separate benefits (we will talk about that in another blog post). In this article, I want to propose a process of content creation along with the main factors that determine the format of the repurposed content.
First – what different types of content can you create?
Your text-based content: blogs, eBooks, cheat sheets, white papers, reports, snippets of information (tweets etc.)
Your image based content: infographics, images, graphs and tables, slide shares
Your audio video based content: webinars, podcast, videos, audio recordings (e.g. audio books)
Next – what are some interesting attributes of content?
Content can be easily bundled together, e.g. an eBook containing content from several blog posts on the same topic
Content can be divided and marketed separately, for instance, dissecting a survey report into snippets of information or infographics addressing smaller portions of data
Content can be served over time e.g. a top 5 blog series or 51 piecemeal tips on Twitter
Content can be delivered real time / instantaneously (a webinar or a presentation)
Content can be only one way (to some extent) as in a blog post or an infographic
Content can be also interactive, for example a webinar or a telephone consultation
Without going further into the nuances within the world of content, what are the main goals that should guide your content repurposing?
To this end, I've created a graph showing the three main considerations you'll need to weigh before you start:

The linkbird Content Matrix
The linkbird content matrix explains the relationship between target audience, purchase decision phase and the value provided by the content. In this model, users' knowledge is an independent variable that directly influences the complexity of the content. Value provided by the content influences the likelihood the user advances in the purchase decision phase.
Over time your audience will increase their knowledge about the subject matter and move from left to right on the "user's knowledge" axis. Since the content is intended to take the audience through "purchase decision" phases, you are in essence taking them from bottom to top on the y axis. By combining both movements, you can predict a bottom left to top right trend as beginners in the subject matter become expert and as traffic becomes prospects and then leads.
Furthermore, as time passes and your audience consumes more and more of your content, they will become more knowledgeable on the topic. The same level of content won't satisfy their needs, so you should aim for having higher authority content to keep your increasingly knowledgeable audience returning for more.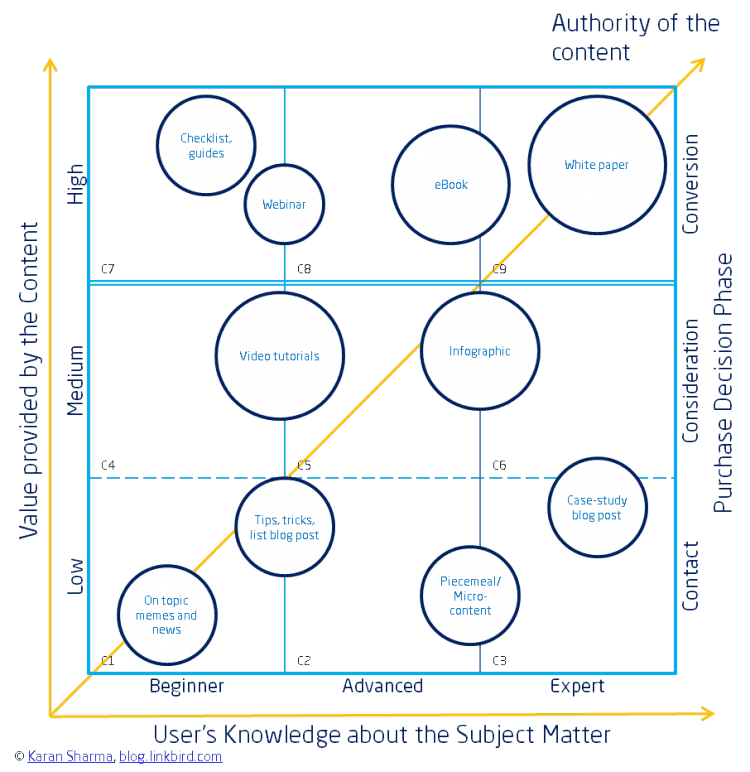 How best to use the linkbird Content Matrix
Always start by what you already have and determine where in the matrix it fits.
Determine what you want to achieve with the new content:

More traffic (across the board or specific user group)
More engagement
Filling a gap in your content offering

Plan a logical and temporal approach for publishing the content as you complete it in sequence.
Here is an example for repurposing content to target different user groups based on their knowledge. Let's say you have done 50 piecemeal tweets about facts and stats about link building.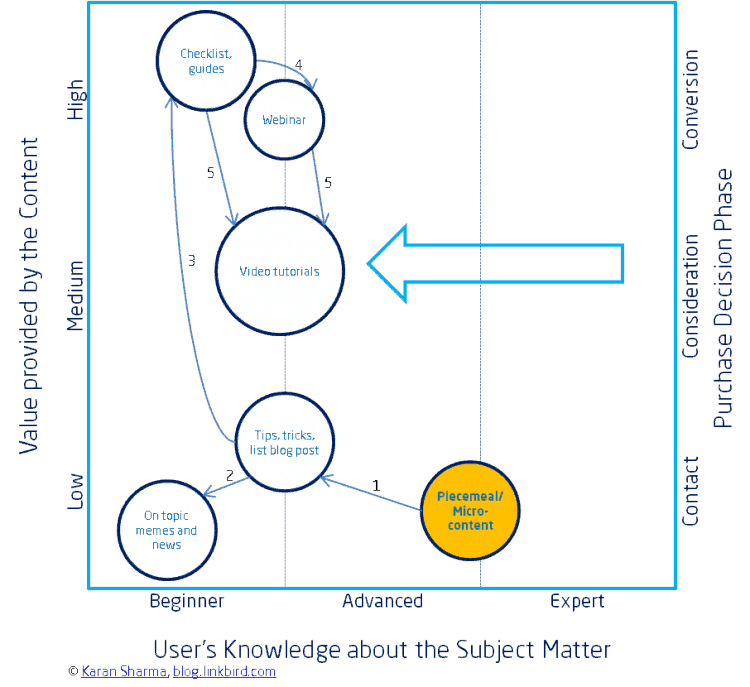 Example process: repurposing to target users of different knowledge levels
Assuming you have the content of the 50 tweets, you can very easily write a "50 key stats and facts about…" blog post on the topic.
Take snippets of information and create a series of memes with it.
Create a guide about "how to use / measure these stats for your…" and offer it as a resource.
Create a webinar to deep dive into the different portions of the guide.
Cut the webinar video into small pieces and supplement with text from guide. With small adjustments you can create a series of video tutorials with it.
So there you have it: a systematic approach to content repurposing. For more on the subject, check out how storytelling can help you anchor multiple content to the same core message.
And before you move to another page, don't forget to download the "Step by Step Guide to Content Repurposing".
This article originally appeared on linkbird.