Facebook is once again entangled in a major ad controversy and this time, the US Department of Housing and Urban Development has come bearing serious allegations.
HUD has issued a formal complaint against Facebook for allowing landlords and home sellers to run targeted ads that discriminate against protected groups.
[bctt tweet="#HUD is suing #Facebook for violating the Fair Housing Act. Read on for more…" username="relevance"]
This negligent practice violates the federal Fair Housing Act which prohibits real estate ads from discriminating based on sex, race, color, religion, handicap, familial status, or family origin.
The complaint, released Friday, August 17th, states that Facebook's ad targeting tools have enabled discriminatory practices since July 24th, 2018.
The document claims that Facebook permits marketers to discriminate based on sex by showing ads to only women or men, discriminate based on disability by not showing ads to people who are interested in keywords like "deaf culture," or "assistance dogs," not show ads to certain religions, or block ads from persons in certain countries.
HUD also claims that Facebook allows marketers to discriminate based on race by drawing a red line around majority-minority zip codes and blocking ads from users who live in those zip codes.
Anna María Farías, signer of the formal HUD complaint, said in a statement to the Washington Post,
"When Facebook uses the vast amount of personal data it collects to help advertisers to discriminate, it's the same as slamming the door in someone's face."
Facebook Embroiled in Intense Controversy
HUD is not the first organization to allege Facebook of these kinds of discriminatory ad practices. The troubled social media giant has previously faced allegations in 2016 from ProPublica, an American investigative journalism nonprofit.
In their reports, ProPublica discovered that Facebook allows advertisers to exclude or target ads specifically to groups called "Ethnic Affinities" including persons that are African American, Asian American, and Hispanic.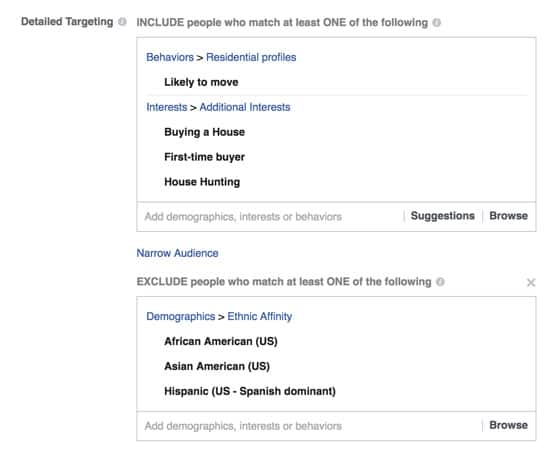 After the ProPublica report was released, Facebook updated some of their ad policies and rules regarding housing, credit, and employment ads but as of last November, the company still had not taken firm action on monitoring the ads.
Because of this inaction, the National Fair Housing Alliance issued a lawsuit against the company in March 2018. HUD's formal complaint will allow that lawsuit to continue in court.
A Facebook spokesperson told Axios,
"There is no place for discrimination on Facebook; it's strictly prohibited in our policies. Over the past year we've strengthened our systems to further protect against misuse. We're aware of the statement of interest filed and will respond in court; and we'll continue working directly with HUD to address their concerns."
Final Thoughts
Data privacy and ad scandals have plagued Facebook this year, leaving them in a pretty precarious position both financially and morally. The company has made several attempts to restore user trust but people are having trouble buying into it.
Facebook's most recent attempt at user reconciliation was a highly criticized promotional campaign called 'Facebook Here Together' that promoted privacy and authenticity. It received 4,000 dislikes on Youtube compared to just 907 likes.
Facebook has also rolled out new ad policies regarding political content and launched a new, stricter, review process for its marketing API.
Marketing wise, Facebook is still an appealing choice for advertisers but for users, these rollouts, campaigns, and updates have done little to quell concerns.
The company suffered its highest ever share loss in July and experts predict that number will continue to drop. This further proves that the company has a long way to go before people have faith in it again.
The grievous complaints issued by HUD are yet another roadblock in Facebook's quest to win back users. The former social media darling has been on thin ice for a while now and, with these recent allegations, it looks like the ice may finally break.