ENOUGH has been said about the importance of content marketing.  Every marketer of this generation gets how critical it is to pander to their customer's whims and not their own (product or service) vanities.
They are… therefore we are… Long Live the Customer who is also the King… etc. etc.
But where exactly does one start off with content marketing? How many and what type of people are needed? Product specialists or freelance writers, or some of each?  How do we integrate these 'content marketing efforts' into the organizational work flow or the existing marketing processes? While dense with theory, all the 101 guides I read leave out the boring answers to these really tedious questions. They trust we will figure it out. Much like parenting and old age!
However, I believe there is no perfect path. Budgets are different as are goals. More importantly, organizational capabilities almost always lag far behind individual dreams. But Agile Marketing is a great start to understanding the operational aspects of Content Marketing.
The Agile theory urges marketers (or software engineers, as the case may be) to undertake smaller projects relevant and whole in themselves  as against a 5000 piece puzzle of a single leaf that comes into focus only with the 5000th piece. Assuming you finish it at all… unlikely!
[bctt tweet="Again, while AGILE is intuitively logical  in theory, how do we begin to identify or break down a task into these "byte sized pieces" or the "small but time bound sprints as they are called" that are a reward in themselves and yet create a foundation for bigger, more ambitious projects?" username="relevance"]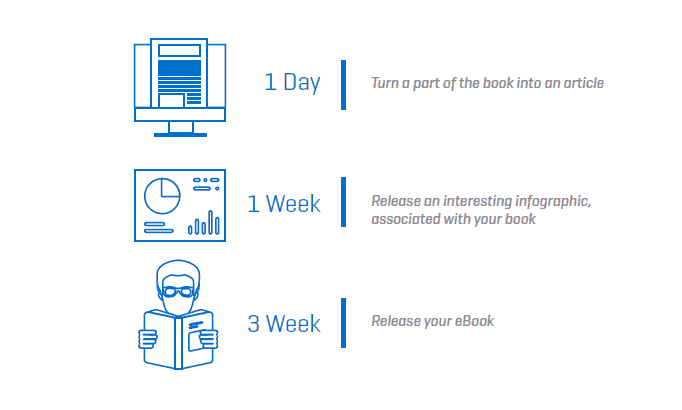 15 standalone articles that can be published individually over days and then later combined into one big e-book at the end of the month allow you to see the result every few days, if not daily!
Truth told, each brand has a different journey and the optimal point of entry will need to take into mind risk, effort, as well as value, but the effort involved in researching and identifying these points is a task unto itself and the assessment is not always absolute (or even accurate).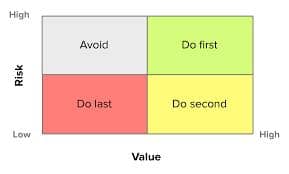 [bctt tweet="While content marketing needs to customer centric, it is not necessarily altruistic in motive. All marketing has a purpose – a purpose to sell – indirect or otherwise, and without it, it is meaningless. Content Marketing included." username="relevance"]
I think we can safely agree that the highest value (and lowest risk in terms of time, effort, and expected ROI) content for any company is perhaps their customer facing communication or all CONTENT based avenues of engagement.
Now while a proposal outlining the maintenance or product guarantee is also somewhere on this spectrum, I see the maximum value in more neutral or information oriented brand assets like website and brand profiles – owned or hosted elsewhere.
These make the ideal entry project(s) to be given to a starter content marketing team/individual.
As part of a content marketing team with revenue targets, we needed easy to execute 'trial projects' that would allow us to win credibility with new prospects but also not weigh us down in workload since not all were likely to convert. I am happy to share that we offered the below 'projects' as trial services to eventually win the trust (and business) of over 22 clients in 2 years. We also added it to all the second level proposals we sent out to prospective clients and increased our conversion rate by 20% in the first year.
Why Existing Assets?
New takes time. New takes approvals. New requires more effort, one way or another. New teams need to harness the momentum of some early wins to win trust and funds for bigger (and newer) commitments.
All brands already have a website or a Facebook page or some other online entity where they are already "talking" (or "not talking" as is often the case) to their customers. A careful review of this asset will yield under optimized landing pages, incomplete or missing FAQs, out of date brand messaging, or just a mobile unfriendly interface. Basis your experience and interest, I guarantee you will find areas of opportunity that you can make your very first project. Bonus : A quick before and after of GA statistics will show you the changes in session time / bounce / traffic and all the other parameters relevant to the change you made.
3 HIGH VALUE CONTENT ASSET PROJECTS to get your team started
1. The MONEY pages: Top Entry Pages
The service, checkout as well as landing pages where campaigns are designed to bring in traffic are always the most valuable to a company and also where you will be able to measure the impact of content marketing in the clearest terms. Encourage the team (and friends and family) to go over the complete process as users and identify areas of improvement. One less field to fill or a helpful chat can often make the difference between success and an aborted sale. Chances are you will find more than one point of improvement.
Greater minds than mine have worked hard to create this infographic that I am sharing below. It's not recent but still my go-to whenever I design or evaluate a page.

2. CLOSERS or under performers? Top Exit pages
The Thank you page after you finish buying a product is a great page for your user to exit while a loaded cart aborted on the "fill out form" page needs closer attention. Some of our top exit pages are also our top entry pages and house some great articles with terrific session time. That's not necessarily bad though it would be idea if we could get them to navigate to other parts of the website using strategically placed content like "Users who read this also liked xxxx' or pop ups offering similarly themed e-books.
Frankly, tracking exit pages to see where the website is bleeding customers is the easy part – figuring out why can be a bit of a doozy. You will just have to trust your gut.
It could be the content, the load time, the unnecessarily long form on that page, or any million reasons. Choose high traffic pages to give you a reasonable base for comparison; make small modifications and measure progress. It's the only way. Sorry, no helpful infographic for this one!
3. Home page: The one man army
For most websites, the home page is the most common entry point. It is also the page you open for your customers in a meeting, the page that investors, potential recruits, and existing customers most often turn to for information. It is by far the most important page on the website and sets the tone for all further interactions.
If you still don't believe me, think of every time you have landed on a new website. The text, the design, the loading time, and the clarity of the layout is your first impression of the company and the people behind it.
Note : This chapter is one of the 10 written in the form of individual posts which the author plans to combine in a e-book titled: Navigating the content minefield – A practical guide to leveraging digital content opportunities which is still under work.