Internet marketers have been discussing the concepts of owned, paid and earned media for a while now. Some people get the idea, while others still aren't sure how these concepts can apply to and meet their own unique marketing needs. This leaves marketers wondering just how they can effectively communicate the importance of these vehicles in any digital marketing plan so that everyone understands.
Let's look at this concept differently: What if owned, paid and earned media were people? How would they act? What would their interests be? And most importantly, how would they help digital marketing strategies succeed?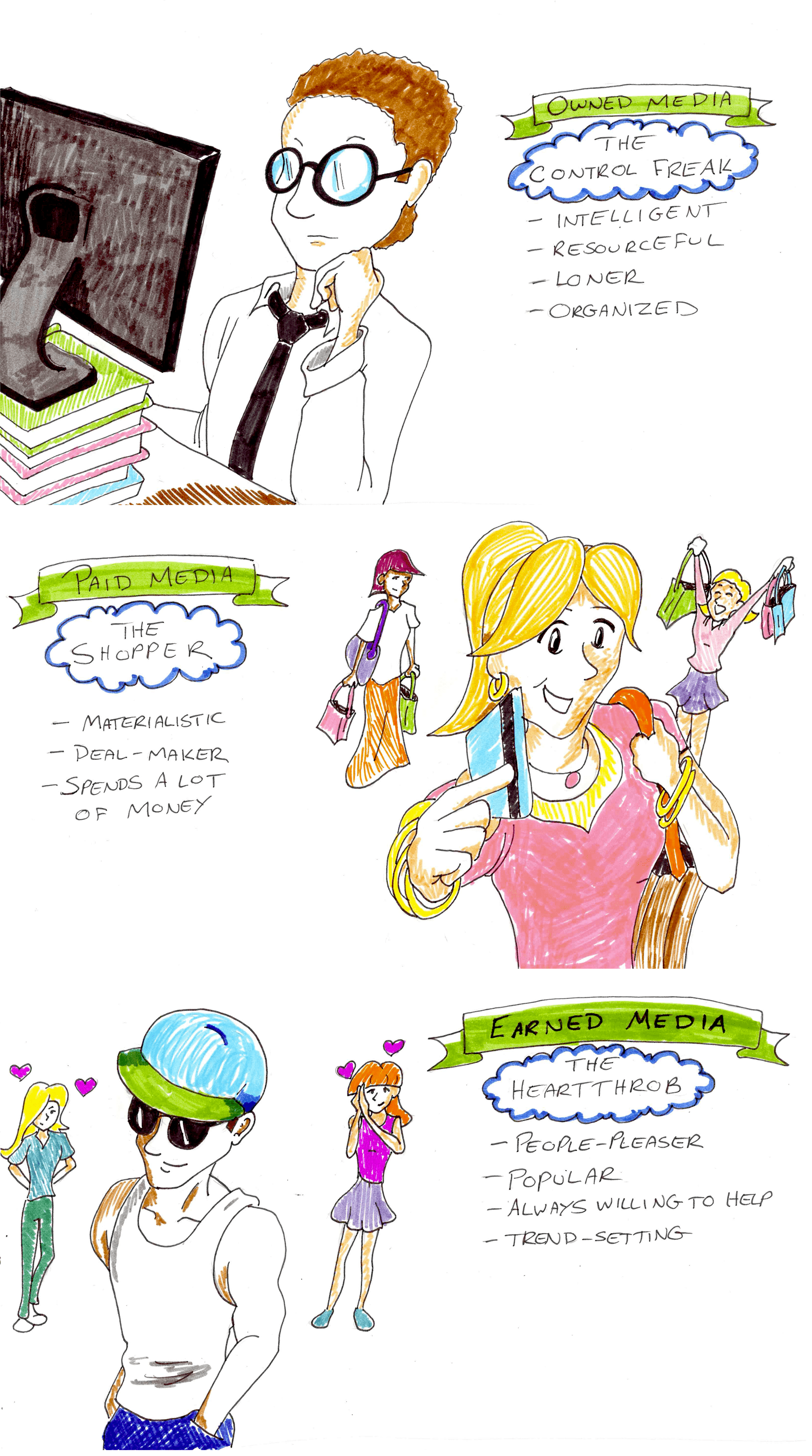 Owned media – the control freak
If you have your own website, you've probably met this guy. Owned is all about media placed on owned platforms (your website, Twitter account and blog), and this guy takes that strategy very seriously. He's in charge of simply being the expert of his industry because people within the company produce his content for the world to notice.
Owned does not rely on other channels to accept and display his content because he is completely in control of his own platforms. He's an essential strategy when it comes to building a brand.
Paid media – the shopper
If you have ever seen a PPC ad, a web banner or a sponsored contribution to a website, you've met Paid. Paid is the one with the credit card because she believes she has to buy all of her channels in order to be successful. By purchasing Web space for media, businesses are allowed more control over what media is placed and where around the Web. Paid is always searching for a quick, easy way to get the word out to the most people in the shortest amount of time.
While Paid is an excellent strategy, she does have her disadvantages, including being expensive. Using this element as part of a three-pronged strategy will be most effective and efficient for businesses.
Earned media – the heartthrob
Everything this guy does is viral. People want to know more about him because he's incredibly helpful and his ability to communicate is outstanding. Earned is handsome – the content he offers caters specifically to the reader by allowing more control to the channels of placement.
Channels such as popular blogs and websites know what their readers want, and Earned fits right into their requirements. Earned also doesn't need cash to be successful because the content he creates is tailored to help rather than advertise. He's proven to be one of the most effective ways to increase Web traffic.
Whether you're a small business or an enterprise, these three strategies can work together to bring your company success. By incorporating them all together, your business will extend its reach much farther and more efficiently than by using only one strategy.