Following parent company Facebook's decision to remove over 600 deceptive accounts, Instagram has announced in a blog post that it will be adding three new safety measures to its platform to bolster security and prevent ill intentioned fake accounts from wreaking havoc.
[bctt tweet="Instagram rolls out three new security tools to combat fake accounts and 'bad actors.' Here's what marketers need to know…" username="relevance"]
Users will soon be able to gauge the authenticity of accounts with large audiences through detailed "About This Account" information, verification access will be increased, and users will be able to use third-party two-factor authentication apps to log in.
These tools will not only help users identify snakes in the grass, they will also help deserving, authentic brands improve their credibility.
Keep reading for detailed information about these three features and let us know in the comments how you think they'll effect social media marketing.
"About This Account"
This new feature puts power in the hands of suspicious users who want to know more about the accounts they follow.
Starting in mid to late September, users will be able to see the date the account joined Instagram, the country the account is based in, accounts with shared followers, any username changes the account had in the past year, and any ads the account is currently running. After evaluating an account, a user has the option to report the account if need be.
Instagram will notify those larger accounts in September before their information is made publicly available. This gives them a chance to review it and update any info.
For any social media managers or coordinators reading this, be sure to keep an eye out for any information from Instagram regarding 'About This Account' next month.
Account Verification Updates
Getting your account verified on Instagram can give you a major credibility boost and for users, that little blue badge tells them that A) you're worth trusting or B) you're an authentic public figure, brand, or entity.
Instagram is now rolling out a new verification process that will make it easier for brands to get the authentication they deserve. The new verification form will be available to accounts within the Instagram app. Like the old process, an account has to comply with Instagram's Terms of Service and Community Guidelines to be verified.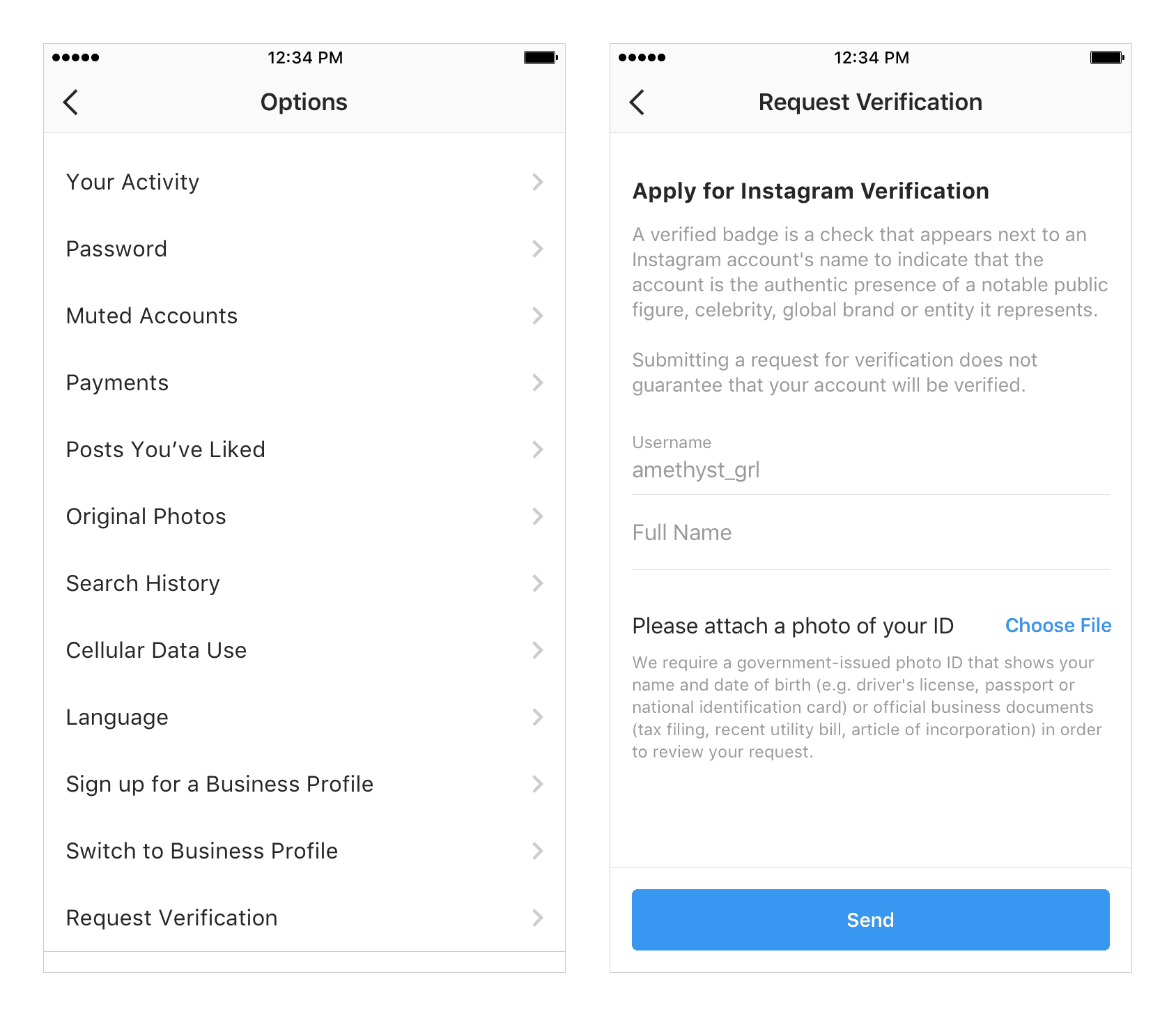 Accounts will be able to access the form by going to their profile, clicking menu, selecting "Settings" and then tapping "Request Verification."
The new process is far more streamlined, and although a request doesn't automatically guarantee a verification, it will make it easier for accounts, especially ones linked to small businesses and startups, to get their blue badges and reach broader audiences.
Third Party Authentication Support is Finally Arriving
This new update gives users an important safeguard they've been asking Instagram for for quite a while now. Security is on the tops of everyone's minds these days and new forms of two-factor authentication are high in demand. Users can now go to their profiles, hit menu, tap settings, go to two-factor authentication, and then they can select the third party app of their choice.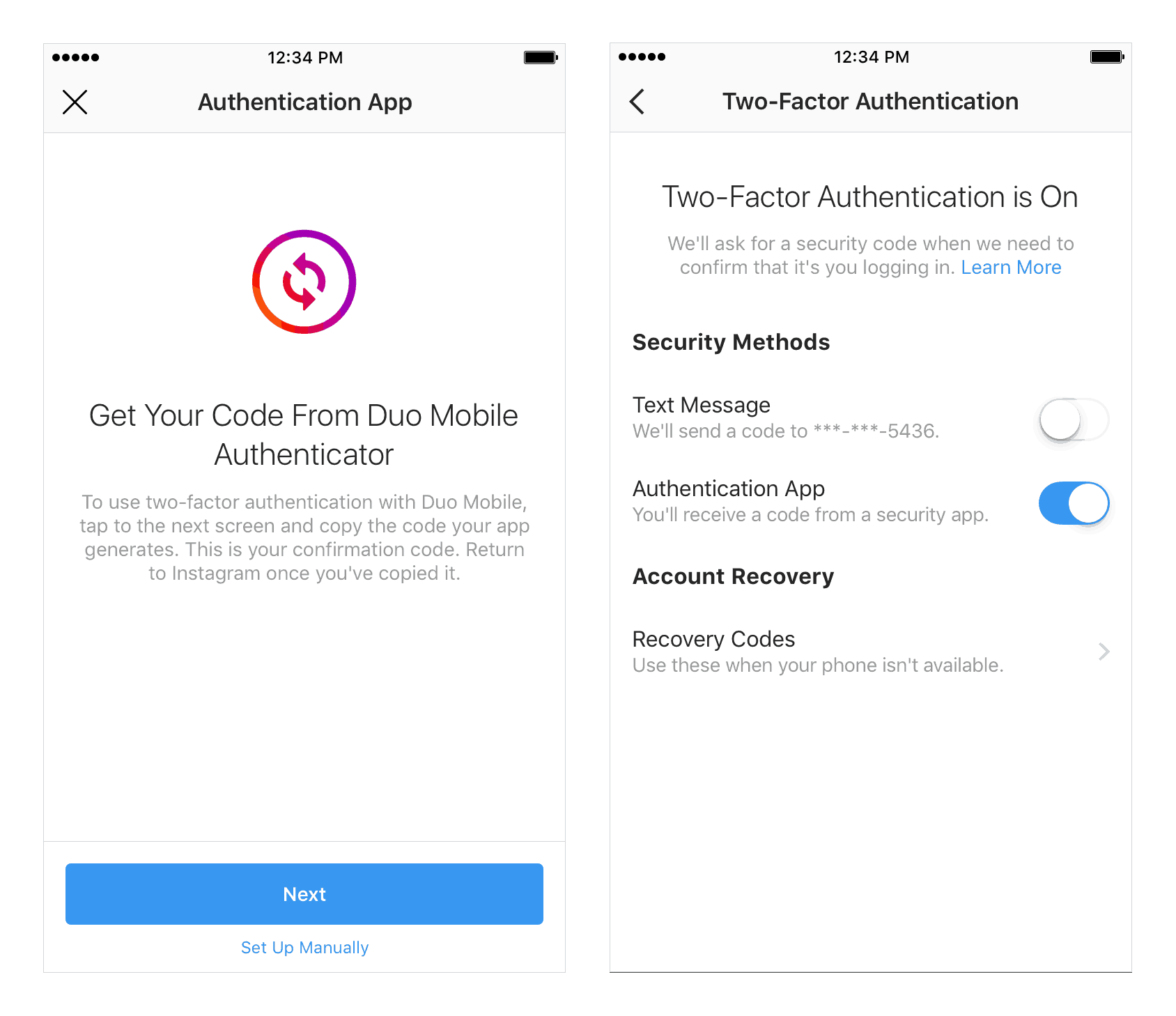 If you already have an authentication app installed, Instagram will automatically detect it and send a code to that app that so you can retrieve it and enter it on Instagram.
This update doesn't have any major implications for marketers but more account security options are always useful when dealing with sensitive, branded material. Account hacking is every marketer's worst nightmare so I'd highly suggest getting on top of this new update and adding some extra security.
Final Thoughts
Mike Krieger, Instagram Co-Founder and CTO, concluded the blog post announcement by saying,
"We've been focused on the safety of our platform since the very beginning, and today's updates build upon our existing tools, such as our spam and abusive content filters and the ability to report or block accounts. We know we have more work to do to keep bad actors off Instagram, and we are committed to continuing to build more tools to do just that."
Because of the massive data breaches surrounding Facebook, other apps have started going the extra mile to safeguard their platforms and maintain user trust.
Instagram is owned by Facebook so it was only natural that the visual media company would roll out expanded security measures to prevent misleading content and to stop deceptive users from causing harm, especially ahead of this year's United States midterms.
Sure, these security updates can be a pain when it comes to social media content promotion but it's something we'll all have to deal with for the sake of transparency.
We may have to work extra hard to ensure our ads are authentic, our messaging is transparent and engaging, and our legal and business identification documents are up to date, but it's all worth it if it means reaching a wider, more trusting, audience.