Instagram Allows One-Hour Videos, Creator Channels
A few weeks ago, Instagram sent shockwaves through the social media sphere when they announced, without warning, that hour-long videos could be invading our Instagram feeds soon.
Reactions to the news were understandably divisive. Proponents of long-form Instagram content said that, if well executed, Instagram could become a legitimate Youtube rival. Opponents exclaimed that no one would want to watch content that long on a site built for photos and 15 second videos.
[bctt tweet="Instagram introduces #IGTV, a new platform for video content up to an hour-long. Read on for more on what this could mean for marketers." username="relevance"]
When Instagram made the initial announcement, they were pretty mum on the details. We weren't sure how long-form videos would appear on Instagram, when they'd appear, or how our feeds would change because of them.
On June 21st, at an event in San Francisco, Instagram CEO Kevin Systrom finally gave us some answers. He announced that long-form videos will be enabled through a new section called IGTV. He also announced that IGTV will also be available as a stand-alone app.
IGTV, a vertical surface with longer videos and discoverable Youtube-like channels, will allow anyone to create and upload content through the app or on the web, not just big-name video creators. New or small accounts won't be able to create hour-long content at first but the option will gradually roll out to everyone in the coming months.
At the San Francisco event, Kevin Systrom stated, "We made it [IGTV] a dedicated app so you can tap on it and enjoy video without all the distraction."
This decision will likely make the long-form Insta video skeptics happy and the proponents ecstatic. Users will be able to access IGTV through the in-app section or on the separate app.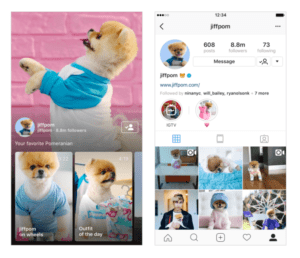 IGTV was made available yesterday. While there won't be any ads on IGTV content initially Systrom has said he wants to give creators a way to monetize in the future.
Instagram Vs. Youtube
There's no denying that IGTV is Instagram's way of rivaling Youtube. More and more young audiences are fleeing traditional media for digital channels and Instagram understands this. By following this digital media trend, the photo-sharing king is attempting to position themselves as a Youtube alternate, both for viewers and creators.
This news comes one day after Facebook unveiled a new suite of video creation tools designed to lure in and help creators connect with and grow their audiences, generate ad revenue, and expand their businesses.  
Digital media personalities have built large and dedicated fan-bases on Youtube. Facebook and Instagram are doing their utmost to sway these, and new, creators to their platforms.
It's unlikely that Instagram will topple Youtube's empire, especially when you think about the sheer number of videos on the platform and the large number of creators working full-time on Youtube.
However, IGTV could prove to be a great way for users to watch content vertically and it could be an excellent marketing platform for experienced and novice content marketers.
What This Means for Marketers
For brands looking to dive into long-form video storytelling, IGTV may be one of the best ways to get started. On how IGTV can benefit businesses, Instagram states,
"Longer vertical video on Instagram makes it even easier to get closer to your audience and be discovered by new people.


Use longer, permanent video for deeper storytelling. Build stronger connections with potential customers as you showcase other dimensions of your business without being limited to one type of content, length or format."
Video content, especially vertical video content, is arguably the future of digital marketing and hundreds of brands have started making video a core part of their content strategies.
We are seeing brands vlogging, hosting how-to-videos, telling stories, conducting interviews, sharing testimonies, and promoting content in dozens of creative ways through LinkedIn video, Youtube, and Instagram.
By launching a vertically-optimized video creation platform that's free for anyone, including companies, to use, Instagram is making it easier for us tell captivating and creative branded stories. 
Instagram states,
"As with stories, IGTV is built on Instagram leveraging a global community of more than 800M people. When your followers open IGTV, they will instantly see original content from you, and new people can also discover your brand."
People, especially younger audiences, are spending more time with independent digital media creators and less time with 'professionals.' As the demand for real, unfiltered authenticity rises, time spent with creators will rise.
According to Cisco Visual Networking Index: Global Mobile Data Traffic Forecast Update, "By 2021, mobile video will account for 78% of total mobile data traffic."
It's Time to Get Serious about Visual Storytelling
As marketers, it's our job to adapt to changing consumer habits by adjusting our content strategies. Our audiences will not wait around for us to catch up to trends so it's crucial to stay in tune with what's current. It's also important to be less salesy and more genuine.
If we don't continuously reinvent and create long form content people will actually enjoy sitting through, consumers will seek out other, more relevant and relatable brands. Check out some of the best in long-form branded storytelling below.
Worn Wear: A Film about the Stories We Wear – Patagonia
Now and Then – Visit Las Vegas
Ransomware: Anatomy of an Attack – Cisco
https://www.youtube.com/watch?time_continue=33&v=4gR562GW7TI
The videos above are incredibly well-produced but long-form video doesn't necessarily require thousands of dollars worth of equipment to be captivating.
All it really takes is a good smartphone, a platform like IGTV, a feasible content plan, and some creativity. For example, you can easily pull off a testimony video similar to Patagonia's with a smartphone and some honest and willing candidates.
TrackMaven founder Allen Gannett has mastered the art of low-budget video creation. He has racked up thousands of views on LinkedIn for his short and long, front-facing, smartphone interviews that are both informative and fun to watch. It's entirely possible for any brand to find similar success.
Instagram CEO Kevin Systrom states, "It's time for video to move forward, and evolve."
It's not only time for video itself to move forward, it's time for brands to move forward with it.
Let us know what you think about IGTV in the comments. Will you consider making branded content for Instagram through the platform?