As long as there's been social media, marketers have been trying to master how to best use social platforms to advance their brands. While platforms like Facebook and Twitter have long been obvious boons to brands, Instagram has proved much trickier.
They were relatively late to introduce advertising and tracking features that marketers need for paid campaigns. In the meantime, the platform flourished as a home for influencers and organic brand content. While that means great Instagram marketing can be very affordable, it has left marketers struggling to understand their audiences, as well as what sort of content performs most effectively. Fortunately, the team at Schedugram has just finished compiling new research on the platform, so we can understand the stats that really make Instagram shine.
User Demographics
Instagram users tend to be predominantly female, although the skew is not as strong as on platforms like Pinterest. 31% of American women (who are active online) use Instagram, compared to just 24% of men. This means that the platform overall has a 58%/42% female/male split.
Instagram users are also on the younger side: hello purchasing decision makers! 59% of Americans between 18 and 29 use the platform, while only 8% of people 65 and up do.
Unsurprisingly, Instagram is a worldwide phenomenon. 80% of users live outside of the United States.
Best Performing Content Typology
Ever since adding video capabilities, marketers have wondered what the right mix of still photos versus video clips is. While videos may rule supreme on Facebook, it turns out that photos are still the best for engagement on Instagram.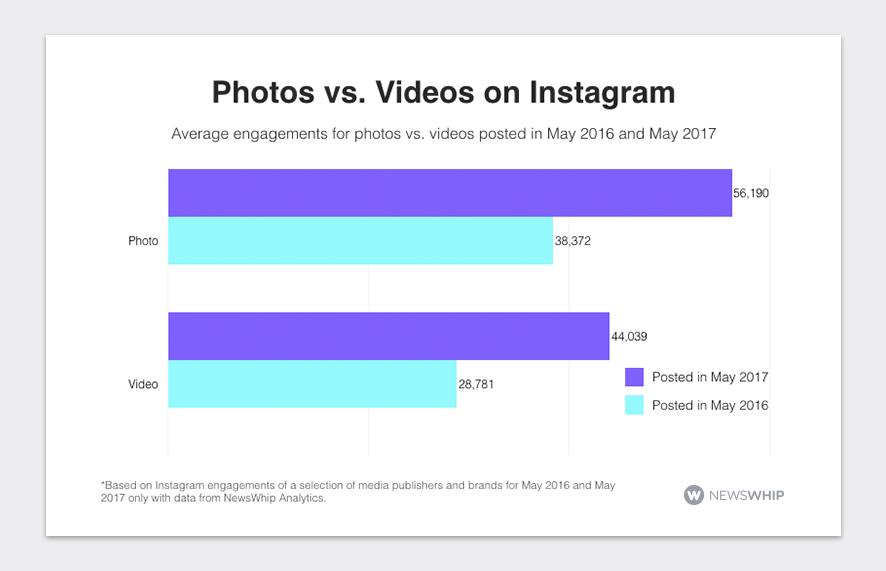 Not only do photos outperform videos in terms of engagement, the performance gap has actually increased in the last year. So save yourself the hassle of editing too many videos, and try to stick to still photos.
On the other hand, don't feel the need to go overboard with the amount of content you post, which can scare away less passionate followers. In fact, top brands only post an average of 4.9 times per week. To keep things easy, you can aim for one update per weekday. Avoid weekends, when people use the Internet less in general, as well as midday, when people tend to be busiest with work.
To Filter or Not to Filter
It's almost hard to believe, but when Instagram first started out, it was a simple app that allowed users to add filters to their existing photos, to make them look "dreamier" or like they were taken with an old-timey film camera. Nowadays, it seems like every app has some sort of augmented reality "filter" of its own, while Instagram has morphed into a social media juggernaut, where the feed is the main star of the show.
That said, filters still matter! Not only can they help make your content pop, they give a sense of cohesion to your brand and imagery. That's why 60% of brands use the same filter on every update.  The most popular filter is Clarendon, but it's up to you whether that means you too should use it, or if you should pick something else to stand out from the crowd.
Hashtags and Locations
Every little decision can help optimize an Instagram post's performance, including how you handle metadata like hashtags and location markers. In fact, adding just a single hashtag leads to 12.6% more engagement on a post, as compared to a photo or video without one. That said, don't go overboard and try to add every hashtag you can think of; research finds the optimal amount to be 11 per post.
Similarly, adding location data will help your post performance too. Photos that feature a location tag experience 79% higher engagement.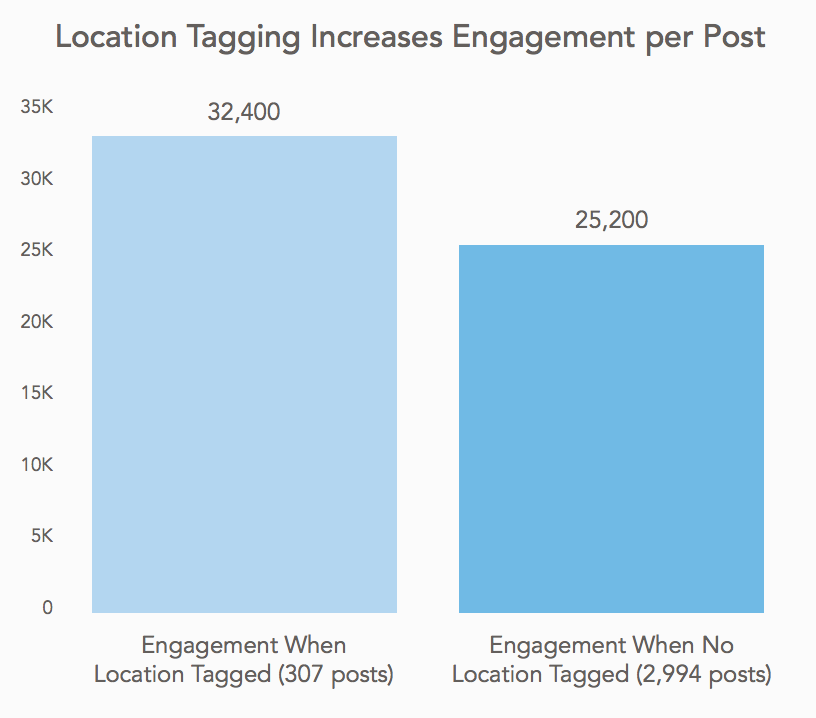 Details Matter
For a platform as fun and casual as Instagram, it seems almost counter intuitive that little details like these can make such a big difference. And at the end of the day, no amount of clever timing and amazing hashtags will make up for a lousy photo or uninteresting post. But when you truly understand all these user demographics, post statistics, and much more, you can give a great 'gram that extra boost it deserves.