Fast forward a few years into the future. Would you be watching this article in a video instead of reading it online? An interesting thought to muse over.
Online video is experiencing an inimitable growth. With now more than four billion people using the internet, we are consuming content like never before. From sunset to sundown, people are searching, reading, watching, sharing and commenting on content which will expire if it doesn't capture their attention. This is where video comes in. 78 percent of people are watching online videos every week.
[bctt tweet="Video is quickly becoming the avenue people are pursuing to fulfil their information and entertainment needs." username="relevance"]
Should your business include video in its marketing strategy? Absolutely. And here's why:
LinkedIn now supports video in its feed
The number of monthly users of Instagram Stories exceeds Snapchat's monthly users
Facebook video is competing with YouTube and Vimeo
Source: Ross Simmonds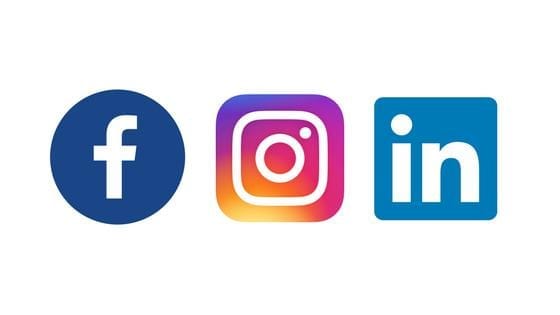 Twitter: Facebook, Instagram, LinkedIn
It's not difficult to see that video is shaking up the content marketing industry. So, let's take out the crystal ball and see just why it will be the content medium of the future.
ACTION: Compel With Video Content 
When marketers think about conveying their messages, it is no longer about producing a television ad that astounds the audience in an effort to shine over other boring commercials. Today, it is about delivering a video that entertains and engages enough viewers to be shared. It is about creating content that competes with the likes of trending UNILAD videos on Facebook or the latest soccer game on livestream.
Because video uses both visual and auditory communication, the human brain is hardwired to react to it. When a video strikes the right emotional chords, it resonates on a level that builds a connection with viewers. The union of images, music and content incites emotion, captures attention and communicates information in a way written text can't do.
We are naturally drawn to faces, which provide cues to the context of what is being said. When we hear words spoken, we automatically interpret the messages being delivered. Movement in videos provides visual intrigue and holds our attention much better than static images do. Brought together, they spark emotion more effectively than written words can.
Inciting emotion in your audience does not mean that your video has to be emotional or make your viewers cry. Remember that emotions include fear, guilt, trust, belonging and inspiration as well as empathy and sadness. By harnessing nuances from a whole palette of emotions, you can appeal to your audience's purchasing needs and desires.
ZOOM: Educate With Video Content 
With 65 percent of people being visual learners, according to the Social Science Research Network, video marketing is an education for your audience. You can demonstrate how your products or services work while displaying their features and benefits. Or by creating a webinar, you can express your industry knowledge and add value not only to your brand but customers' lives.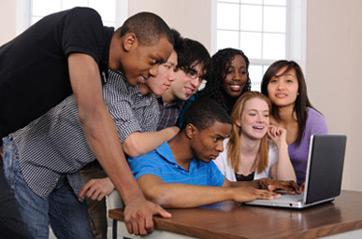 Learn.org: Students Watching Video
Did you know that YouTube is the second largest search engine in the world? The search for 'how to' videos on YouTube is increasing by 70 percent yearly. What this means is that people are turning to YouTube to learn how to do something. For you, this means you can boost your number of viewers by creating 'how to' videos that target your audience's real pain points.
CRANE-SHOT: Share Video Content 
Sharing your video on social media can give your business a lift and increase both traffic and conversion. With native videos on Facebook having 10 times higher reach than YouTube links, you can create a video for promotion on Facebook to grow both your followers and revenue.
[bctt tweet="Although video marketing has been evolving this past century, recent years have seen it become smarter, ever-changing and more accessible. " username="relevance"]
Social media platforms have been rolling out their own native video platforms – Facebook and Instagram Stories, for example.
Psychology Today: Social Media
When it comes to social media, people share emotions, not facts and statistics. 76 percent of viewers say they share branded videos they find entertaining. Creating fun and engaging videos will encourage social shares which in turn can increase traffic to your website. 
CUT!: Video Killed the TV Ad 
Ross Simmonds: Netflix vs. Cable TV In The US
The internet has become a way to reach the new generation of millennials. Instead of buying cable or satellite subscriptions, millennials turn to YouTube and the internet. eMarketer says online video consumption will grow from 64.2 million to 64.8 million in 2019, while 89 percent of viewers will be millennials over the upcoming three years.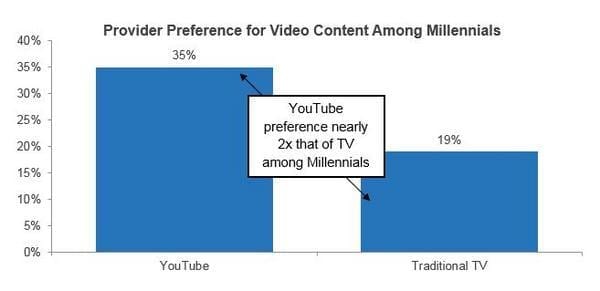 Comscore: Millennials Prefer YouTube Over Traditional TV
What does this mean for television ads? Cable television networks could be in trouble. Traditional television advertising has been a big influence in the advertising world. But with its tremendous expense being three or more times the cost of an online banner ad, the TV ad has a lower conversion rate than targeted online advertisements.
That said, top brands will be looking to have a video presence online to capitalise on the shift from traditional TV to video.
ROLLING: Video Increases Conversion Rates 
If a picture tells a story better than words, imagine what a video can do. If 144 percent of consumers are more likely to purchase a product after watching a video about it, what does that say about the power of video content in the marketing world?
Of course, increasing conversions is about more than just plopping your product in front of a video camera and sticking the video on YouTube. The way to increase conversion rates by 80 percent is to insert a lead capture form (a form that captures your visitors' contact details for lead optimisation) at the start of your video and to create a video that is short but immediately engaging, welcoming and trustworthy. Improve your website's SEO with call-to-actions that drive viewers to your homepage. Then, with analytics data, you might find it helpful to discover how many viewers watch your video in full, when they stop half-way through and how many people share it.
FADE OUT: Video Is Far And Wide 
One of the biggest key components that makes video marketing so powerful is its ability to be used in many different ways on a variety of devices. Used on social media, websites, landing and home pages and email, video content can be viewed on mobile phones, tablets, desktops and laptops. Consumers can decide when, where and how they view and interact with the content. Just look at the below image that shows where videos are commonly used.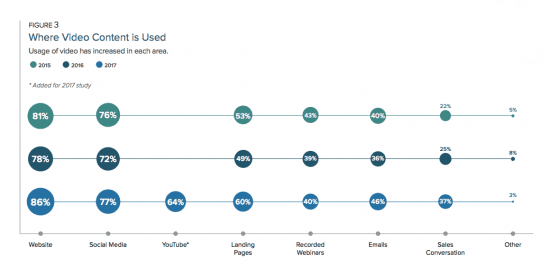 Vidyard: The State of Video Marketing 2017 Study
With equipment prices falling and video processing tools improved, it's no wonder online video is the biggest trendsetter of the digital future. While video has been on social media since its inception its popularity has grown exponentially in recent years due to great advancements. 
MUTE ON SCREEN: Video Is Best With Captions 
What is better than watching video online? Watching it with captions. If you have your videos on Facebook without captions you may miss the boat. People everywhere are watching videos on silent – in class, in bed (so they don't wake their spouse), during meetings and conference calls. By offering this secondary option for consumption you are encouraging longer viewing time and prompting more engagement. Captions also allow people with hearing impairments to watch your video easily.
WRAP: Take Home Message 
As human beings, we are more geared towards interacting with moving visual information than we are with text on a page. With video content marketing in its prime for engaging an audience better than any other medium, you would be wise to incorporate it into your digital marketing campaign. Success won't happen overnight, just like producing a winning video in five minutes won't. You will need to put in the time to execute a well thought out strategy. But once you begin to recognise the importance of video you won't look back.