In the ever-growing and evolving world of marketing technology and social media, visual content is at its peak.
From videos to photos to virtual reality technologies, the role of visually appealing content just keeps gaining power and momentum.
In fact, according to inc.com, posts that include images produce 650 percent higher engagement than text-only posts — and by 2018, an estimated 84 percent of communications will be visual.
If you're looking to learn more about visual content and the ways which you can improve your own — read on. Visual content is a valuable and memorable way to capture the attention of your audience and keep them intrigued and interested for many posts to come.
The Continuous Growth of Visual Content in Social Media
Visual content helps customers or viewers engage with a company or an individual. Even on outlets that once seemed to prioritize text before images (like Twitter or Facebook) stats say that posts with visuals are becoming increasingly more important.
According to inc.com, Facebook posts from brands that included images earned 87 percent of all engagements and Tweets with images earned up to 18 percent more clicks, 89 percent more favorites, and 150 percent more retweets.
The Growing Role of Authenticity
To be authentic is to be real, genuine, and true. And to be authentic in the world of marketing and social media — is vital.
The role of authenticity seems to have grown with the widespread popularity of social media influencers. An influencer, for example, might be able to copy an entire aesthetic or social media strategy (right down to the crop of the photo, the location, or the outfit) from a fellow Instagrammer. Followers and likes can be paid for and tactics and money can be used for getting your content out there in the most widespread way.
But how then, is authenticity now having its time in the spotlight?
Viewers and customers often want to see what is real and true. Although it's hard to turn your head away from an influencer that may have 100K followers and seem to be living it up on the beach in a bikini every day of the week — how genuine is that person and their posts? What is the content that they are creating and how, as a viewer, are you connecting with it?
This also brings into question the idea of stock photos versus original photos. Stock photos, though they are used often in marketing strategies, can often come across as lacking authenticity.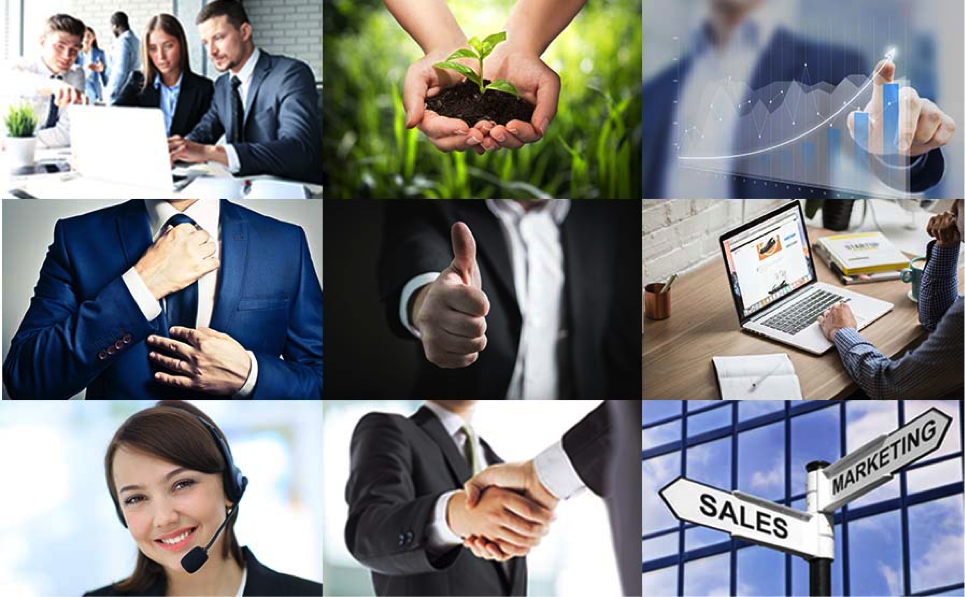 Some of the most used stock photos. Look familiar, don't they?
If a hotel uses a stock photo of a girl splashing in the pool, for example, how does it look to the customer if another hotel chain is using that same image?
Here, the importance of originality comes into play, too.
The Increased Role of Video Content
Video content is on the rise because it's fun, entertaining, and easy to process.
According to rightmixmarketing.com video is being hailed as the future of content marketing. And in fact, 64% of marketers expect video to dominate their future strategies.
Between YouTube videos, Facebook videos, Twitter videos, Instagram videos, Snapchat videos, and more — the options and possibilities for spreading the word via social channels are endless (especially, when we consider how fast information moves on those channels and how often people can be found spending time on social media on their smartphones, tablets, and computers).
Videos allow their creators to expand their audience and increase traffic to their site in a fast and easy-to-track way.
New Trends in Visual Content
As trends continue to emerge, content creators, artists and companies seem to agree that with the access and availability of incredible smart phone cameras (in addition to user-friendly drones) we're able to create some amazing images.
Creating the types of photos that stand out tends to require a professional approach to image editing. And these days, there are tons of easy-to-use tools out there to help with the post-processing phase (which is part of the reason why you see an increased amount of professional-quality images being uploaded to social media and websites today).
Gone are the days of complex users' manuals and endless time spent editing. There are a lot of tools content creators are currently using to get quick and effective visuals: GIMP, Luminar, Photoscape, paint.NET, etc.
And here's what people are currently creating, according to Shutterstock – the biggest stock image library:
street style
hyper reality
high ISO images
hand-crafted images
contextual images
360 photography
daily stories
crowd-sourced photo journalism
mobile photography
Types of Visuals That Will Gain Popularity in Future
As pointed out by visme.com, these are some innovative approaches to visual content that aren't quite as popular yet — but that most likely will gain popularity in the future.
cinemagraphs
progress gifs
visual metaphors
negative space
bitmojis
mixed media infographics
meta images
How Virtual Reality Technologies will be Used in Future Marketing
The term virtual reality used to seem like a far-flung dream of the future. Today, however, it's making its mark in a ton of different spectrums of business — particularly in the field of marketing.
According to an article by impactbnd.com, even companies like Facebook are bringing virtual reality to the forefront — when a few months ago, they announced the beta version of Facebook Spaces (where users can actually create virtual versions of themselves and hang out with their friends in a virtual world). Wild, huh?
What virtual reality offers, and will offer to the marketing world in the future, is the chance for users to truly interact with their brand or product. In fact, we see it happening rapidly already with the increased popularity of Instagram and Facebook live stories, which give users a virtual experience even when they aren't present in person.
https://www.youtube.com/watch?v=rG4jSz_2HDY
360° Great Hammerhead Shark Encounter | National Geographic
In the growing and changing world of social media and marketing technology, visual content and its many forms are on the rise.
Between videos and photos, the creative possibilities for engaging and fantastic content is just one click away.
So, the question is: how will you use visuals to bring your viewer into your world and create a memorable experience?