Newsletters: Sometimes the Best Marketing Tools Aren't New
In content marketing, we're so focused on mastering the next big channel or tactic that we sometimes forget about marketing tools that have worked well in the past. For a time at the Content Standard, we spent the majority of our days telling original stories to our readers and making those stories available for all inbound readers. However, we didn't do much to extend the reach of that content, across all channels, in a way that would appeal to new and prospective customers.
It sounds like a no-brainer, but after recognizing this gap in our content strategy, we decided to re-launch a weekly newsletter to try to cater to all of our readers. In this article, I'm going to cover what I've learned about newsletters as a content amplification tactic and provide you with insight into our strategy.
The Growth of Newsletters
To access any piece of information today, it feels like we have to give up our email address through some sort of form. This feeling has led many of us to resist publications that require user logins, punishing those brands that repeatedly bombard our inboxes with promotional emails and ads.
Interestingly, newsletters have only gotten more popular among B2Bs and B2Cs as content marketing has emerged as an essential component to any digital strategy. In looking at the Content Marketing Institute's B2B and B2C reports from 2014 and 2015, newsletters have become more widely used despite people's disdain for spam emails.
In 2014, 80 percent of B2Bs and 76 percent of B2Cs used newsletters to reach people. A year later, 83 percent of B2Bs and 80 percent of B2Cs said they used newsletters to reach and engage readers.
What Newsletters Do for Content Managers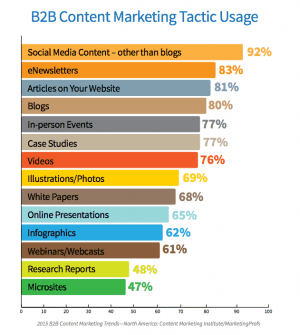 With the re-launch of the Content Standard's weekly newsletter, I figured I'd see a spike in traffic from time to time as we jolted a dormant reader base with a reminder to check out what's new on the site. And there are days where traffic reaches a much higher-than-average peak.
But newsletters serve a more important role in a content strategy—they're the cornerstones of any good retention-marketing program. By curating your newsletter content based on your readers' favorite topics and biggest challenges, you're personalizing your outreach to a leaned-in audience. This type of customization is what makes many newsletters stand out, and it's how you'll earn referrals from your biggest fans.
The Temkin Group released research that reviewed the importance of promoters, passives, and detractors from the popular Net Promoter Score index. The data shows promoters are five times as likely to repurchase from companies, almost six times as likely to forgive companies if they make mistakes, and eight times as likely to try new offerings from companies.
How do newsletters help in converting detractors and passives to promoters? By offering a new way for readers to access information in a format that's easy to read and access.
Lessons Learned About Newsletters
Newsletters can be simple or complex. The best understand which elements need to be clean and which qualities need to show more thought. With the Content Standard newsletter, we ensure each email contains these characteristics:
Mobile-friendly design: I only access email from a desktop computer when I'm at the office. Otherwise, I'm reading, archiving, and responding to emails via my mobile device. If your newsletter doesn't have a responsive design—and I really mean, responsive—then you're messages won't get opened.
Personality: Your newsletter is an extension of your digital publication. Simply pulling together a list of your best-performing articles and blasting them out to your subscribers won't deliver a consistent feel across channels. Custom write the copy for your newsletter each week based on trends, cultural events and more. This will make it seem like the email came from a person, not an automated service.
Personalized subject lines: Marketing tools like Marketo and Salesforce allow you to customize every email message you send to leads or subscribers. Certain tokens pull in lead name and company data that can act as powerful triggers in your newsletter outreach. People are more likely to click into emails that mention them and their employers by name, so alter your headline writing to ensure you get one or both into every newsletter.
Test New Ideas
Some marketers get cold feet when it comes to testing out new forms of outreach to a subscriber audience. I'm not one of those marketers. If you don't test what's possible when it comes to interacting with your audience in new ways, you're going to fall into a rut of blasting out the same old message every week.
We test one-off emails from time to time when we're amplifying a story or testing newsletter frequency. This freedom allows us to learn about our readers' preferences, what days might produce better results for our marketing efforts, and how tone of voice can impact click-through and open rates.