WIX shows the right way to be a "go-giver"
At it's very heart, the purpose of content marketing is to create value for the customer. But more often than not, businesses mistake this to mean an unending supply of blogs, social posts, how to videos, and other commoditized content formats.
 But a rare few brands like WIX have understood the power of providing users with real value upfront – Even BEFORE they become a customer.
Wix gives millions of people around the world the possibility to build a website easily, even with no IT skills, completely free. 
After years of helping more than 120 customers build websites, WIX has used that experience to launch Wix Answers – An all-in-one, help desk ticketing system that offers an exciting line up of resources and tools that work together to help provide:
Real time data on customer tickets, response times, and satisfaction scores across multiple channels which include mail, phone, and social.
Let's take a moment to talk about the individual features of this neat help center in some more detail.
Getting started turned out to be quick and easy. It took us a few minutes to choose from a range of ready templates which we modified to reflect our branding by adding our logo and some color changes. The next step was adding our existing content (The interface threw up ideas and suggestions while we did it – making it relatively easy) and simply pressing "Publish". 
Once the knowledge base is up and running, you can continue to populate it with FAQs, step-by-step guides, and other customer support content.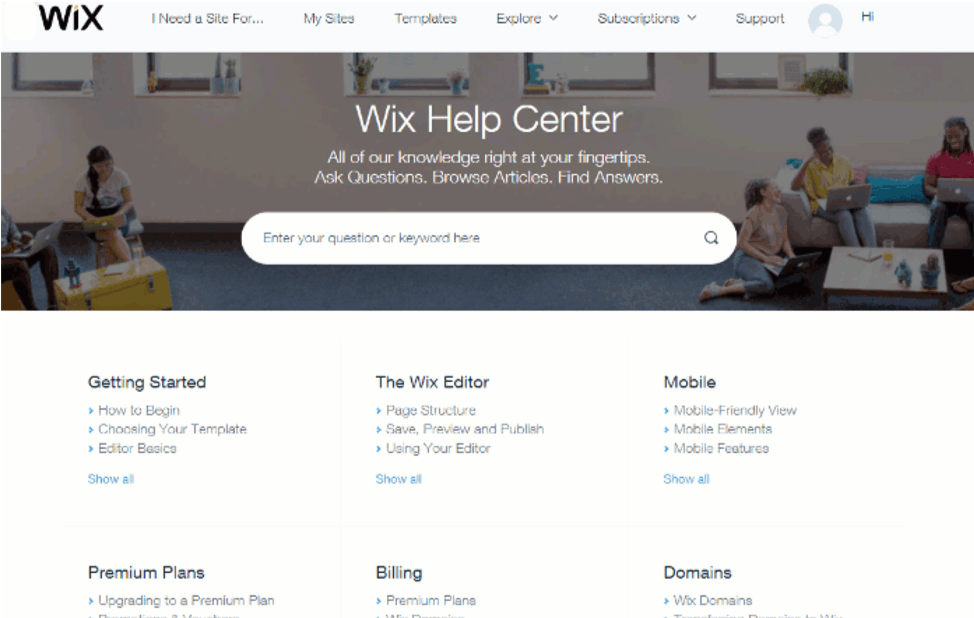 Single point Ticket Management
Customers today contact us via multiple channels, including phone, email, and and even social media accounts. Recognizing the problems that this creates, the software allows you an integrated view (and management) of all queries, irrespective of their source. This means that you can track ticket progress, prioritize support requests, and be more efficient all around. You can also improve/test contact forms by adding custom fields to gather more information about your customer.
Wix Answers provides an integrated call center, which means that companies can receive customer support requests through their own 1-800 number. You can make and take calls from your own 1-800 number. Customers, in turn, can request a callback, basically giving them the service they want when they want it.
Frankly, all businesses really need to pay attention to the issues their customers face and constantly work on eliminating them. Wix Answers is a knowledge base software that provides a lot of very helpful metrics, like turnaround time, satisfaction scores, and real time data that can be mined for actionable insights. Or, help with decisions on what needs to be improved in what priority. This clearly will make a big difference to overall customer satisfaction and long term growth.
Customizable widgets can be embedded in any page on the website, allowing customers to access individual knowledge assets or the entire help center from any page with a single click. And when I say "widgets", I want to add that WIX Answers was created with a variety of stakeholders in mind and therefore needs NO technical knowledge to set up or manage.
And, no, this is true for all features – basic and advanced. No programming knowledge needed!
Scalable and Flexible… with a 14 day free trial
The tool comes packed with very robust and powerful tools that have been designed with the singular purpose of helping companies help their customers better! The base model is affordably priced at $30 per month, with a 14 days free trial period to see if it suits your needs.
No one tool or software can solve every problem, but WIX Answers definitely helps upgrade your customer experience which, to my mind, is one of the most underrated content marketing opportunities today. Even as we spend thousands on "pushing" content to unwilling prospects, we miss out on the great opportunity to engage through real problem solving. 
In summary, WIX Answers is a completely customizable, cross-departmental, intuitive customer service tool accessible from anywhere on your website (or call center) which can also manage tickets from multiple support channels, and facilitate communication while providing some great insight that help you service your customers better. Now, who can say no to that? 
Not us, for sure.
Please do share your comments on other your experience with WIX or WIX Answers or your experience with a similar software program.