When operating a bootstrapped startup, you'd be a fool turn down a freebie – and if said freebie comes from Twitter, then you certainly wouldn't turn your nose up.
To show their support of Small Business Saturday, last year Twitter began promoting their ads platform by offering small businesses a $100 credit to use on ads. Many of you have probably received that email, or at the very least heard about it.
It's undoubtedly enticing, but for an entrepreneur like me with no prior experience running an ad campaign, it was difficult to tell if it would be worth the time required to run an experiment with the ad platform.
The offer is no longer available, but it is my hope that my journey of setting up and managing a Twitter ad campaign for the first time can be helpful to others considering their first go-round with Twitter advertising. Please leave comments at the end of the article if you have insight or experience to share from any part of the process.
Setting Up The Campaign
Once the decision was made to proceed with setting up the campaign, it was time to figure out who, what and how.
Who
Targeting our tweets to everyone didn't make sense, so we had to learn how to segment.
Twitter provides a lot of targeting options (e.g. by interest or geographical location). However, we wondered about the best setup for a company like us ours looking to connect with digital marketers. We realized this was quite a wide filter, so we decided to target social media experts.

We didn't have our own data set to use "Tailored audiences" and, frankly, the "Television" option was intimidating, so both of those options were automatically excluded from our consideration set. We ultimately chose "Interests and followers" because we were interested in attracting influencers to engage with and build brand awareness.
As a result of our decision to use the "Interests and followers" targeting type, Twitter produced a list of 100 influencers and added it to the campaign details.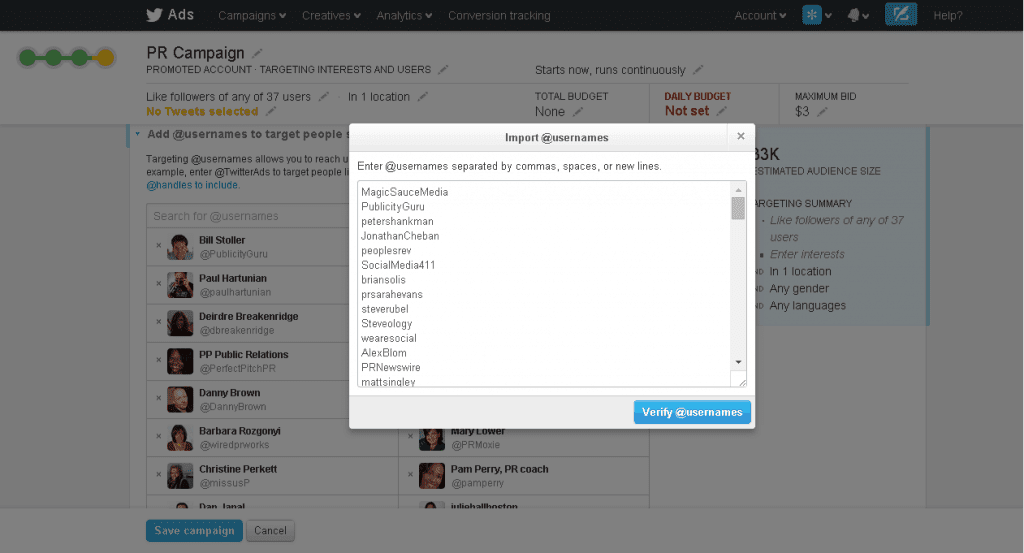 What has been your experience with using these various types of targeting? What scenarios is each one best suited for?
What
Once we knew who we wanted to target, the ad setup screen followed. Presented with options like "Promote Account" and "Re-targeting", we ultimately chose the "Promoted Tweets" campaign type. This made sense to us, a startup, because we're more interested in promoting our content than the brand itself. For organizations with a lot of brand equity, the opposite may be true.
However, the real challenge came in composing the message.
We initially thought of letting Twitter choose the tweets for us, referred to as "Automatically Promote" in Twitter-Ad lexicon since they know which of our tweets are performing well.
Ultimately, we chose "Manually Select" because we wanted more than just traffic. Twitter and Facebook, with their colossal networks, can send a lot of traffic to a website – but they may not always be the most relevant or engaged audience. "Manually Select" allowed us to forgo breadth for depth.
Under what circumstances (other than with traffic goals) would the "Automatically promote" option be most appropriate?
In the end, we composed these messages and our creative team used Canva.com to design graphics.
To content or not to content? To survive or to extinct!
As you blog, so shall you convert
Q: How do I convert? A: Generate relevant content
Cost
How much were we willing to pay?
We found it relatively easy to navigate through all the other setup parameters with a little research and creativity, but determining our bid was an important step because a.) this step involves cold, hard cash and, b.) we had no idea how to determine the ROI on the campaign.
Twitter recommended a bid range for the amount of money to spend per engagement of $1.50-$2.50. We entered $1.89 but remained confused by the line "and you usually pay less".
Managing The Campaign
Even after setting up the basic details, we weren't sure how to actually make this campaign effective because Twitter doesn't just target the 100 accounts we were presented with in the previous step; it algorithmically finds similar accounts and targets them as well. That, in turn, means users could be targeted across interests, geography or other factors outside of our parameters, which could ruin the effectiveness of the campaign.
The graph below shows how many users our tweets were targeted to over the last few months.

1. Targeting Strategy: Cast the net shallow and wide.
This is when we left the setup wide open to "All Interests" and "All Geographies". Twitter started targeting a lot of people.
In the valley between 1 & 2 we tightened both Interests and Geographies; however, we narrowed our focus too much (e.g. For Geography, we said New York only).
2. Targeting Strategy: Cast the net deep and narrow.
We started experimenting with the settings and widened our horizon. When we targeted the US and the UK, our target potential increased to a few million.
According to your own experiences and expertise, what's a good reach for a Twitter campaign?
At this point, we also changed the interests to include advertising, marketing, small business, business news and general info, business software, entrepreneurship, leadership, entertainment awards, tech tradeshows, SEO, tech news, and startups.
3. Targeting Strategy: Bid low.
Here we changed the bid amount to 40 cents, which resulted in a clear drop in impressions.
4. Targeting Strategy: Bid higher.
We then increased the bid amount to 79 cents and saw a small spike.
Between points 3 and 4 on the chart, the amount fluctuated between 40 and 80 cents and we did see more activity as a result.
5. Targeting Strategy: Bid higher yet.
This is when we increased the bid rate between $1.30 and $1.89.
What kind of patterns have you seen when experimenting with bid amounts?
Learnings and Observations
Overall are happy with our campaign for the simple reason that we received around 150,000 impressions and 80 follows for $0. Compared with industry standards, a 0.05 percent conversion rate is not too bad.
We do have one major drawback to share. The table below shows Interest-based targeting. Note that Comedy is on the top of the row and the next 15 rows are focused on television, music, and sports – all of which have nothing to do with the interests we handpicked. Meanwhile, people with interests in marketing – what we were actually targeting – received a mere 24,119 impressions.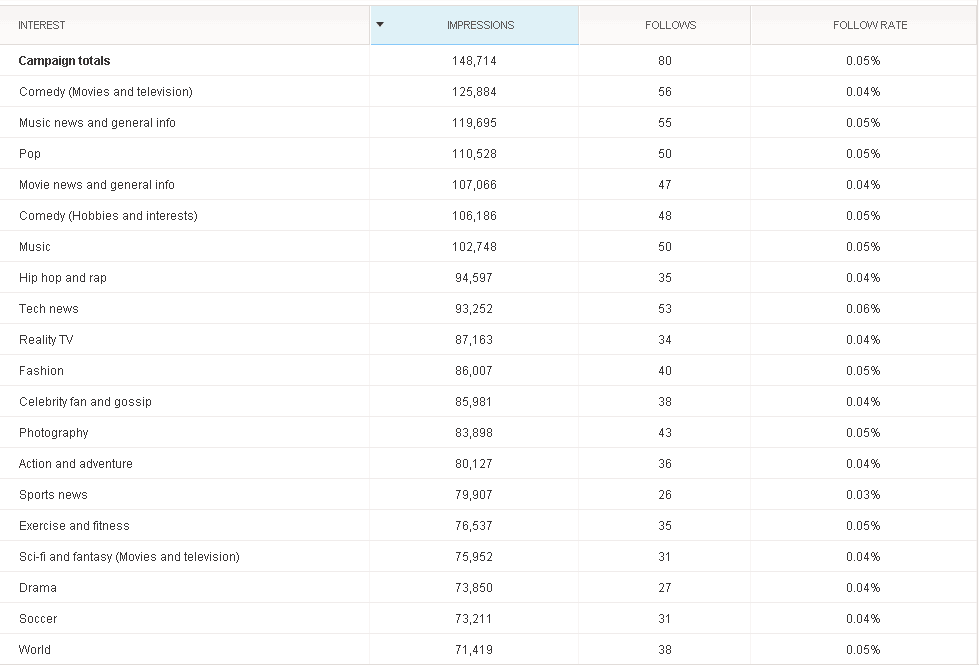 Another valuable insight was discovered with analysis of Device Types.
If Android is the most used mobile OS, why were so many of the targeted users on the iPhone? Luckily, NetCurate has responsive design and we were prepared to support visitors on any device type. But for those who are not, having access to Twitter's data that can predict device type and other user characteristics would be helpful information in campaign setup.
Final Thoughts
It was a good learning opportunity to run a free Twitter ad campaign. We left the experience with a handful of key learnings, hungry to learn more and practice with future experiments.
Outside of learning the mechanics of Twitter ads, we also learned to take our Twitter account more seriously. As a result, Twitter is now the second highest source of Google Analytics referral traffic; all other social platforms lag considerably.
In your professional opinion, what could we have done better? Do you have personal accounts of failure or success in learning how to use Twitter ads? We're all here to learn from each other; share your story below.