"Rinse and Repeat" Job Applicants via Employment Content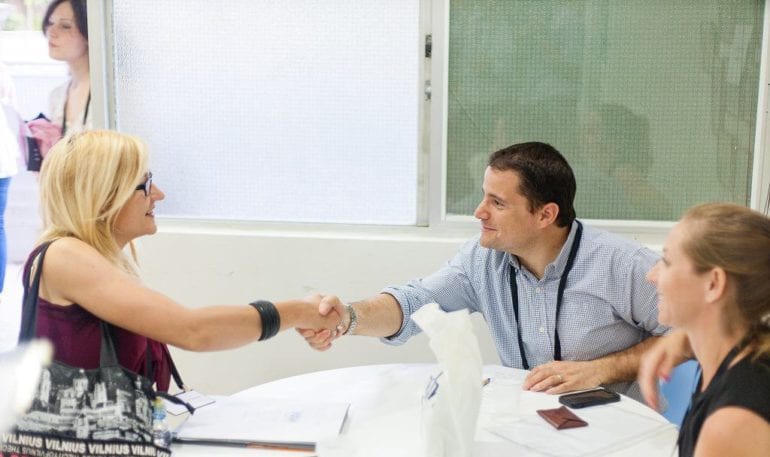 In the same way that your corporate brand reputation can induce individuals to purchase (or not purchase) products and services from your company, your employment brand is key in determining whether job seekers choose to apply to positions with your organization.
In my last article, I discussed ideas for moving job seekers through the Consideration and Intent stages of the applicant sourcing cycle. Content efforts targeted to these two stages play a starring role in shaping job seekers' perception of your employment brand, but more often than not they are an assist along the path to conversion for your applicant sourcing attribution model.
Now it's time to round out the recruiting journey by highlighting tactics for engaging people to "buy." That is, get them to apply to your positions, and reapply in the future if they aren't hired the first time. These two stages of the journey mirror the Purchase and Repurchase stages of the customer buying cycle, but I like to think of them as "rinse and repeat."
Here are some ideas on how to optimize your content to entice individuals to click the "Apply Now" button now and again.
Protect & Proliferate Your Employment Brand
When crafting content for the earlier stages in the applicant sourcing cycle, you developed blog title ideas, interview preparation advice and employee testimonials from applicants and teammates. Perhaps you encouraged job site visitors to sign up for automatic job posting alerts, too.
These efforts painted a picture of what it's like to work at your organization. They also set an expectation with potential applicants that your employment brand regularly and thoroughly communicates with applicants and employees. But how do you uphold that expectation so that job seekers actually convert into applicants? And how do you get them to repeat that behavior?
Disclose the Hiring Process
Include content on your jobs portal that informs people about what to expect from the hiring process after an application is submitted. Be specific and provide as much detail as possible when it comes to explaining how many interviews are involved, how much time the process is expected to take and how applicant status will be communicated. This can be accomplished on a dedicated, prominently visible page on your careers portal, but would be even more impactful if shared in a presentation or video embedded on your jobs site.
Follow Up
To encourage more repeat applicants (those willing to throw their hat into the ring for new jobs even though it didn't work out the first time), send a targeted email to your best passive prospects and link them to a landing page with your company's video overview of the hiring process. Use accompanying text that encourages them to give your organization a second look and direct them to relevant job listings.
And for the applicants who don't make your cut initially (or who tell you "no" for now), make the most of your rejection/follow-up emails by providing them with links to resources that allow them to stay in touch with your organization. Use language that prompts them to reapply in the future, follow you on social media and sign up for job alerts.
Incentivize
To further strengthen both your employment and corporate brands, consider including coupons or discount offer promo codes for products or services available from your company. The applicability of this tactic will depend on the nature of your business, but it can generate a great deal of goodwill and increase the odds that past job candidates will still consider you down the road.
For additional insight on creating and managing your organization's employment brand, check out Tom Branson's Slideshare presentation for ExactHire.
Make Applying Easy
User experience plays a crucial role in successful completion of job applications. Here are a few key considerations:
The Apply Button
Increasing your applicant flow starts with an easy-to-spot apply button on each of your job listing pages. Make it a contrasting color and use language in your job listings that encourages individuals to take action and apply. And don't forget about mobile versions of your job description pages. For mobile optimization, ensure that the apply button is easy to spot from smartphone and tablet screens, as well.
Take things a step further and allow individuals to actually start the application on the job description page, itself. With one less click to get to the initial application fields, you're making it easier for people to get over the hurdle of starting the process. If you use an applicant tracking system (ATS), look for this feature and enable it to earn more application starts.
The Questions
Furthermore, make sure that your employment application questions are suitable for the position to which the individual is applying. Your first priority in this content area is to make sure that your questions are legal, and that responsibility changes rapidly as many states have been introducing "ban the box" legislation which prohibits organizations from asking about a job candidate's criminal history.
Secondly, make sure the questions you ask are relevant to the responsibilities of the position. For example, don't ask if someone is willing to work overtime if that will never be necessary in the position to which he or she is applying. The content of application questions can also be integral. Such inquiries determine whether one is excited to finish the application as the result of exciting questions reflective of the organization's culture, or simply fed up with the length of the application and unwilling to finish the process and convert.
Incomplete Applications
Use an ATS report to view incomplete job applications and then carefully craft a message to those individuals enticing them to revisit your site and complete the full application. This type of personalized content upholds the proactive communication aspect of a positive employment brand, which can be a catalyst for causing more people to convert at the Purchase (and sometimes Repurchase) stage of your recruiting cycle.
Seek Social Proof Opportunities
Because we are social creatures, we naturally observe the behavior of our peers and it often influences our own behavior. We connect and follow others on social media. We get a friend's opinion before a major purchase. We read product reviews on Amazon.
Likewise, applicants see what others are doing and saying when it comes to employment at your organization. A third party endorsement (or even a mention of your business) can be a powerful persuasion tool when it comes to increasing your applicant flow (or blockading it, if the exposure is negative).
Earned, Owned & Shared Media
Crafting and maintaining a positive employment brand through timely, informative and job-relevant content is insurance against negative comments about your company. Job seekers will take notice of your company placing thoughtful announcements about new hires and employee promotions in local and industry-relevant publications. They will hear about whether you take time to send a personalized message to candidates when they aren't selected for a position. And they will notice if your jobs portal makes it hard to apply on mobile devices due to a lack of integration with third party tools such as Indeed and LinkedIn.
Use Google Alerts and monitor social media to see what people are saying about your employment brand. Additionally, stay on top of company reviews on sites like Glassdoor.com so that you can respond to negative exposure by creating your own content to address any deficiencies and announce changes.
Walk the Talk
But that's just part of the story. Your hiring team's actions and the later stage content they use throughout the recruiting and selection process will seal the fate of your brand authenticity. Additionally, your employee onboarding process and related content resources will shape whether your future employment-related social proof opportunities are positive or negative.
For example, do you personalize your employment offer? Does a new hire receive a hiring roadmap describing the first few weeks or months of employment? Can newer employees locate and decipher content that outlines their job performance expectations? Avoid the applicant bait and switch; make sure your organization stays true to delivering on the job and employment promise.
Pay to Increase Conversions
When you consider using paid media to increase the number of applications you receive for a job opportunity, plan your spending based on which job categories usually need the biggest applicant boost.
If it is difficult to source applicants for certain jobs in your organization, and especially if you are a smaller organization that can't rely on brand recognition like industry giants can, then use retargeting ads to direct previous job site visitors back to select job opportunities. If going the display ad route, then use imagery that conveys the positive attributes of your work culture. If opting for search retargeting ads, then use language including the keywords most used by your applicants to search for your jobs in that category.
Also consider branded, sponsored social posts targeted to peers of your company's followers. These individuals are likely to be familiar with your brand already since their peers may have shared your content previously, so the added boost can amplify the social proof you are already experiencing within your network. Additionally, sponsored social posts may be targeted to specific users such as past A-player applicants who weren't a match with your organization at the time. This is a worthwhile approach in both later stage scenarios, but especially in the case of persuading past applicants to reapply to new job opportunities. Like I said: rinse and repeat.
Not all of these tactics will work for every industry or organization. However, by continuously developing, honing and promoting content related to an individual's experience with your organization, you are sure to see an increase in the quantity of applications. Better yet, because you will become a pro at setting expectations about your employment process, it's highly likely that you will see higher quality applicants, too.