Email prospecting is one of those marketing channels where you have the highest chance for sales, but it is not everyone's cup of tea.
Email prospecting needs some skill to execute it perfectly, otherwise, it can be detrimental to your business.
Apart from email marketing, it is important to realize the value of every marketing channel(Email, SMS, messenger, etc.,) and combine all of them into your strategy.
A good mixture of all marketing channels will give you good results. If you don't know how to do it, then you have many tools in the market, and some other tools to help you out with the strategy.
In this article, we are going to learn the following aspects of the email prospecting:
What is Email Prospecting?
Why is Email Prospecting So Successful?
How to Persuade Prospects to Respond to Your Email?
Is Cold Email Prospecting Right for Your Business?
Conclusion
What is Email Prospecting?
Email prospecting is that kind of communication channel, where you can contact your potential client and convert it into a potential lead. People also call it outreach.
Why is Email Prospecting So Successful for Sales?
You can notice how good the email is framed, and at the same time, it is concise and to the point. There is no reason why it can't be successful.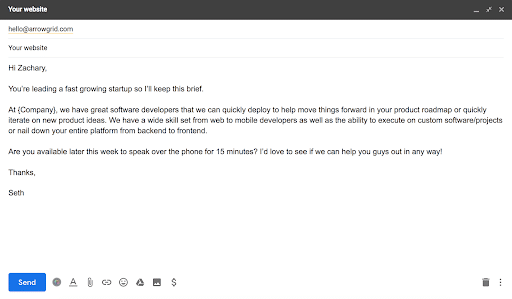 Credits: Nutshell
There are so many reasons why it has been so successful over the years. Email prospecting can be frustrating at times, but it is an executable approach if done correctly.
In the following, I am going to explain some of the elements that are boosting the success of email prospecting and in turn, boosting sales.
It is Inexpensive
Barring initial cost investments for email lists and other extra expenses, the email prospecting barely involves any sort of financial investment, especially when you look at the return on investment.
It has High ROI
As I mentioned above, it has maximum profits out of all the marketing channels. Email is one of the primary communication channels for businesses so it is obvious why it has huge profits on the investment.
Barely Trespassing the Limits
It might be a personal communication, but the respective prospect can look at it any time he/she wants. Hence, this ensures that it is not trespassing the limits of personal space at any point.
Personalized Information
Credits: Mailigen
One of the main benefits of email marketing is that it personalizes the content according to the individual. When you look at the other communication channels, it doesn't take the personal aspects of the concerned customer. Keep in mind that every client has a different set of issues to deal with.
According to the client, you can curate your email and let them know how you can solve their issues with your solutions. In this regard, it is very useful for customers.
It's a nice way to approach clients if you are new to the field
If you are not well-established in this field, then it is very challenging to establish yourself as a company and also to get the leads.
[bctt tweet="Inbound marketing is one of the nicest ways to get potential leads, but it comes with the price of good traffic on your website." username="relevance"]
That's where outbound marketing comes to the rescue. By leveraging your cold email skills, you can convert potential prospects into potential leads. 
How can you make a prospect to take action on the email?
We all know how important it is to make one prospect to take some action on email prospecting.
Is Cold Email Prospecting Right for Your Business?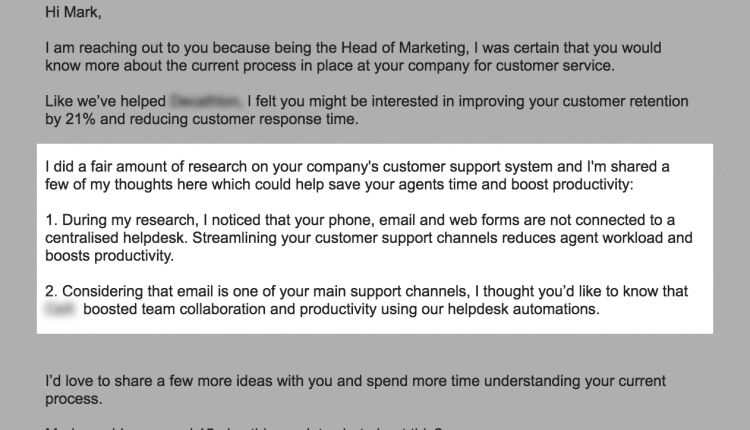 Credits: Freshworks
Of course, it does if you do it just like an above cold email template, but if you don't do it with proper strategy, then it is a problem. That's why there is a bad name for cold emailing in the market.
No one wants to spam their inbox with loads of pointless mail, which is why it is crucial to realize the importance of cold email and how to go about it.
The following are some of the ways to persuade the prospect to take action without irritating the prospect:
Examine your prospects
It is always useful if you have some background knowledge of your prospects.
No one wants to read some automated texts that have been sent to tonnes of people in one go.
It not only suggests that it is useless but it also suggests that you don't care about your customers.
Never let any customer feel that they are insignificant.
Customization is Vital
As I said before, make your email customized. You have to pinpoint the customer's issues properly in your email, then only they will take some action.
Of course, you can pinpoint the issue only when you know the background of your customers, which is why both are important and both are inter-related at the same time.
Never Be Assertive
There is one fine line between being confident and being aggressive. The email should never look like you are being assertive.
It only makes the client get irritated rather than taking some action on it.
Give them the freedom to choose
As I said above, never be assertive at any point in time. Be as cool as you can be in the email and let them decide what to do with the email.
Keep your message as brief as you can
One good thing about lengthy messages is that it provides detailed information, but no one spends so much of their time in emails, therefore, be as informative as you can in the limited time and space in your email.
Conclusion
With email prospecting, you can have a conversation about your services and what you can offer to the potential client. Based on that, the client will come to one conclusion about whether to take those services or not.
So use it effectively and efficiently!