If you're a B2B marketer who hasn't been bitten by the SlideShare bug yet, let me help infect you. Many thought leaders have written posts to sing its praises over the years, including this gem from Jay Baer, which contemplates the emergence of a blog post/presentation hybrid.
I'll save you the standard sales pitch about its audience, ease of use and features and get straight to the skinny: SlideShare out-converts all other social media websites on the planet. And the competition isn't even close.
Unfortunately, many B2B marketers tend to prioritize budgets and attention to the lower-performing channels on the chart below and not SlideShare. The chart below shows that over the last 18 months, one out of every four visitors referred by SlideShare to our website converted on a landing page. That stands in stark contrast to every other social channel.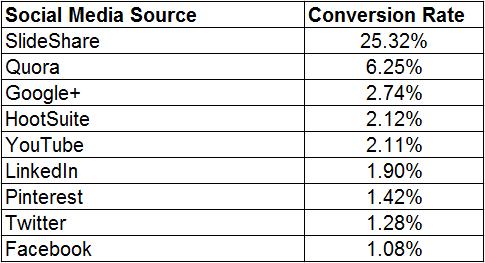 How to drive copious amounts of leads using SlideShare's free account
When creating calls-to-action (CTAs) on SlideShare that are effective at driving converting website traffic, you must consider seven important factors. Not all CTAs are effective at driving traffic and conversions, but the ones that have the greatest chance at being effective incorporate the below.
1. Design – This is important for obvious reasons, as well as a not-so-obvious reason. Good design gets the attention of the audience and the staff at SlideShare. The audience is much more likely to share the deck, like it, download it and click on the CTA if the design is appealing and impactful.
Good design also increases the likelihood that SlideShare will feature the deck on its homepage or in an industry category. If this happens, the deck can be exposed to thousands of people in a short amount of time.
2. Proper Funnel Expectations – When deciding which offer you want to use to entice CTA engagement, consider the marketing funnel and where your offers reside.
Top of the funnel offers like ebooks, guides and whitepapers have a much higher probability of receiving click-throughs and conversions. Middle of the funnel offers like case studies and webinars will have less engagement. Bottom of the funnel offers like free assessments and demos will have the least amount of engagement.
3. Short Tracking URL – To truly understand the engagement metrics around a SlideShare CTA, always include a shortened tracking URL like a bit.ly. The reason is simple: slide decks aren't consumed solely online. If you or someone in your industry is giving a presentation with your deck in-person or on a webinar, an easy-to-remember URL is ideal. Besides, a certain percentage of people prefer to engage with URLs over CTA buttons.
4. Value Proposition and Relevancy – Ideally, your CTA's value proposition will align closely with the message of the deck. It should flow naturally with the presentation and be relevant to it. If the deck is about content marketing, having a content marketing guide or ebook as a CTA will increase the likelihood of engagement.
5. Tangibility – Whenever possible, make an intangible offer appear to be tangible. If you're hawking an ebook, a graphical representation of an actual book helps make the offer appear to be more tangible, which can impact click-through rates.
6. Button – Having a single button that stands out from the rest of the slide visually communicates a "click me" message, and helps optimize engagement. Ultimately, however, A/B testing various messages on the button over time will help further optimize engagement.
7. To QR code or not to QR code – Admittedly, I'm a little torn on this one. Adoption and use of QR scanners is all over the map in terms of numbers. Some Millennials react poorly simply to seeing them. Are they useful and current, or have they run their course? You'll need to take a hard look at the audience you're targeting and decide that for yourself.
QR codes have not definitively shown to have a positive or negative impact on engagement metrics on our decks. Negative reaction has only been verbal and anecdotal to date.
Did this post convince you? Have you been bitten by the SlideShare bug yet? Prioritize this channel higher in your marketing mix, and it could have a positive impact if the above is considered and executed on. If you have any positive SlideShare stories please share in the comments section below.