[bctt tweet="Allen Gannett talks 'The Creative Curve,' TrackMaven, content trends, and video marketing in this exclusive Relevance interview. " username="relevance"]
Allen Gannett is the CEO of TrackMaven and the author of the upcoming book The Creative Curve (June 12th, 2018). He is a widely recognized startup innovator and has made his mark in the social media space as a LinkedIn video pioneer.
His video interviews, vlogs, updates, and short and sweet marketing lessons are engaging, informative, and unique. Allen Gannett has dedicated himself to making the world a more creative place and his articles about how to make authenticity a key part of content strategy have made waves in the world of content marketing, or as he calls it: marketing. Allen also made it on our list of the 25 content marketing thought leaders you should be paying attention to.
We were lucky enough to chat with Allen about his marketing backstory, TrackMaven, The Creative Curve, content trends, and so much more. Read on to get to know the CEO and LinkedIn video pro a little better.
Interview with Allen Gannett

What inspired you to pursue marketing as a career?
I have always loved to be able to push ideas out into the universe and see the impact of them. Marketing is all based around telling amazing stories and resonating with an audience. However, I'm also someone who believes in logical systems. As someone who runs a marketing data company, I'm able to see those new interests converge. Data-informed creativity allows for marketers to be effective at scale.
Can you tell us a little more about TrackMaven? What are your goals for the company in 2018?
TrackMaven is a marketing software company that provides actionable social and content insights to consumer brands. We work with companies such as Home Depot, Mailchimp, GE, etc. We help them report on their performance, attribute revenue to these activities, and discover topics and tactics that will improve their marketing.
For 2018, we are focused on bringing in more paid advertising data. We believe that the lines between paid, owned, and earned are blurring. We want to help marketers figure out how the heck to balance this new world.
Also Read: The Case AGAINST Video Marketing: A Conversation with Lately's Kate Bradley Chernis
What helps you stay motivated?

I've always enjoyed working for myself and building worthwhile projects through ideas. I'm constantly looking at trends, data, and finding neat opportunities based on information consumption. If I wasn't creating, building companies, or impacting people through my beliefs, then it would be hard for me to get through the day. I like seeing that my life can have a positive impact.
What marketing term do you wish everyone would stop using?
Content marketing – It's just marketing now!
What's a book you wish you had written?
Mark Manson's The subtle art of not giving a f—
The title is a bit much, but the book is an absurdly fun, but serious look at some of the current flaws in my generation's philosophy.
What was your favorite piece of video marketing in 2017?
Oh, well it came out more recently. But I love the Old Spice "Hand Gym" ad. It's a great example of what marketing could and should be.
Are you a hand? Scrolling got you down? Do you like gaming? Here's a real thumb stopper! pic.twitter.com/30iiHchVMP

— Old Spice (@OldSpice) March 11, 2018
You've been featured on Forbes 30 under 30 list and many people consider you to be a top influencer. Who has influenced you over the years?
I wouldn't consider myself an influencer. But, I appreciate the premise! I have a ton of people who influence me. To name a few Joe Payne, Ann Handley, Susanna Quinn, Sean Glass, Chuck Ghoorah, Dan Yates, Kristin Muhlner, Jill Rowley, Joe Payne, Joe Chernov…I could go on for a while!
Having smart people around you is one the most fun and rewarding parts of life.
Also Read: Winning the Content Marketing Race: An Interview with Andy Crestodina 
Your book The Creative Curve is set to be released on June 12th. You talked to a wide range of industry professionals including the team behind Dear Evan Hansen, the founder of Reddit, and the CCO of Netflix to try and debunk this 'creativity' myth. How have their insights shaped your book and impacted you personally?
A lot of people unfortunately believe that you have to be born with a creative gene to be a successful creator and that inspiration is something you have no control over.
Through interviews and book research, I realized these "Creative Geniuses" all followed the same four step pattern to achieve their creative success. I saw firsthand the science behind eureka moments and how they are not so magical after all and how anyone can achieve them.

For me personally, it also shows me there is a clear process to follow to build a company or product that becomes a creative hit. I think knowing that I don't have to magically come up with new ideas in my apartment on a lazy Sunday gives me comfort where I can rely on a proven process.
It's both motivating, but it also means there is much work ahead.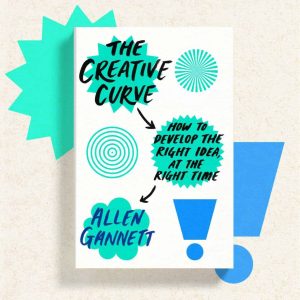 Do you think content marketers should start exploring AI and machine learning in 2018 and beyond?
I do believe these technologies will be integrated in marketing in the coming years. However, I still think we are so nascent that it is not worth us diving in yet. There's too much noise and hype, not enough proven results.
Also Read: Behind The Storytelling Edge: An Interview with Contently's Joe Lazauskas
There's been a major shift from written content to video content. What video marketing (and content marketing) trends do you think marketers will latch on to in 2018?

It's becoming more and more important to meet consumers where they are. They also want short digestible content. In my LinkedIn video with Chris Altcheck, CEO of Mic.Com, he calls these tap stories. He says,
"Tap stories are these stories that you scroll and tap through, they're super visual, a lot of people watch it with the sound off so they're not only video, they're animation and graphic. The big trend here is that they're replacing written and flat content at a very high rate. If I'm an advertiser today, I need to figure out how to do short and mid-form mobile video content in a way that brings my brain and product messages across meaningfully. If I don't know how to do that, my business is going to go under."
 I think that is a great way to think about them.

Do you think there's a strong future for AR and VR content?  
I do! However, personally I am a much bigger fan of AR. While VR will have huge applications (think about how amazing gaming will be), I think AR will be more used in people's day-to-day life.
Storytelling and content marketing go hand in hand but I've noticed that a lot of brands are focused more on quantity than quality. How can we grow not just as marketers but as storytellers?

First, I think it's most important to determine the audience you are talking to. How do you tell a good story if you don't know who the people are that will respond? Fundamentally, once you know the audience, it comes down to understanding what makes them tick and producing quality content you think will catch their attention. After marketers figure out a system for producing quality, then you can pour gas on the fire 😀
Also Read: Talk Triggers, Conex, and The Future of Content: An Interview with Jay Baer
What are your best B2B marketing tips?
First, responsiveness. People want you to respond quickly. There is a huge difference in responding to a lead in 5 minutes rather than even 15.
Second, humanity. B2B is still selling to a person (or group of people), you can't forget that you have to provoke emotions in a person!
Long after content marketers finish The Creative Curve what is one thing you hope sticks with them?

People think of themselves as less creative as they get older in age. If I can help people reach their creative potential and realize there is a clear process to achieving creative success, then hopefully it won't feel as intimidating.
What piece of advice would you give to young professionals who want to get into marketing?
Find a startup you believe in with good people, and offer to help and be willing to get your hands dirty. Marketing has so many different functions and areas, so being on a small team is best so you can really understand in full depth and be more valuable to other projects.
You can connect with Allen Gannett on LinkedIn where he posts video interviews and vlogs on the regular and be sure to catch up with him on Twitter and Facebook.