Five Essential Growth Tactics You're Probably Ignoring
The second quarter of the new year has come and with it, a flood of content covering what's coming our way. Those in the digital marketing and entrepreneurial spaces are paying particularly close attention to growth-related content. However, there is one growth tactic that is often overlooked because it requires us to look backward before looking ahead. I'm speaking, of course, about follow up.
Digital marketers, independent consultants, and entrepreneurs in general often let their focus upon what's next cloud their memory of what has already come to pass. The sales realm saying, "The fortune is in the follow-up" does not apply to sales folks alone. It applies to anyone whose work involves building meaningful relationships.
In this post, we'll cover five tools that simplify follow-up and increase the chances of gaining referral-based opportunities.
1. A Clean Inbox
When it comes to maintaining professional relationships, email is, arguably, the most important tool in the shed. A disorganized inbox increases the likelihood of missed messages and missed messages often become missed opportunities. Imagine how your past client will feel receiving a recommendation request from you on LinkedIn when they never received a reply to their most recent email. A less than prompt response is understandable, but complete silence is a definite no-no. Additionally, an organized email account does wonders for your sanity.
While we're all familiar with the idea of inbox zero, few of us have been able to achieve it, let alone maintain it. I recently attended the Curaytor Excellence Conference where Jimmy Mackin, co-founder of Curaytor, gave a talk called Scaling Happiness. In it, he shared a simple flow chart for organizing your inbox.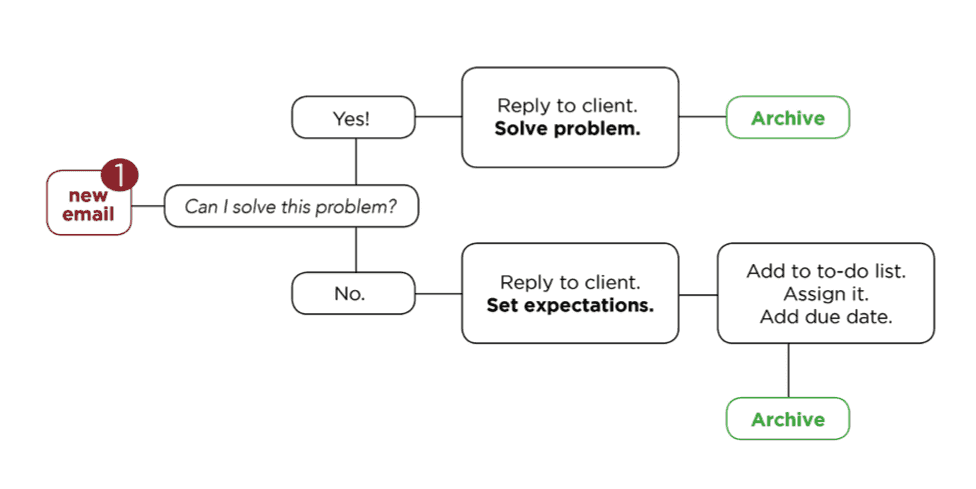 Time-consuming though it may be, cleaning up your inbox is the easy part. Maintenance is where the flow chart really comes in handy. If the flow chart doesn't do it for you, then remember this simple acronym: FAT – File it; Act on it; Trash it. Make a habit of taming your inbox, and you'll become known for your prompt responses and attention to detail, two attributes sure to win you more work.
2. Follow Up Then
Email archiving cleans out your inbox, but how do we keep from forgetting an email after we file it? Easy to activate (and highly addictive), FollowUpThen makes carefree archiving possible by enabling you to bring any email back to your inbox on whatever day you specify. For best results, pair this extension with the flow chart from item 1.
FollowUpThen also helps to eliminate the dreaded forgotten email. You know, the one that was ignored by the receiver and subsequently forgotten by the sender? The one that strikes fear in the heart of the sender when the sender is asked for a status update on whatever project the forgotten email was concerning?
FollowUpThen's recurring reminders make relationship cultivation a breeze. Remind yourself of birthdays and anniversaries. Remind yourself to touch base with the influencers in your sphere. Remind yourself to deliver status updates to clients. Forming a habit of using this tool simply makes you a more diligent communicator. Check out the FollowUpThen how to use page for a complete list of reminder formats.
3. Facebook Standard Custom Audiences
When it comes to content promotion, expanding your audience is great, but reminding your sphere of your talents is equally important.
Facebook allows you to create an audience by uploading a list of email addresses giving you the power to appear to your contacts in some place other than their inboxes. If these folks haven't discovered our handy flow chart, they may be at inbox 1,500, throttling your chances of capturing their attention. Appearing to your contacts in Newsfeed is a gentle way of securing a second touchpoint with those who are familiar with you and your skill set.
4. Social Media Lists
Thanks to social media, staying in touch is easier than ever. Thanks to social media lists, staying top of mind is exceedingly simple. For example, if I create a Facebook or Twitter list of all my freelance clients, I can catch up with each one of them without sifting through my entire feed. Yes, this interaction is small, but consistent communication with professional contacts should be gentle. Lists also keep you up to date on milestones. Perhaps a past client tweeted an article in which they've been featured. You'll be among the first to know, giving you the opportunity to share the article and @mention them.
5. Bond
Here's something else I picked up from Chris Smith at the Excellence Conference. Bond is a robot that allows you to create and send handwritten notes from your computer, phone or tablet.
In an increasingly digital world, receiving a handwritten note makes quite an impression. Imagine how past clients will feel receiving a handwritten letter on their birthday. Imagine how a potential mentor will feel unfolding a beautiful piece of stationery thanking them for their time over lunch. A Realtor, for example, could set a reminder for everyJanuary18th@followupthen.com and send the following note to a pair of past clients. When Harry and Ginny tell Hermione and Ron that they're ready to purchase their first home, who do you think Hermione and Ron will recommend?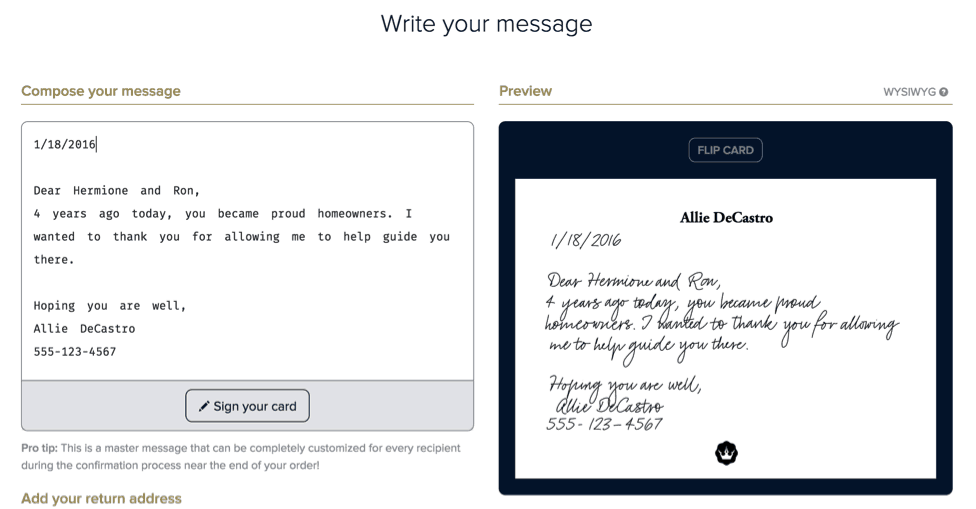 Some may argue that this is deceptive and believe me, I see your point; but remember, the most valuable commodity on this earth is time. If the receiver feels special opening your letter, in my opinion, your letter has served its purpose.
Whether you're a full-blown entrepreneur, working on your side hustle or simply trying to expand your sphere of influence, cultivating the relationships you've already made is essential. Each one of these tips will strengthen your bridges and, in turn, win you more work throughout the rest of 2016.
Photo credit: Flickr