The Field Guide to Content Amplification With Sponsored Campaigns on Social Media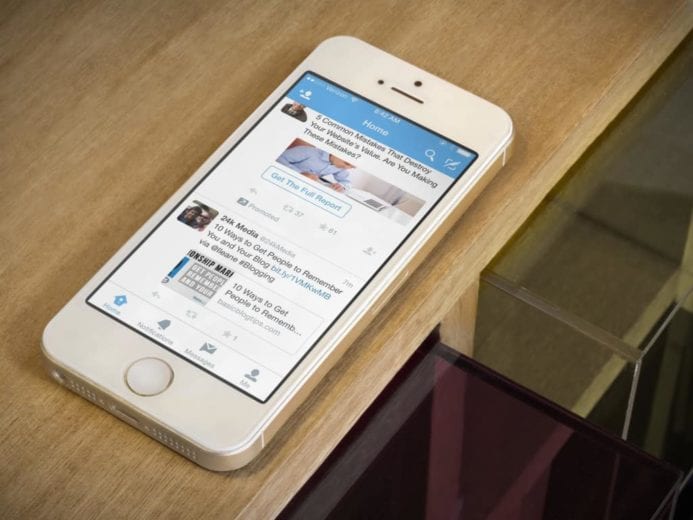 Today's business climate is very noisy. Marketing looks a lot different today than it did 20 years ago. Cutting through the noise created by all your competitors, as well as other distractions that your prospects face, can be challenging—and that's an understatement.
Buyers are now more empowered and have more control over the buying process than ever before. This is why inbound marketing works––it is a system that meets prospects where they are in the research and buying process and encourages them to develop a deeper relationship with your company.
Since you're a savvy marketer, you already know that content is the "fuel" that drives your inbound marketing program. Harvard Business Review reports that "Nine out of ten organizations are now marketing with content – that is, going beyond the traditional sales pitches and instead enhancing brands by publishing (or passing along) relevant information, ideas, and entertainment that customers will value."
While great content has potential to get picked up on search and through organic sharing, it's not always enough. Additionally, earning search visibility can take months and many business leaders don't want to wait that long for results.
Wouldn't you love to get your content in front of the right people as quickly as possible?
This is why sponsored campaigns can be an inbound marketer's best friend. By using sponsored campaigns on social media, you can get your content in front of more people and do so very quickly. More importantly, you can get it in front of the right people.
In the world of inbound marketing, this practice is often called "amplifying" your content because you are quickly and effectively increasing its reach. Posting an article on your blog and emailing it to your database of contacts is a good start, but amplifying it through a sponsored social media campaign can dramatically accelerate your results.
So what's the process for amplifying your content on social media? So glad you asked.
1. Define Your Personas
The first step is to make sure you have defined buyer personas. Buyer personas are fictitious representations of your ideal prospect. This is the person, or type of person, that you want to reach with your content. You can (and most likely will) have more than one buyer persona.
For example, you may initially target the sales manager at the early stages of your sales process and then later focus on the CEO. In this case, you'd want to have created personas for both of them.
Buyer personas are useful in many stages of marketing and it helps keep your messaging focused in the right direction. If you haven't defined buyer personas yet, HubSpot's Buyer Persona Tool will help you get started.
These buyer personas will later come into play when you start targeting prospects through amplification on social media.
2. Set Up Custom Audiences
Before amplification, you will also want to set up custom audiences on your social media properties. Custom audiences are groups of people that have visited your website. Have you ever visited a large retail brand's website and then started seeing content from that brand on Facebook or Twitter soon after? This happened because they tracked your visit and then put you into a custom audience to market to.
Custom audiences can be configured in many ways, but for the purposes of this topic, we will focus on website traffic since it is the most commonly used tactic.
The goal with custom audiences is to configure your social media properties to "tag" visitors when they view your website. Once someone visits your website, they will be placed into a custom audience group and you can then run campaigns targeting those people.
We won't dive too deep into custom audiences at this time (that's for another article) but it's important to configure your website to build these audiences from the start so you can use them later (called "remarketing" or "retargeting").
As of now, only two of the major social networks offer the ability to create custom audiences: Facebook and Twitter. Twitter has very basic functionality with custom audiences while Facebook has a very mature platform.
Twitter calls this a "Website Tag for Remarketing." The process will involve configuring the tag in your Twitter ad account and then placing a block of tracking code in the template of your website so that it shows up on every page.
Facebook has a similar system and it's called Facebook Custom Audiences. Note that you'll first want to make sure you have the Facebook Business Manager set up. This is where I recommend managing all Facebook campaigns.
LinkedIn does not offer custom audiences right now, but I certainly hope it becomes an option soon, as retargeting on LinkedIn could be very powerful.
3. Amplify Your Content
Now that you have your personas defined and your custom audiences setup (which you can use later for remarketing) it's time to amplify your content.
One of the most common scenarios is to amplify a blog post. Let's say you have published a stellar blog post and would love to get in front of a lot of people. Traditionally, you would publish it on your website, email it to your database list and hope for the best. With sponsored posts, however, you are now in control of how much traffic it gets.
LinkedIn Sponsored Posts
LinkedIn has a pretty robust advertising platform for targeting personas. Start by logging into the LinkedIn Ad Manager. If you haven't used this platform before, you will need to do some basic setup (just follow the prompts).
Then, you will set up an ad called "Direct Sponsored Content." Direct Sponsored Content is LinkedIn's way of letting you share your blog post in the LinkedIn newsfeed to get it in front of exactly the right people. Remember those buyer personas we set up earlier? This is where they get really useful.
As you target your sponsored post, you have the option of choosing exactly who to target. Want to target sales professionals in the Chicago area? You can do it. Want to target HR professionals in the midwest? Go for it. Want to target specific industries or even companies? You can do it.
As you can see, you are able to amplify your content to exactly who you want to see it. Is it going to be 100 percent accurate? Of course not. However, it's a lot more accurate that just hoping it gets seen by your target audience organically.
When it comes to your budget, LinkedIn (and all the social platforms) will provide suggestions, but you'll ultimately have to decide on a per-click bid and a daily budget, as well as a window of time that you want to run the campaign. It's not a bad thing to simply run a sponsored post indefinitely if the content is evergreen, but you can set a specific window of time for it to run, too. Your reach will depend on the size of your target audience, how long you run the post and how much you spend.
Some tips for sponsored content on LinkedIn:
Run a few variations with different images to A/B test their effectiveness
Try some "outside the box" imagery to help your post stand out
Start with a smaller budget and then increase if you feel you need more exposure
Facebook Sponsored Posts
Facebook has a similar process for amplifying content, although it's a lot more mature and powerful. I recommend that all content amplification on Facebook go through the Facebook Business Manager, an interface for your business Facebook page that will give you a powerful console from which to manage your ads.
Most people use the basic ad account, but the Business Manager is where you can really do some powerful targeting. As you get more comfortable with the Business Manager you will eventually want to start using the Facebook Power Editor, but that's also a topic for another day.
Once you are logged into the Business Manager, you can set up your sponsored post (Facebook calls it an "Ad"). Again, most people just "boost" posts and think they are amplifying content, but to really get the most value from your spend it's good to construct a sponsored post. As you set up your ad, choose the option for "Send people to your website" because your goal is to get eyes on your blog post.
As you get further in, you'll notice that you can target your post based on geography, job title, household income, companies, interests, behaviors and all sorts of other demographics. Pull out your buyer personas and match them up with your ad targeting and you'll see that you have some pretty detailed control over who sees your blog post.
One thing that I love about Facebook is that it gives you some nice ways to maximize your budget. One such feature is that you can exclude people who have already seen your post. This is done by creating a custom audience made up of people who have already visited the URL of the blog post you are amplifying. Then, as you create your sponsored post, simply exclude that audience. Now when you run the post it will only be shown to people who have not yet seen the article.
Some tips for sponsored posts on Facebook:
Run multiple variations with different images to measure results
Use big, bold images to earn click-throughs
Start with a small spend and then increase as you analyze and optimize your campaign
Exclude people who have already seen the post so you don't waste budget
Twitter Sponsored Posts
By now, you should have a good idea of what to do with Twitter. Similar to the other networks, set up a sponsored post in Twitter's ad platform to promote your article to a broader audience.
Twitter has some interesting targeting options, including selecting people who watch a certain TV show. It also has some useful business categories (like "business travelers" or "CEOs"). Just like the other networks, you will want to set up multiple variations of your post and experiment with budgeting.
Your Content Amplification Strategy
Once you get comfortable setting up a few sponsored posts, you may find that content amplification using sponsored posts becomes an integral part of your content promotion strategy. You may decide to only amplify your best work or you may decide to amplify every post for at least a short period of time. Other posts may be evergreen and you might run indefinite campaigns so that new visitors continue to find your most prized content.
Some people feel that social media should be a "free" way to share content and to some extent that can work, but for most organizations, organic content sharing is not enough to make an impact. Don't be afraid to set a reasonable monthly budget for content amplification and continue to optimize your campaigns.
What is it worth to you to get your content in front of the right people? Think of content amplification in these terms and you may find that it's a small price to pay for a more effective content strategy.