Do you have a client that's comfortably ranking for all the keywords that are being tracked?
I guess you have nothing to worry about then. You're getting paid and might as well stop reading now.
Well, let's assume that your client calls you in the middle of the night, and shows you discrepancies between two sets of keyword data; the first set prepared by you, and the second by SEO-Godz X, a professional agency that popped up out of the blue.
Apparently, the new guys in town have found an opportunity to prove their worth by highlighting what you've been doing wrong. They could even testify that you're overcharging.
I'd like to stress out the fact that this isn't just a hypothetical situation and, it leaves your agency or business in a terrible spot and could result in a potential loss of revenue.
What measures would you take to retain that client?  And how sooner should you take action?
The solutions could be pretty straightforward. Ideally, if you have the negotiation and convincing skills, this should take hardly 1-2 calls. However, if there's a slight trace of nervousness or panic in your voice, that's enough signals for the client to adjudge you as a faux SEO or marketer and drop the line.
You've probably heard of the good old proverb that goes like 'Prevention is better than cure'. This couldn't have been any truer.
With this guide, I'll unravel an easy-to-follow rapid keyword audit strategy that you can use for all your clients irrespective of your skill level (beginner, intermediate or expert) and keep the ball rolling. The best part, it's almost free!
Step 1: Keyword Volume Check
Since this guide has to live up to its name, I'll run through the tools as swiftly as possible. Moreover, there are certain tools which work better for some methods and I don't mean to be biased.
So, let's get started with the question- how do you check search volume? 
Alright, there are two tools I prefer to complete this phase- one for finding the raw metrics (search volume, competition, CPC) and the other for determining keyword activity.
The Google AdWords Planner was my favourite tool till I realized that it doesn't show an exact number but instead a range.

Marketers should steer clear of assumptions and guesses and instead, rely on highly accurate datasets.
As you can see from the example above, the keyword 'scary conspiracy theories' could theoretically have a search volume of 1100 or 9990 but Google doesn't want to tell us. Of course, they wouldn't give their prized data away for free.
Keywords Everywhere is a bulk keyword research tool which is a godsend to all the SEOs and marketers. Setup takes 2-3 minutes including the email activation. The interface is minimalistic, smooth and the results load up faster than you blink.
Maybe, that was a bit exaggerated but it still loads over X keywords in X seconds which is quite commendable for a Chrome extension.
Guess what the best part about this is- it's free! Let's check out metrics for the three keywords in Keywords Everywhere!

Now, that's what I'm talking about!
You could also use SEMrush if you'd like but the data is more or less similar. Unfortunately, bulk keyword research through SEMrush takes some time because there are configurations to be made but we don't have time for that, remember?
Once you've obtained all the necessary data, the next step is to verify the relevancy of your current keywords.
Case 1: Keywords are A-OK 
If keywords are good, you can buy a beer for the person who conducted the keyword research. It means that he has already done half the work for you. Here's what you got to do:
Step 1.1: Take Them For a Spin in Google Trends
The interface looks pretty simple but it requires some amount of critical thinking to comprehend the illustrated data.
Have you ever felt that the chosen keywords haven't been getting enough hike in rankings despite the huge search volume? It could be because the:
Keyword competition is huge; quite difficult to outrank
Ranking page sucks
Keyword is too broad or generic
SEO strategies aren't good enough
Keyword lacks search depth
Keyword is devoid of user intent
#5 and #6 are the biggest concerns. If these are major issues in your keyword basket, consider going back to the drawing board and performing keyword research.
However, if you're clear and still perplexed as to why the keywords aren't rising to the top, it might be time to check whether they're "buzzworthy". And that's exactly what Google Trends does.
It analyzes the popularity of a specific search query based on a number of metrics and historical data. Some search queries enjoy a "seasonal boost" whereas some die out if you're not tracking those.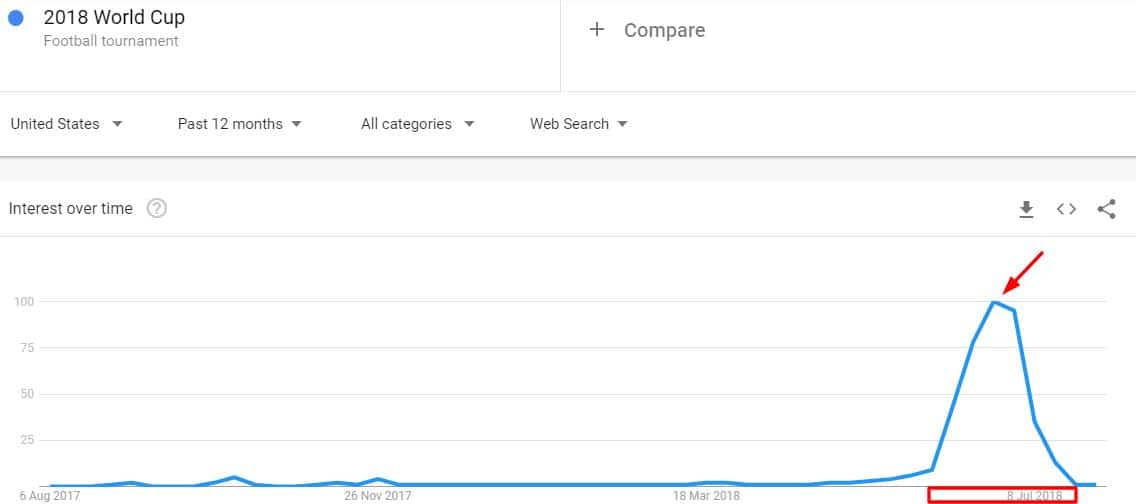 In the above example, the search query, 'World Cup 2018' enjoyed a high peak of popularity for the duration of the football tournament and immediately subsided after France took it home.
You can also get related queries, analyze the 'trending' potential, create epic posts in reference to your original keywords, run campaigns and reap the benefits of your marketing intelligence. In fact, there are numerous ways to use Google Trends to your advantage.
Case 2: Rotten Keywords 
So, we talked about how to work around keywords that look good on graphs but not necessarily in the minds of users. What would you do when you find out that the keywords have mediocre search volume and competition that's hard to beat?
It's a no-brainer.
Step 1.2: The "Organic" Swap
It's a tool which we've all heard of, called Ahrefs.
The first step involves popping in your client name in the search box.
Once it pulls the results, click on the 'Organic Keywords' section.
Over here, you'll see the list of search terms that people are searching for, its metrics and the comparison with respect to the position of other competing pages in the SERP, for the same term.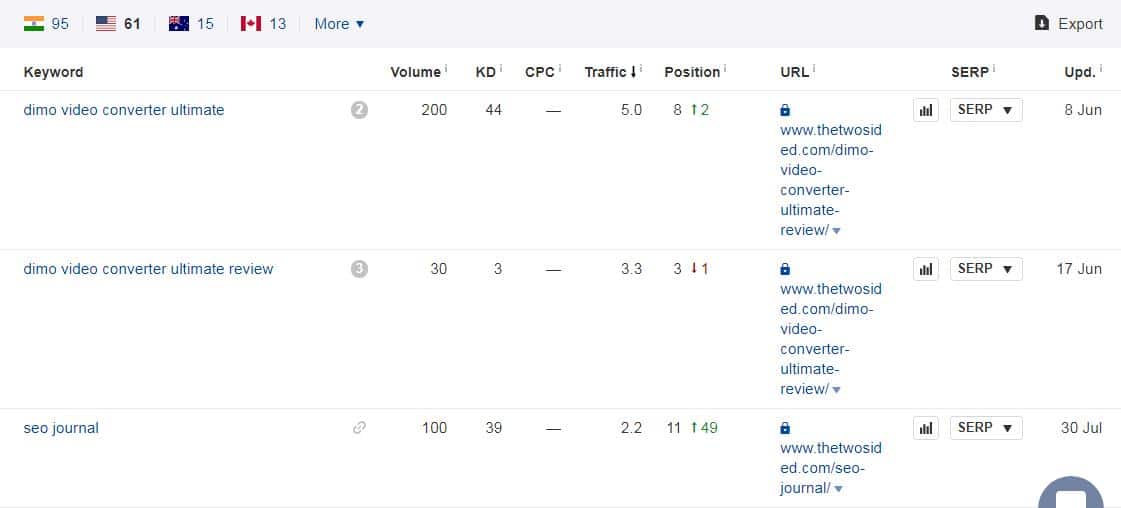 If you can find a term with significantly higher search volume that's creeping around the borderline first or second page, don't hesitate to add those into your basket or just swap with your inferior keywords.
Note: This step might not work for new websites with thin content because such pages rarely rank for any keywords. Moreover, to get data for keywords above position 50, it requires you to upgrade to Ahrefs premium.
But, no worries. There's an even better way to check for keyword positions.
Step 2: Check If Your Keywords Have Potential
I don't use any tools for this because there's a handy Google spreadsheet created by Ranktank.
This is easily one of the best bulk keyword position checkers out there.
What's even better is the fact that it shows the ranking page URL for each keywords, the competing page that ranks above, who ranks #1 and some other useful data. Check it out.

Once you've identified the position of individual keywords, it's time to add it into a spreadsheet alongside the other metrics.
Step 3: Making the Right Choices 
Now that you have all the keywords and metrics in place, it's time to determine what to keep, replace and trash.
There are a number of formulae to check the "score" of keywords. For instance, the KOB (Keyword Opposition to Benefit) formula is pretty good enough; I use a slightly tweaked version:
Score = (Traffic*CPC)/Difficulty*
*subject to variations based on different metrics
Here's an example of the KOB analysis using metrics from Keywords Everywhere. Note that I've also performed the calculation based on Ahrefs.

There are variations due to difference in search volumes. After performing a manual position check for a majority of the keywords in the SERPs, I've concluded that Ranktank is more accurate than Ahrefs while determining keyword rankings.
The KOB score helps us to assess the potential of a keyword. The only flaw with this method is that it's based on numbers alone. It might surely satisfy the thirst of a data analyst but not necessarily that of a marketer.
Like we discussed before, user intent and search depth are two keys signals which indirectly measure the potential of keywords regardless of the KOB score.
For instance, if someone searches for Jennifer Lawrence's age, Google would give them the direct answer with a snippet. The search volume is a decent 3600 but it's pretty evident that the user would end the search right there and move on.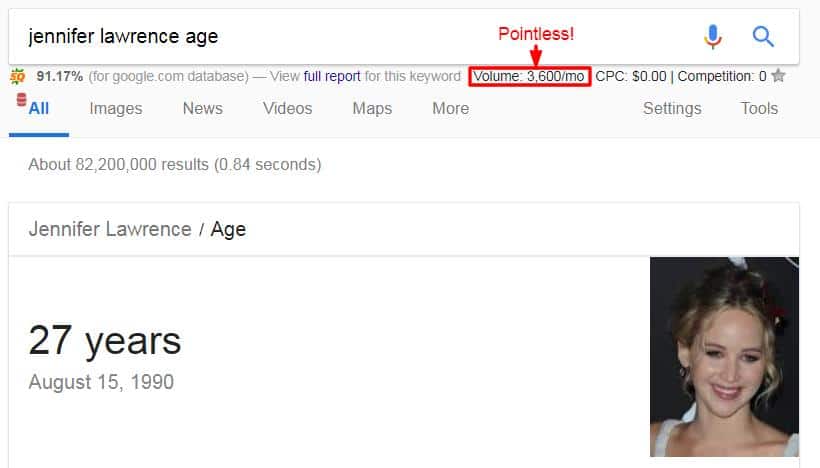 Selecting the right keywords requires insightful thinking. This part of keyword audit is particularly useful if you wish to implement scalable tactics like web 2.0 stacking, tiered link building, guest post outreach etc. with a set of keywords.
Remember, the choices you make will ultimately influence the outcome of the campaigns.
You Now Know the Cheapest Keyword Audit Strategy! 
I'm not even kidding.
Almost every tool (with exception to Ahrefs) mentioned in this rapid keyword audit strategy can be obtained free of cost. You can use the trial version if you're a really stingy person but everyone needs Ahrefs (if only Tim gave me a cut for all the hype).
Follow these steps and once you get the hang of this, you'll be completing keyword audits in under thirty minutes.
Of course, this is just one way of doing this; go ahead, experiment and integrate your favourite tools to get work done at an even faster pace. Don't let any rogue agencies like SEO-Godz X run away with your precious clients.
Are your keyword audit methods different? Feel free to share in the comment section below.